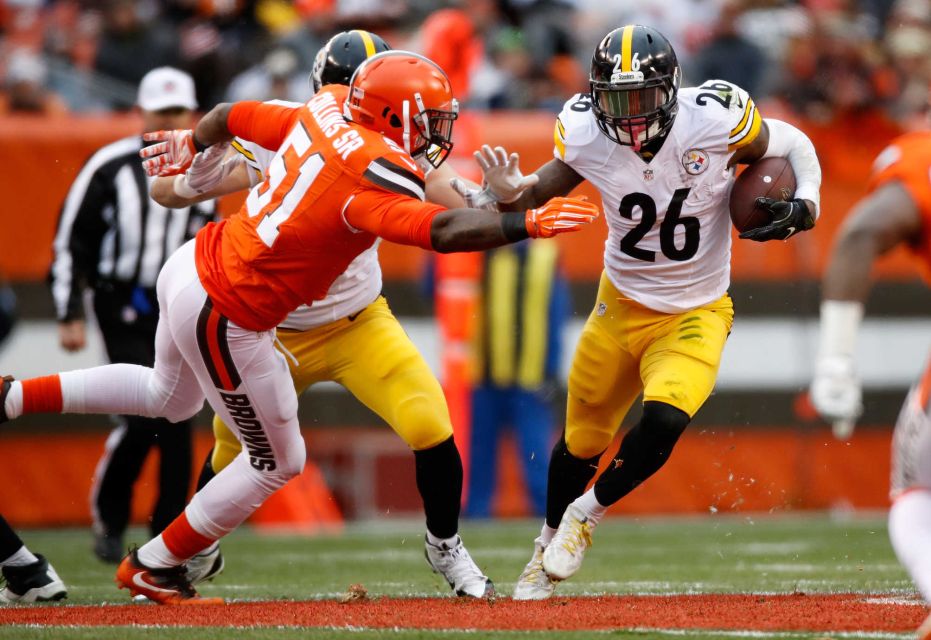 The Pittsburgh Steelers found themselves in an unusual situation when they faced they Cleveland Browns at FirstEnergy Stadium in cold, blustery conditions yesterday afternoon: Pittsburgh had lost its last four games.
It's not often the Steelers are mired in a four-game swoon, so it goes without saying they were desperate to get a win.
And there's no better way to get back on track than to play the winless Browns.
Thanks to a stifling defense and a workman-like effort from the offense, the Steelers (5-5) were able to get a potentially season-saving 24-9 win over the Browns (0-11) that now has Pittsbugh in a first-place tie in the AFC North with the Baltimore Ravens.
Here's the latest edition of "Three up, three down" after the Steelers' decisive win in Cleveland.
Three up:
The defense wakes up in a BIG way— What a day for the Steelers' defense. It had eight sacks, two turnovers (an interception and fumble) and a barrage of hard hits that seemed to show a unit venting a great deal of frustration after last week's embarrassing effort against the Dallas Cowboys.
Defensive end Stephon Tuitt had a career day, registering 2.5 sacks and adding three tackles for loss. Credit the coaching staff for lining Tuitt up in multiple positions all day long to take advantage of a reeling Browns offensive line. Tuitt's performance couldn't have come at a better time and, at least for one week, made fans forget about the loss of Cam Heyward.
Give linebacker Lawrence Timmons credit for his game yesterday — it's been a tough season for the veteran linebacker, but he bounced back with a vintage performance while leading the team in tackles (8) and registering a sack. Timmons had numerous kill-shots, including a violent hit on quarterback Cody Kessler that would end his day, much to backup Josh McCown's chagrin.
I say "chagrin" because both Kessler and McCown were under constant duress for the entire game. Not only did Pittsburgh's defense register eight sacks by six different players, it pressured both QBs on virtually every passing down.
It can't be understated how much better the tackling was in this game. Credit the players and coaches alike for getting this rectified yesterday.
Finally, and most importantly, James Harrison was credited with a sack that gave him sole possession of the franchise's all-time sacks record with 77.5 sacks. Kudos to one of the greatest players in franchise history.
Bell surpasses 200 total yards to lead Steelers offensive attack— In brutal, windy conditions where the wind was occasionally over 40 mph, the Steelers' offense was able to control the time of possession and do enough to secure a win. Le'Veon Bell rushed for 146 yards, added eight catches for 55 yards and scored the team's only offensive touchdown, looking very much like his usual All-Pro self.
Ben Roethlisberger was efficient enough to keep the chains moving and leaned on Antonio Brown in key spots. Brown finished with eight catches for 76 yards and drew a crucial pass interference call on the final play of the first half that led to Bell's one-yard TD plunge.
The offensive line also deserves credit for not allowing a sack and for providing Bell with plenty of running space all day.
Leadership, pride galvanize a team with plenty of critics— When you lose four straight, critics are going to get vocal. Although there have certainly been reasons to be critical, this team overcame the criticism and found a way to get a much-needed win, despite numerous injuries and after coming off a tough loss to the 9-1 Cowboys. Credit the leaders of this team for stepping up when a win was absolutely needed and the coaching staff for not losing control of the team after four straight defeats.
Defensive coordinator Keith Butler had a fantastic day and was much more creative with calls — especially in terms of finding ways to pressure the quarterback. Yes, the Browns are a mess, but the ability of the defense to create pressure and make their opponent one-dimensional was key.
Give credit to head coach Mike Tomlin for being aggressive and not bowing to pressure or critics. Sunday, he got a great effort from a team that clearly believes in its coach and, despite of a lot of tough breaks this season, is in position to win its division with six games left in the season.
Three down:
Six passing plays over 20 yards a black mark on the defense— It's hard to get too nit-picky, but the Steelers' pass defense continues to give up the big play. Cornerback Ross Cockrell was unable to make a play one of Terrelle Pryor's five catches for 97 yards, and rookie corner Artie Burns is still working on being more consistent in his coverage. However, Burns did make a beautiful pick in the first quarter that shows why the team believes he has a chance to be a outstanding player in years to come.
Lack of production from pass catchers not named Brown or Bell— Brown and Bell are All-Pros for a reason and they combined for 16 catches and 131 yards yesterday in Cleveland. That's great, but what isn't so hot is that the rest of the team combined for seven catches and 36 yards.
Granted, not having wideouts Martavis Bryant (suspension), Markus Wheaton (shoulder) and Darrius Heyward-Bey (foot) available hurts, not to mention that Sammie Coates has become invisible partly due to injury and partly due to lack of production. All of this has made a receiving group expected to be one of the best in the NFL look like a shell of itself. Eli Rogers isn't getting the job done and Cobi Hamilton, who barely snuck onto the practice squad out of training camp, is getting significant playing time.
Add tight end Jesse James' limited contributions as a pass catcher and tight end Ladarius Green doing next-to-nothing in his second game in a Steeler uniform and there doesn't look to be a lot of help coming from the tight ends either.
One can only hope Roethlisberger can get more out of this group in the coming weeks.
Can the Steelers turn the corner in a short week?— Pittsburgh now has three days to rest and prepare for a Thanksgiving tilt at the Indianapolis Colts. The good news is that it looks like the Steelers finally came out of a game without adding any names to a significant injury list. The bad news is that the Colts are suddenly playing very well and will be tough to beat in a short week.
Image credit: Gregory Shamus/Getty Images