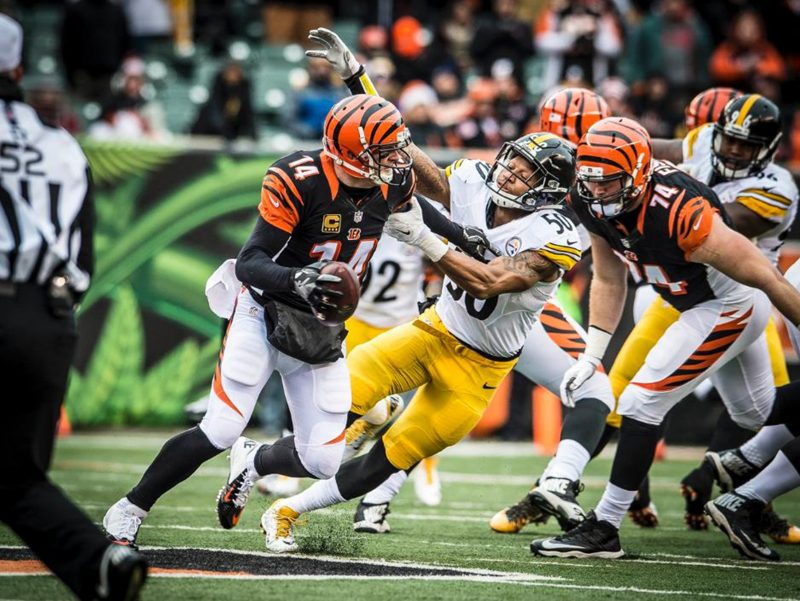 Pittsburgh Steelers linebacker Ryan Shazier (50) gets his hands on Cincinnati Bengals quarterback Andy Dalton. (Photo by Pittsburgh Steelers)
Who says the Pittsburgh Steelers (9-5) can't win on the road?
During the Steelers' current five-game win streak, four of those wins have been away from the comfy confines of Heinz Field. The latest road win, a resilient 24-20 comeback over the Cincinnati Bengals (5-8-1) now has the Steelers on the doorstep of an AFC North title.
Now, an epic winner-takes-all matchup with the Baltimore Ravens on Christmas Day awaits.
But before we get the Ravens, let's look at the best and worst from Sunday's win in our latest edition of "Three up, three down."
Three up:
Have yourself a day, Chris Boswell
It's not very often a kicker can make the case for being the most valuable player of a game, but that's exactly what Chris Boswell did against the Bengals.
Let's start with the play that ended up being as decisive as any: Boswell's shoestring tackle on Alex Erickson's 72-yard kickoff return that looked to be a sure touchdown. Keep in mind that Cincinnati was up 17-6 at that point, and a touchdown there may have crippled Pittsburgh's comeback hopes. Instead, Boswell's stop of Erickson gave the Steelers' defense an opportunity to limit the damage, which it did when the Bengals were forced to settle for a field goal to make it 20-6.
Much of the talk about this game will revolve around Boswell's six field goals, and that's obviously more than fair, but in a game that was decided by four points, Boswell's tackle can't be overlooked.
Oh, yeah, Boswell's six field goals.
They were absolutely incredible, especially when you consider that three of them were from 49 yards and that five of the six were from over 40. In a league where extra points are no longer a given (just ask Cincinnati's recently released kicker Mike Nugent) Boswell made tying a team record for most field goals in a game (with Gary Anderson and Jeff Reed) look easy.
Defense circles the wagons in the second half to key comeback
It was a tough start for Pittsburgh's defense yesterday. Three plays in, a knee injury knocked Stephon Tuitt out of the game, which seemed to help open up Cincinnati's run game. And it was those open running lanes that helped the Bengals put together three consecutive scoring drives to start the game and that gave them a 17-3 lead early in the second quarter.
But from that point, the Steelers outscored Cincinnati 21-3, and much of that had to do with the herculean effort by the defense in the second half.
In that period, the unit limited the Bengals to 38 total yards and just four first downs, rendering Cincinnati's offense useless while Boswell and Pittsburgh's offense chipped away at the lead.
With another big-time performance, linebacker Lawrence Timmons continues to strike back at those who said he was finished. He led the team in tackles (8), which included a goal line tackle of running back Jeremy Hill that was highlight-reel quality. Timmons' interception of Andy Dalton late in third quarter was decisive, setting up Boswell's sixth field goal that cut Cincinnati's lead to 20-18.
Credit the quartet of L.T. Walton, Daniel McCullers, Javon Hargrave, and Ricardo Mathews for stepping up in the second half. With Tuitt out and Mathews nursing an ankle injury, the group helped limit Hill to -1 net yards in the second half after the running back had 44 yards and a touchdown in the first.
As simple as it sounds, Pittsburgh's defense just made plays in the second half. It's the kind of effort the unit will need Christmas Day at home against the Ravens to secure the AFC North crown.
Rogers, Green shine against Bengals
It's been a theme for the Steelers' offense all season long: Who's going to step up besides Antonio Brown and Le'Veon Bell? The late-season addition of tight end Ladarius Green to the lineup (he missed most of the year with injury) has certainly helped. His five catch, 72-yard effort Sunday gave the offense a spark; Green's 28-yard catch on a 3rd and 8 play was key. Green took a hard shot and left the game with a concussion, and considering Green's concussion history, his availability for the contest against Baltimore is very much in the air.
Slot receiver Eli Rogers has also dealt with injuries and inconsistency this season, but, against Cincinnati, he put together his most important game of the season. Rogers led the team with five catches for 75 yards, and his fourth quarter 24-yard touchdown grab would end up being the game winner.
Three down: 
Penalties rack up for Steelers, DeCastro
I hate to nitpick after such a rewarding comeback win, but the penalty bug has bitten Pittsburgh All-Pro guard David DeCastro all season long. Three of four offensive penalties were called on DeCastro, including one of the pre-snap variety and a holding call. DeCastro has still been excellent at times, but the penalties are frustrating considering he's one of the very best at his craft.
A pass interference penalty on rookie cornerback Artie Burns was unnecessary and was all about poor technique. The call set the Bengals up for their first touchdown and was the second of two penalties on the drive.
It's going to be crucial to clean up the penalties down the stretch.
Another black mark for special teams
When your kicker has a six-field-goal day and makes a game saving tackle, it's hard to give the special teams unit a failing grade, but the kickoff return coverage was below the line yesterday. The unit gave up that 72-yard return to Erickson and, on the day, Cincinnati averaged nearly 35 yards per return.
This absolutely has to be cleaned up because few teams are better in the third phase than the Ravens.
The Bengals are an embarrassment to the league
Yep, the Bengals are joke.
Where to begin? Of course it's easy to start with linebacker Vontaze Burfict, who should be out of the league permanently based on his reckless behavior on the field. He's dangerous, and he doesn't care about the safety of other players.
And the eye test tells you Burfict was far from alone. Cincinnati's defensive unit went beyond playing hard to just playing flat-out dirty. And the penalties ultimately cost the Bengals — Cincinnati had four penalties in a row on a drive that ended with a Pittsburgh touchdown. Head coach Marvin Lewis is responsible, and beyond any playoff-win droughts or anything else, his team's behavior falls squarely on his shoulders and those of his coaching staff.
He should be fired today, but he won't.
Don't think I'd forget to mention Hill and his foolish disrespect for the Terrible Towel. He is, indeed, a perfect fit in Cincinnati.