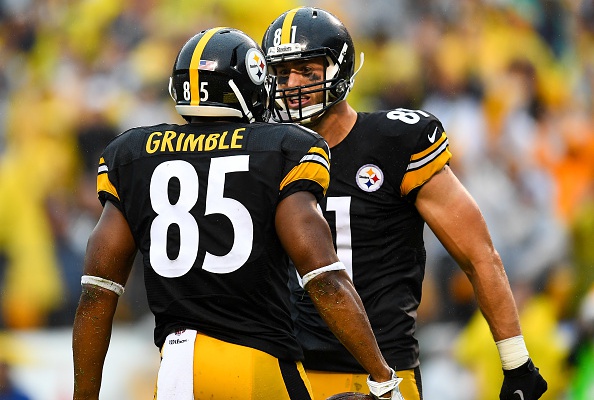 On Thanksgiving, Pittsburgh Steelers fans had a lot to be thankful for in their team's 28-7 victory over the Indianapolis Colts. Here are the game's "Cheers and jeers."
Three up:
Steelers defense continues its surge with another solid performance— Don't look now, but the Steelers defense is starting to hit its stride for the stretch run. Granted, there was no Andrew Luck and Pittsburgh was facing an already shaky Indianapolis offensive line that finished the game with five healthy bodies, but another solid performance has the Steelers on top of the AFC North.
It was a collaborative defensive effort that started on the first play of the game with William Gay sacking the Colts' backup quarterback Scott Tolzien and forcing a fumble, setting a tone that it was going to be a long day for the Colts. Gay also added an interception late, one of two interceptions in the game, and the unit finished with three sacks, giving them 11 over the past two games.
Rookie defensive lineman Javon Hargrave is showing why he was the toast of training camp with a tremendous effort in Indy — he notched five tackles, a sack and a big-time stop for loss that forced an early Colts punt that set the Steelers up for their opening touchdown drive. Hargrave and company were also able to hold Colts running back Frank Gore to a measly 28 yards on 15 carries, putting even more pressure on Tolzien to make plays with his arm.
Mike Mitchell laid Colts out with massive hits and did it without drawing flags. The veteran safety had seven tackles and added an interception along with a touchdown-saving pass breakup in the endzone that thwarted an 11 minute drive and ended in no points.
The defense had two game-changing goal line stands that changed the entire dynamic of the game. The first came before halftime and was highlighted by Sean Davis' goal-line stop of Tolzien.
Offense does enough thanks, once again, to Bell and Brown— It seems clear that the Steelers' offense that has dealt with a number of losses to key contributors at skill positions will need to lean on Le'Veon Bell and Antonio Brown the rest of the way. Bell was able to amass 120 yards on the ground and added a touchdown, while Brown had his first three-touchdown game of his career.
Brown made Colts cornerback Vontae Davis look foolish on a number of pass plays and was able to make up for another celebration penalty (which Bell was involved in, too) with his three scores.
Give the Steelers' offensive line much of the credit. Bell had massive running lanes all night, and right tackle Marcus Gilbert was a force creating space on the outside. They also kept Ben Roethlisberger clean all night, allowing no sacks and giving Pittsburgh's signal caller time to make plays downfield.
Although Roethlisberger is still searching for additional contributors in the passing game, tight end Ladarius Green did show up on the radar with two catches for 67 yards.
Don't look now, but…The Steelers now, in effect, control their own destiny in the AFC North with five games left on the schedule. Regardless of perception of the competition, two road wins in the span of five days should quiet many of the critics who were calling for jobs and giving up on the season. Now, with an extended break and extra time to prepare for the New York Giants' visit to Heinz Field in 10 days, the Steelers — warts and all — look like they might be in position to make a late season run.
Credit the Steelers' coaches — in particular, head coach Mike Tomlin — for keeping this team from imploding after four straight losses to teams that have a combined 29-12 cumulative record.
Three down:
Special teams return coverage must tighten up— Pittsburgh's special teams has had its issues this season. Last night, the punt return team gave up a fake punt in the first half that set up the Colts' only score, and the special teams unit also surrendered a 43-yard kickoff return to Jordan Todman.
It should also be noted that the team is simply getting nothing from its own kickoff and punt return game. Granted, Brown is trying to avoid injury, but where are the big plays this year returning punts?
Although this didn't cost the team last night, these are the types of issues that can ultimately cost teams games against better competition or derail a season.
The team has to get these issues fixed.
What was that third and two call?— I'm still trying to figure out why Roethlisberger is throwing deep to Sammie Coates on third and two with the Steelers driving early in the second half. To that point, the offense was having no issues making plays with Bell running and with higher percentage passes.
Why are you throwing a deep ball there? Furthermore, why are you throwing said deep ball to Coates, who is playing with two broken fingers and hasn't made a play in weeks? Sometimes Roethlisberger needs to know the situation and just keep the drives going. The low percentage deep throws on third and short have worked at times, but, again, pick your spots.
The defense bailed them out this time, but it's still up for criticism.
Timmons with another solid showing,  but…— Something has to be done to limit the veteran inside linebacker's exposure in pass coverage. Lawrence Timmons did have 10 tackles and some big hits for a second straight week, but teams are finding him in the passing game, and it's costing the defense. It's time for defensive coordinator Keith Butler to figure out ways to minimize Timmons having to cover backs and receivers downfield as much as Butler can.
Yes, there will be times where that's not possible, but why, for instance, is Timmons running downfield on a deep route to Colts speedster Dontae Moncrief? Those plays shouldn't be happening, and they have more than they should.
Image credit: Pittsburgh Steelers