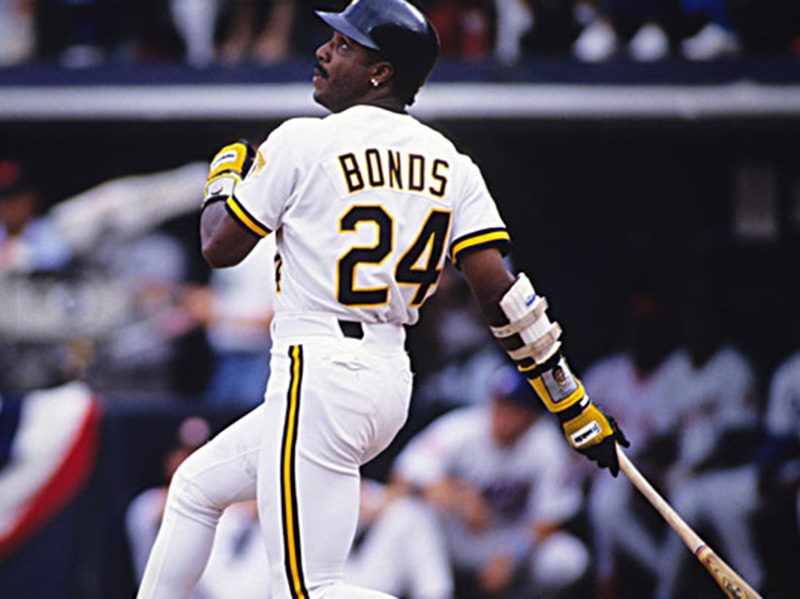 Tonight, the 2017 Hall of Fame class will be announced. With a lot of big names — and some very controversial ones (Barry Bonds, Roger Clemens, Curt Schilling, etc.), it should be a fun night.
Here's who three of our PSN staffers think deserves a spot in the Cooperstown.
Shannon Carroll:
Barry Bonds, outfielder, Pittsburgh Pirates/San Francisco Giants
Put down the pitchforks, please! Now, despite living in Pittsburgh, I'm from San Francisco, so we have a very different opinion of Bonds (he still isn't all that highly regarded in the Bay Area these days, however.)
Look, I totally get the anger and disappointment. Bonds almost certainly cheated. And cheating is bad. Really, really bad. But despite that (and my sister is probably going to kill me for saying this), Bonds deserves a spot in the Hall of Fame.
I hate to make excuses, but Bonds was playing in a time where everyone was cheating. That doesn't make it OK — not everyone who played was cheating — but it does give some context to things. But what I think really makes Bonds' case is that he was a Hall of Fame player in Pittsburgh, before he headed to San Francisco and so obviously bulked up. In Pittsburgh, he was a two-time NL MVP, a three-time Silver Slugger and a three-time NL Gold Glove winner. Dude was good.
In truth, I don't think Bonds will make the Hall this year. He might not even make it next year — or the year after that. But Bonds is slowly getting a higher voting percentage and will almost certainly make it into the Hall before his 10 years of eligibility are up.
(With my San Francisco connections, I also wanted to give Jeff Kent my vote but, hey, maybe next year.)
Tim Raines, outfielder, Montreal Expos/Chicago White Sox/New York Yankees/Oakland Athletics/Baltimore Orioles/Florida Marlins
After 10 years, it's time to put the underrated Tim Raines in the Hall of Fame — in his final year of eligibility.
Over the span of his career (1979-2002), "Rock" had 2,605 hits and an on-base percentage of .385, and he drew 1,330 walks. Raines is also the only player to have at least 100 triples, 150 homers and 600 stolen bases. During his career, he finished in the top-10 in batting average four times and in on-base percentage seven times.
To make the Hall of Fame, players need to appear on at least 75 percent of ballots. Last year, Raines got 69.8 percent of votes. (In his first year, Raines didn't even get 25 percent of the vote.) He looks like a lock — and rightfully so.
Vladimir Guerrero, outfielder, Montreal Expos/Los Angeles Angels of Anaheim/Washington Nationals/Baltimore Orioles
Man alive could Vladimir Guerrero hit — and it was fun to watch him do so. In his 16-season career, hit .318 with 449 home runs, and he had more extra-base hits (972) and RBIs (1,496) since the 1994 strike than any outfielder not named Manny Ramirez or Carlos Beltran. He's a nine-time All-Star, an eight-time Silver Slugger, and he was the AL MVP in 2004.
Guerrero's election to the Hall could also make history. In the Angels' history, no player has made the Hall of Fame wearing the team's cap. And Guerrero, who is from the Dominican Republic, could become only the eighth Latin American player in Cooperstown.
Jeff Bagwell, first baseman, Houston Astros
Bagwell is another player surrounded by whispers of PED use, but, again, there's no real proof.
He was the NL MVP in 1994 and was in the top-10 for the award five other times. In his 15 seasons (all with the Astros), he had 449 career home runs, 2,314 hits and amassed a WAR of 79.6 (sixth all-time among first baseman). If Bagwell made the Hall, he'd join fellow "Killer B" and former teammate Craig Biggio as the only two Astros in Cooperstown.
(Sorry, Curt Schilling, but if you wanted to make the Hall of Fame, perhaps you shouldn't have advocated for lynching journalists — you know, the people who get to vote…)
Jarrod Prugar:
Jeff Bagwell, first baseman, Houston Astros
Bagwell displayed superb longevity in a career that spanned 15 seasons, all coming with the Houston Astros. The former first baseman played in over 140 games in 12 of his 15 seasons while playing in all 162 games four times, including 1994, a year where he was National League MVP.
Bagwell was a career .297 hitter while slugging .540 with an on-base-percentage of .408. The teammate of current-Hall of Famer Craig Biggio fell short of the 75 percent needed to get into the Hall last season as he appeared on 71.6 percent of the ballots cast.
Barry Bonds, outfielder, Pittsburgh Pirates/San Francisco Giants
Barry Bonds may end up being the most polarizing player of the 1990s and early 2000s for his slugging on the field and his approach to the media off the field. The career home run leader was said to be on steroids throughout the latter stages of his career, however, he was never found guilty of such.
While he may or may not have taken steroids, it was his chase to break Mark McGuire's home run record that helped catapult baseball into the 21st century. Bonds was well on his way to the Hall of Fame while playing for the Pittsburgh Pirates as the then, slim outfielder, winning the first two of his seven MVP awards as well as three Gold Gloves and and three Silver Sluggers.
Ivan Rodriguez, catcher, Texas Rangers/Florida Marlins/ Detroit Tigers/New York Yankees/Houston Astros/Washington Nationals
Ivan Rodriguez will go down as one of the best pure catchers to ever played the game of baseball. With a career that spanned 21 years, Pudge showed the world what it took to be a durable catcher.
In his prime, the backstop was a perennial All-Star and MVP candidate, amassing 13 Gold Gloves as a catcher. Rodriguez hit .297 for his 21-year MLB career, collecting 2,844 hits and 1,332 RBIs.
Trevor Hoffman, pitcher, Miami Marlins/San Diego Padres/Milwaukee Brewers
While Mariano Rivera was shutting down hitters in the 9th inning in the American League, Trevor Hoffman was doing so in the National League.
Hoffman amassed 601 saves as a closer before Rivera made it the coolest role to have in his illustrious 18-year career. The righty-reliever Hoffman averaged just above a strikeout per inning during his career while only walking 307 batters.
Edgar Martinez, designated hitter, Miami Marlins
Edgar Martinez may have had one of the smoothest right-handed swings the game of baseball has ever seen. While Martinez was primarily a designated hitter during his 18-year career with the Mariners, the position suited him incredibly well.
Known as a pure hitter, he amassed a .312 lifetime batting average while accumulating 2,247 hits during his career. His stats may not be gaudy like Bonds or Bagwell, but Martinez was one of the truly greats at his position throughout the entirety of his career.
Vladimir Guerrero, outfielder, Montreal Expos/Los Angeles Angels of Anaheim/Washington Nationals/Baltimore Orioles
Whether a pitch bounced in the dirt, was at his eyes or was right down the middle, Vladimir Guerrero could hit it — and he could do so with a vengeance. Guerrero was a force to be reckoned with in the field as well, finishing first in outfield assists in both the National League (2002) and American League (2004).
The rangy right fielder finished his 16 year career with a .318 batting average and 181 stolen bases. Any time the ball was hit in Guerrero's direction, there was a possibility of him getting a runner out — no matter what the situation. At the plate, Guerrero's at-bats always kept viewers on their toes as they didn't know where he would hit the ball or whether it would be off a bounce in front of the plate or at his eyes.
Roger Clemens, pitcher, Boston Red Sox/Toronto Blue Jays/New York Yankees/Houston Astros
Roger Clemens will go down as one of the best starting pitchers to ever toe the rubber in the Major Leagues, whether or not he gets into the Hall. "The Rocket" won 20 or more games as a starter six times in his storied 24 year career.
Clemens won seven Cy Young awards during his career; six came in the American League while the other in the National League for the Astros. While Clemens has been linked to steroids, his ability to perform at the highest level year in and year out should be enough to get him into the Hall where he belongs.
Mike Mussina, pitcher, Baltimore Orioles/New York Yankees
Pennsylvania's own Mike Mussina developed into one of the best big game pitchers during his career with the Orioles and Yankees. Mussina went 1-1 pitching in the World Series for the Yankees, giving up three runs each appearance.
Mussina finished his career with 270 wins, 20 of which came in his last professional season. The body of work Mussina put in during his illustrious career pitching in the American League East bodes well for a potential enshrinement in Cooperstown.
Tim Raines, outfielder, Montreal Expos/Chicago White Sox/New York Yankees/Oakland Athletics/Baltimore Orioles/Florida Marlins
 Tim Raines has spent the last 10 years on the ballot without getting enshrined in the Hall. The former left fielder accumulated his most votes last year, getting 69.8 percent of votes — yet he still fell short of the 75 percent threshold needed to head to Cooperstown.
The sweet-swinging Raines hit .294 lifetime and amassed 2,605 hits and 1,330 walks in his career. Raines may not have bulky numbers, but the consistency in his game during an era where players were doing whatever it took to get an edge is commendable.
Fred McGriff, first baseman, Toronto Blue Jays/San Diego Padres/Atlanta Braves/Tampa Bay Devil Rays/Chicago Cubs/Los Angeles Dodgers
The "Crime Dog" was the epitome of consistency, appearing in 140 games or more 13 times in his 19 year career. McGriff finished seven home runs shy of 500, averaging 32 per year in his career during an era where steroids were rampant in clubhouses.
The first baseman kept his name clean throughout, although he didn't put up gaudy numbers like many of the players he was playing against during that era. McGriff was a consummate pro during his playing days, finishing with a .284 lifetime batting average and .509 career slugging percentage.
Rachael McKriger:
Sammy Sosa, outfielder, Texas Rangers/Chicago White Sox/Chicago Cubs/Baltimore Orioles/Texas Rangers
If you've read any of my baseball recaps, you might know that baseball isn't the sport I have the most knowledge of. Ask me anything about football, soccer and basketball, and I'll give you a spot-on answer. But, baseball? Let me use Google for that.
However, I do remember some baseball names, and one of those names is Sammy Sosa.
When my older brother, Zach, and I would play baseball, he'd pretend to be Sammy Sosa. I also have a soft spot for players who come from Central America (Sosa is from the Dominican Republic, and I love his dedication to his country). Sosa, who has played for the Texas Rangers, Chicago White Sox, Chicago Cubs and the Baltimore Orioles, would be my pick to be inducted in the MLB Hall of Fame.