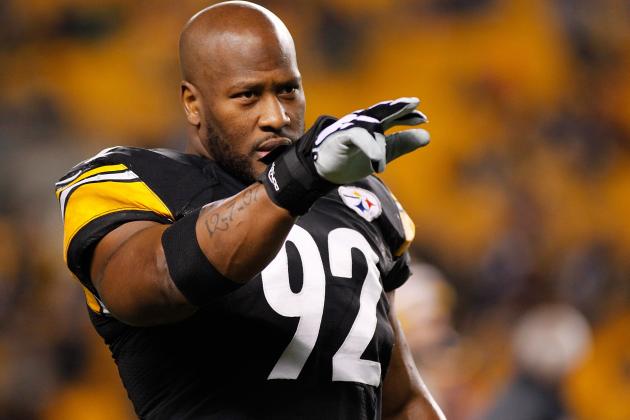 James Harrison is the Steelers' all-time sacks leader. (Photo by: Gene J. Puskar/AP)
It's a well-known fact that James Harrison doesn't age. And now, the linebacker has signed a two-year, $3.5 million deal that will keep him with the Pittsburgh Steelers until he's 40 years old.
The deal was first reported by ESPN's Adam Schefter.
Harrison, who became the Steelers' all-time sacks leader last season, is a huge pass-rushing asset. Last season, he led the team in sacks with five and added 53 tackles. He's slowed down since his heyday — in 2008 was the NFL's Defensive Player of the Year after he had 16 sacks and 101 tackles and in 2010 he had 10.5 sacks and 100 tackles — but he's an integral part of Pittsburgh's defense, nonethless.
The two-time Super Bowl champion and five-time Pro Bowler has been a Pittsburgh staple since he first appeared in the black and gold uniform in a game in 2004 after being signed as an undrafted free agent out of Kent State (the alma mater of Jack Lambert) by the Steelers in 2002. In 2013, Harrison went to Cincinnati for a year before announcing his retirement on August 30, 2014. But, in September, Harrison agreed to come out of retirement and sign a contract with Pittsburgh.
See also: James Harrison and Roger Goodell walk into a room
With the Steelers' defense getting younger (see: the secondary) and faster (see: Ryan Shazier), Harrison brings a vital veteran presence to a team looking to win the AFC North for a second year in a row — and a team that really wants to finally beat the New England Patriots in the playoffs.
At 38 (almost 39) years old, Harrison is the oldest current NFL player who isn't a quarterback, a kicker or a punter.