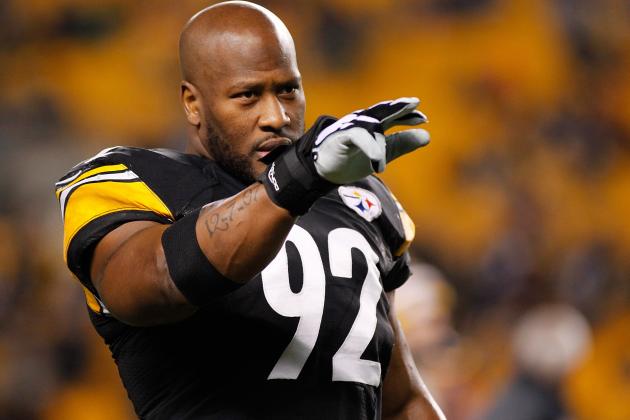 James Harrison is the Steelers' all-time sacks leader. (Photo by: Gene J. Puskar/AP)
After Sunday's game, Pittsburgh Steelers linebacker James Harrison was choked up and near tears.
It wasn't that the team had lost, that he was seriously injured or that he had had a bad game — it was that the emotion of becoming the Steelers' all-time sack leader overtook him.
"I was thinking about my father, how he's not here for it," Harrison said.
Harrison's father, James Sr., passed away this May at the age of 76.
So, Sunday against the Cleveland Browns, when Harrison sacked quarterback Cody Kessler for sack No. 77.5 to pass Jason Gildon's Steelers record of 77 sacks, things were a little emotional.
Quarterback Ben Roethlisberger recognized the importance of the moment, saying of Harrison, "He got a little emotional over it. He got a little teary eyed. We all respect him a lot."
He continued, "I wish he would have gotten [the record] at home, but that's about the only regret I have for him, that he couldn't be recognized at home, because he deserves that as one of the best I've ever seen. I'm glad he's on my side. We all respect him a lot, and we're all happy for him."
The sack that made #SteelersHistory. https://t.co/13LHjFYlfL

— Pittsburgh Steelers (@steelers) November 20, 2016
It's been a long journey for the 38-year-old, who went undrafted out of Kent State University before signing as a free agent with the Steelers in 2002. Harrison struggled for the first two years. He spent time on the Steelers practice squad — where he was released three times. He finally made it on the active roster but only for a short stint and only on special teams. Harrison was signed by the Baltimore Ravens in 2003 and was then sent to the Rhein Fire, an NFL Europe team. But Harrison was cut by the Ravens.
Harrison briefly considered quitting football and becoming a veterinarian, before getting a call from Pittsburgh after Clark Haggans got injured. Harrison then signed with the Steelers for a fourth time — and he stayed in the Steel City until 2012.
In the 2008 season, Harrison had 16 sacks and helped lead one of the best Steeler defenses in recent memory. In fact, that year, Pittsburgh beat the Arizona Cardinals in the Super Bowl, and Harrison made one of the — if not the — most important plays in championship history when he returned a Kurt Warner interception 100 yards for a touchdown. The Cardinals looked to be about to score a touchdown that would have given them a 14-10 lead at the half but, instead, were down 17-7 at the start of the third quarter.
He also put up big sack numbers in 2009 (10 sacks) and 2010 (10.5 sacks).
Harrison left Pittsburgh in 2012 and signed with the Cincinnati Bengals, where he played for one season, recording 30 total tackles and two sacks. He was released by the Bengals in March 2014 and announced his retirement (as a Steeler) in August.
But that was short-lived.
In September 2014, Pittsburgh held a press conference to announce that Harrison planned to return and wear the black and gold for at least one more season.
Now, in the 2016 season, Harrison has three sacks. And he's not slowing down anytime soon.
The record-breaking sack brought him full circle because Harrison's first career sack came against the Browns in 2004.
"It's a tremendous honor," Harrison said. "I'm not trying to be a real vocal guy. I just go out there and lead by example, go out there and do it and hope guys see that and they'll want to follow suit."
Gildon, who previously held the record, played in Pittsburgh from 1994-2004 and, coincidentally, also wore the number 92.
Image credit: Gene J. Puskar/AP