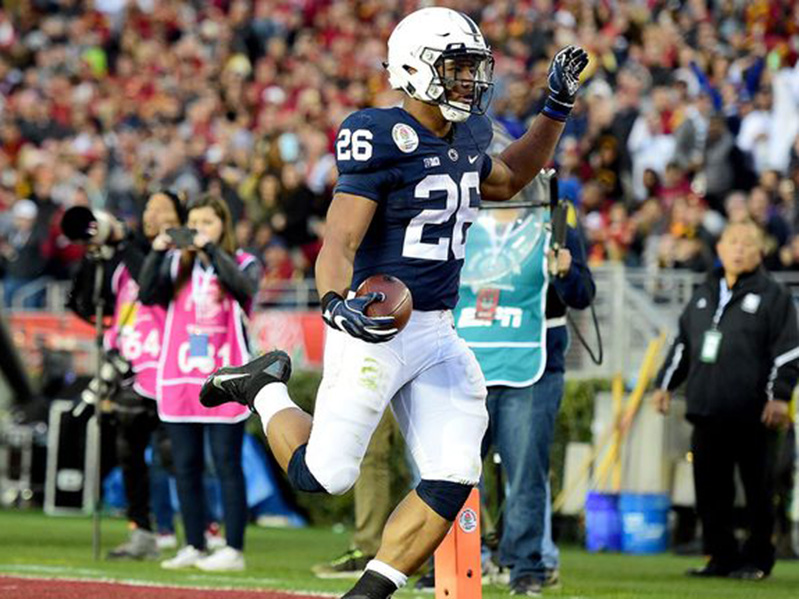 (Photo by: Harry How/Getty Images)
A little over a week into spring practice, the defending Big Ten champion Penn State Nittany Lions are gearing up for the Blue-White Game on April 22nd. Head coach James Franklin and running back Saquon Barkley spoke with members of the media following the team's fifth spring practice.
James Franklin
Franklin spoke to the media for nearly 15 minutes following practice Wednesday evening and touched on a barrage of topics ranging from captains, the competitiveness of the Blue-White game and not getting complacent.
Oh captain, my captain
Three captains have already been named by Franklin and his staff for the spring football period: senior Jason Cabinda (linebacker) and juniors Trace McSorley (quarterback) and Nick Scott (safety). Franklin said Wednesday there's usually a pre-spring ball vote by teammates and staff members as well as a training camp vote. And while these three were named because of their high number of votes, they might not be the only captains named for the season.
"I think as you guys know, I would like, we didn't do it last year, but I would like to have two (captains) on offense, two on defense and two on special teams, so that still gives us an opportunity between now and two weeks into camp for somebody else to kind of step up as well," Franklin said.
The extra one percent
Franklin said his team needs to continue to differentiate itself from the rest of the college football teams during practices and workouts.
"Better's not good enough anymore. What are we going to do to differentiate ourselves?," Franklin said of putting more effort in to practices.
While the Nittany Lions were successful last year in both the regular season and post season, that success is something the players and coaches can't take for granted.
"You start to make mistakes when you take things for granted. Each day we are a little farther ahead than where we've been in the past," Franklin said.
Franklin's message to get over that hump has been emphasizing putting in extra effort in the weight room, film room, as well as on the field. Following practice, tight end Mike Gesicki was taking on the blocking sleds while the special teams unit kicked field goals.
"For where we want to go, we have to practice at a level nobody here has really seen before," Franklin said. "We've got to be one percent more focused in team meetings and how we take notes. We've got to be one percent more focused in our assignments. We've got to have one percent more effort in the way we practice. We've got to elevate a little bit."
Mixing it up for the Blue-White Game
It was announced following practice that the Blue-White game will have a different look and feel this year; Franklin and company will look to make the game more enjoyable for those in attendance. This year, there will be an emphasis on competition as Franklin believes it's important to give each player a good look and evaluation even in a scrimmage setting. The first team units will be going against second team units in order to give both units more competition and to see how players stack up among their peers.
Saquon Barkley
Barkley had a stellar sophomore season in 2016 to follow up on an impressive freshman campaign in 2015. Much has been made both of Barkley's limited reps and his trip to Florida with teammates Marcus Allen, DaeSean Hamilton and Mark Allen that featured a run in with Dallas Cowboys quarterback Dak Prescott. Barkley spoke on those things and more following practice.
Limited reps
Barkley, a Heisman hopeful, has had his reps in practice cut drastically this spring to preserve his health and give him a new look at the way things are happening. The new look comes by standing on the sidelines in a coaching role for the younger backs on the roster
"Coach JoeMo (offensive coordinator Joe Moorhead) just kind of told us that the great teams have players that are able to coach other players are and players who are willing to be coached," Barkley said. "So I just try to take the knowledge that I have from the two years I have been playing — and not only from myself but kind guys who have experience and especially people coming from defense to offense or people who are going through their first spring ball — and try to give them advice and try to teach them what to do on this play or the little things you can do to take a negative and make it a positive."
Franklin and running backs coach Charles Huff know the type of back they have in Barkley, and his lack of practice reps allows the staff to feature other running backs and see what they might be able to do if given the opportunity.
"Everyone is trying to show Coach Huff and show Coach Franklin that they can be that guy, so everyone is pushing each other," Barkley said. "Mark (Allen) might rip off a 20-yard run, and two or three plays later Andre (Robinson) and Miles (Sanders) and JT (Johnathan Thomas) and all those guys — the room is so competitive. The love that we have for each other is just so impressive to see how we go from being brothers and best friends to when we're on the field, we're trying to make sure this guy doesn't get this extra rep or something like that."
Barkley's spring break trip
Barkley, along with Marcus Allen, Mark Allen and Hamilton, took part in what has become an annual pilgrimage for college-aged students to Florida over Spring Break. This quartet, however, went for completely different reasons than most people their age. The group went to Florida to workout and train.
"We wanted to do something different, something new," Barkley said. "We went to Florida, got to visit some stuff down there and got to have fun and spend time with your brothers. But we also tried to evaluate ourselves and get better instead of going somewhere else and having fun and partying."
While the group was in Florida training, they shared the same training space as a familiar face to those in the football world: Dallas Cowboys quarterback Dak Prescott.
Just living and working with
@SkeeterMills__ @Chico_Hndrxx @saquonb21 @dak 🏈🌴 pic.twitter.com/ypcE99En5o

— MARK ALLEN (@theALLENshow) March 7, 2017
The ability to workout and learn from a professional such as Prescott was invaluable to the quartet, according to Barkley, as Prescott taught them more than just training and football — he taught them the intangibles it will take to get the players to the next level and to succeed.
"How to be a leader, how to lead a team, how to come to practice every single day and be a pro, pretty much," Barkley said of what he learned from Prescott. "Obviously, I'm still in college, but (I learned about) if you could be a pro about your body and you could be a pro about how you approach practice and try to be a leader, and just overall try and be a better player."