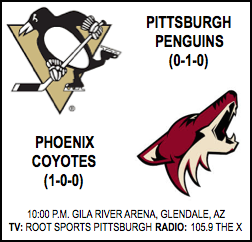 The Pittsburgh Penguins will get an opportunity to get rid of the bad taste from their opening-night shutout at the hands of the Dallas Stars before they return to Consol Energy Center. Tonight, the Arizona Coyotes await as the Pens try to even their early season record and get the first points of 2015-16 on the board.
Veteran forward Kevin Porter, who was recalled from Wilkes-Barre/Scranton of the American Hockey League on Wednesday, will make his Penguins debut tonight.
"Porter adds some experience on the penalty kill, and he can play either center or wing," head coach Mike Johnston explained after the team's morning skate. "He's a versatile player and we felt that he was the best fit for tonight's game."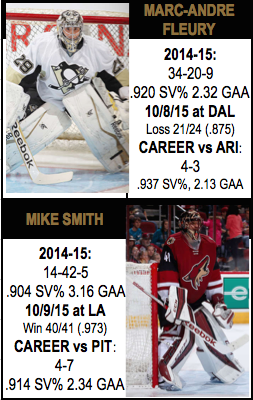 Porter will replace winger Bobby Farnham in the lineup and on the team's penalty kill. The Pens gave up a pair of power play goals to the Dallas Stars on Wednesday, and after losing the majority of their PK regulars from 2014-15, it will be a work in progress in the early going this season.
Back to back: The Coyotes started their season last night, beating the Kings 4-1 in Los Angeles. Goaltender Mike Smith was the game's No. 1 star; making 40 saves on 41 shot attempts. His .976 save percentage is third in the league behind Dallas' Antti Neimi and Detroit's Jimmy Howard, who had shutouts in their openers.
Forward Max Domi had a goal and an assist in his NHL debut last night. Domi, son of former NHL enforce Tie Domi, was the Coyotes' first round draft pick in 2013. After a 102-point season with the OHL's London Knights last year as a 19-year old, he looks ready to contribute at the NHL level.
"It was a lot of fun," Domi said to NHL.com after the game. "It was tough to get a smile off my face that whole 60 minutes. But it's awful nice to get the win and start the season off the right way."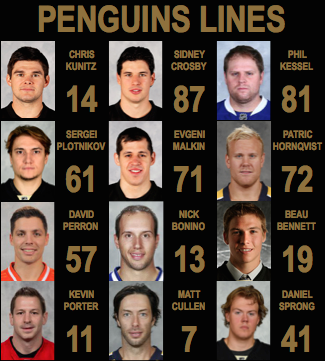 "I'm so happy for him," said Coyotes head coach and former Penguins forward Dave Tippett. "He's waited for this game for a long time, and to come out and play as well as he did, it was really nice to see."
Familiar faces: Tippett is just one of several former Penguins on the Coyotes squad. Assistant coach John Slaney played 29 games as a defenseman with the Pens in 1999-00. Player development coach Steve Sullivan played the 2011-12 season in Pittsburgh.
Defenseman Zbynek Michalek is on his third stint with Coyotes. He signed back with the team after being traded to the St. Louis Blues at the trade deadline. Michalek played two seasons in Pittsburgh from 2010 to 2012.
Right-winger Steve Downie signed with Arizona as a free agent this offseason after a one-year stint in Pittsburgh. Downie's reputation as an instigator should be well known in the Penguins locker room.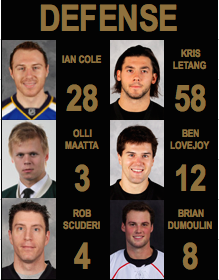 "If he feels that he needs to stir it up physically, he's going to do that," Johnston said. "But I believe our guys know how to play against any of those type of players that are in the league."
Minor matters: The Wilkes-Barre/Scranton Penguins earned an overtime win in their season opener against the Providence Bruins last night. Left-winger Scott Wilson scored both goals for the AHL Penguins in their 2-1 victory and was named the game's first star. Matt Murray stopped 40-of-41 shots to earn the win in goal.
Kael Mouillierat, Derrick Pouliot, Conor Sheary, and Oskar Sundqvist all recorded assists. Defenseman Steve Oleksy, wearing an alternate captain's 'A' in his WBS debut, had recorded penalty minutes, including a first-period fight.
Wilkes-Barre wraps up their two-game, season-opening road trip with a 7:00 p.m. game against the Bridgeport Sound Tigers tonight.
The Wheeling Nailers wrapped up their preseason with a 4-2 loss to the Cincinnati Cyclones on Friday. The Nailers don't start their regular season until next weekend.
Photo credit: Getty Images