When the time came for Jason and Christy Karmanos to spend the day with the Stanley Cup, their first thought was to find a way to say thanks to a community that welcomed and embraced their family after Jason was hired to be the VP of Hockey operations for the Pittsburgh Penguins in 2014.
OK, so that's not entirely true. They did first take the time to share an ice cream sundae out of the world's most famous championship trophy with their four daughters – Ella, Kayla, Anna and Lila.
Now that's a memorable sundae.
With the sundae checked off the Stanley Cup bucket list, the Karmanos family brought the cup to the Pine Community Center in Wexford this past weekend and invited members of the community a chance to get up close and personal with Lord Stanley.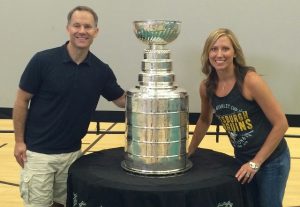 Although Karmanos was part of the front office when the Carolina Hurricanes won the Cup in 2006, he was quick to point out how special a sports town Pittsburgh is, and that was in part why he felt it would be great to share day with some of the fans.
"Pittsburgh is a great sports town. We've only been here two years, but we learned that very early on," Jason Karmanos said. "We are very well aware of the great sports history with all the teams, so for us, it was a no-brainer to share the cup with the people who live in our area. We are so happy we could make it happen."
Christy Karmanos, who is a fitness instructor at Pine Community Center, echoed similar sentiments about how important it was to give back to a community that they now call home themselves.
"When the Hurricanes won the cup 10 years ago, we did something like this at the YMCA I worked at, and it is just so much fun to be able to do again here," Christy Karmanos said.
The Karmanos and Pine Community Center also accepted donations to raise funds for the Barbara Ann Karmanos Cancer Institute, a cause close to the hearts of the Karmanos family.
"My mother passed from cancer in 1989, and the cancer institute in Detroit was renamed for her in 1995 (Barbara Ann Karmanos Cancer Institute), it's something we are very proud of. I am sure she'd be very proud of it, too," Jason Karmanos said.
"She was huge hockey fan, and I grew up in a hockey family with my two older brothers, so for me I felt like I had to include the institute in some way if I could. If any money can go toward the cause, than that's an added positive," he added.
For Christy Karmanos, the opportunity to give back and share the moment with a child dreaming of being the next Sidney Crosby or Kris Letang is the best part of the experience.
"More than anything, to see the kids eyes light up and think, 'maybe I'll get to hold that over my head someday' is pretty special," she said.
Main photo credit: WPXI