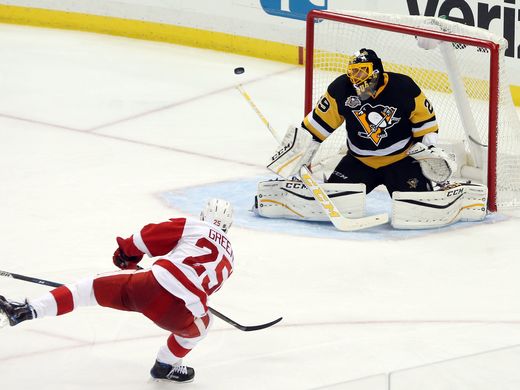 The Pittsburgh Penguins (15-7-3) haven't had back-to-back wins since the beginning of November, but that all changed Saturday evening with a 5-3 win over the Detroit Red Wings (11-11-3). (Thursday, the Penguins beat the Dallas Stars 6-2.)
Saturday, at the start of the third period, a Pittsburgh win didn't look like it would be easy to come by. Detroit entered the period with a 3-1 lead, and it looked like it would be a Detroit victory on enemy ice at PPG Paints Arena.
However, an eruption of goals in the final period of play led the charge to come from behind and gave the Penguins the win. Goaltender Marc-Andre Fleury did have a bit of a shaky start, but, luckily, he had the privilege of guarding the net of a team that also happens to have a very potent offense.
In the third period Nick Boninio, Justin Schultz, Phil Kessel and Matt Cullen all scored to take Pittsburgh from being down by two to being ahead by two. (It was Kessel's second goal of the game.)
"We preach to this team all the time that we have to be a team that can generate offense different ways," said Penguins head coach Mike Sullivan. "We can't just wait for a power play, or we can't just wait to get our chances off the rush."
And while the offense did struggle for two of the game's periods — and Fleury didn't begin well either — this team's ability to rebound has become more of a common thing than a surprise these days. It seems that, even when the game seems out-of-reach, the Penguins do nothing but shoot and can typically make a game of it.
Saturday night, Sullivan got to watch his offense plaster opposing goaltender Jared Coreau in the first start of his career. But while his debut may have been spoiled, he isn't necessarily to blame for the Red Wings' loss.
Is the Flower Budding?
Fleury has struggled a bit of late. Before the game against the Stars, the veteran struggled to find a win. While his performance tonight was just OK, it's encouraging to see the Flower begin to find some rhythm again.
Goaltender Matt Murray is very much still right behind Fleury, and it's doubtful the 22-year-old will fold. However, when Fleury is able to find his spurts of outstanding play, Sullivan will have no choice but to start him.
This isn't necessarily bad news for Murray either — there's still plenty of hockey to be played. His performance will be just as important, but to find himself back in net consistently, he'll need to step it up another level.
Additionally, with the market for goaltenders seeming to dwindle, general manager Jim Rutherford may hold off on moving either goalie. Looking at their current situation, the Penguins boast two Stanley Cup Champion goalies.
How many other teams can say that?
We're Going Streaking!
The Penguins did finally do it. After almost of a month between teetering back and forth between wins and losses, Pittsburgh was able to notch its second-straight win. And Saturday's particular win comes at a crucial time.
Yes, it's still early, but the division is beginning to take shape more and more with each game. Pittsburgh's inconsistent play as of late certainly hasn't helped the Penguins, but tonight's win could mark the beginning of Pittsburgh climbing the ladder a bit.
Of course, they're only behind the first-place New York Rangers by two points, but four teams — the Columbus Blue Jackets, the Washington Capitals, the Philadelphia Flyers and Devils — are all champing at the bit; all teams are within five points or less of the Penguins.
Needless to say, it will be an exciting ride heading into the new year.
Looking Ahead
Pittsburgh will next host the Ottawa Senators on Monday night at 7:00 p.m. EST.
Image credit: Charles LeClaire/USA TODAY Sport