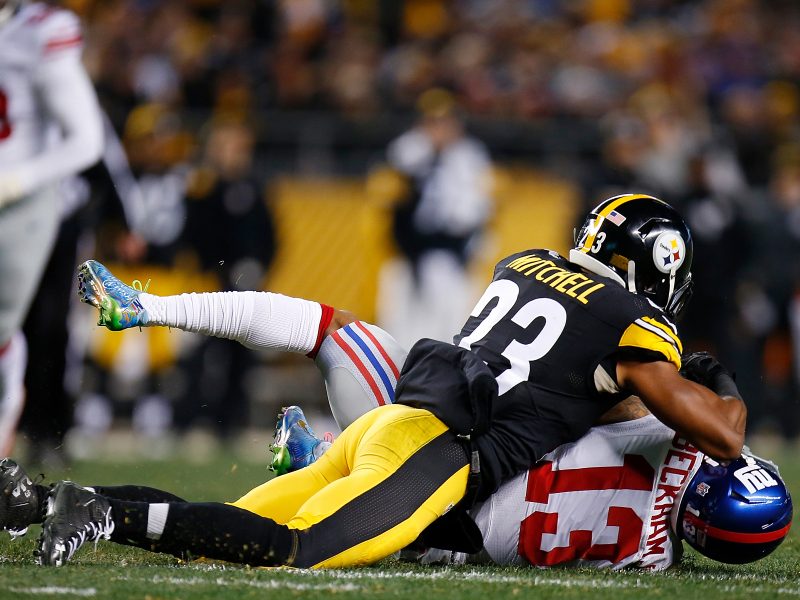 Pittsburgh Steelers safety Mike Mitchell (23) tackles New York Giants receiver Odell Beckham Jr. in the first half of Pittsburgh's 24-14 win. (Photo by Justin K. Aller/Getty Images)
The Pittsburgh Steelers seemingly have a flair for playing good, strong December football. Kicking off this year's playoff push, the Steelers defeated the New York Giants, 24-14 on Sunday.
Sure, Pittsburgh might have punched the Dallas Cowboys' playoff ticket, but the win helps the Steelers creep up on the Baltimore Ravens for the top spot in the AFC North. While both teams have the same record (7-5), the Ravens currently lead the division based on head-to-head tiebreak. (Baltimore won the first meeting, and the two teams will face off again on Christmas.)
But December football is underway for the Steelers — and maybe that means Pittsburgh's grades will go up.
Here are the Steelers' grades in their win over New York.
Quarterback: What is there to say about Ben Roethlisberger that hasn't been said already? Roethlisberger is the reason this team has a chance. He's working with a predominately young team, especially a young offense. He's depleted in the wide receiver category — but he's had some help from his tight ends and running backs. Against the Giants, Roethlisberger threw two touchdowns and had 289 passing yards on 24/36 completed passes. Roethlisberger did throw one interception, but it didn't prove to be too dangerous. Grade: A-
Running Back: Le'Veon Bell now has three games in a row where he's rushed for over 100 yards; against New York, he rushed for 118 yards on 29 carries. (Bell was also effective in the air, catching six passes for 64 yards.) He did, however, lose a costly fumble on Pittsburgh's 18-yard line that lead to a Giants touchdown. Grade: B-
Wide Receivers: Antonio Brown might be friendly with Odell Beckham Jr., but that didn't mean he was going to take his foot off the gas one bit. Brown certainly wanted to show the NFL — in a matchup between two of the best wide receivers — who the league's top wideout is. Brown caught six passes for 54 yards, while Eli Rogers caught one pass for 18 yards. Cobi Hamilton didn't do that much, catching two passes for 11 yards. Grade: B+
Tight Ends: Sunday was probably the best outing for the tight ends this season. Ladarius Green finally got his first touchdown as a Steeler, and he led the receiving corps with six receptions for 110 yards. Jesse James, "The Outlaw," caught three passes for 32 yards. The tight ends also helped Bell gain yards on the ground with their blocking. Grade: A
Offensive Line: The offensive line will always get a good grade if they do two things: keep Roethlisberger safe and help Bell get 100-plus yards. While the line couldn't help Bell get into the endzone, Roethlisberger was only sacked twice — both times by Olivier Vernon. Grade: A-
Defensive Line: The Steelers defensive line didn't really do much in the tackling department, but it did hold Rashad Jennings and Paul Perkins to only 57 rushing yards on 13 carries. Ricardo Mathews also found Eli Manning in the back for a sack. Javon Hargrave and Mathews had two tackles each. Grade: B+
Linebackers: James Harrison and Lawrence Timmons just don't stop. Timmons made an athletic play to intercept Manning, and Harrison stared down Manning and wrapped him up for a sack. Harrison also played a big role in helping the defensive line hold the Giants' running backs to small yardage. It looks like Pittsburgh's pass rush defense is truly back. Grade: A
Secondary: Cornerback Artie Burns and safety Sean Davis seem to put a smile on head coach Mike Tomlin's face every single game. While Davis picked off Manning, Burns led the entire defense in tackling (six tackles and one assisted tackle). Davis was right behind Burns with four tackles and three assisted tackles.
Special Teams: Give a lot of credit to Randy Bullock. The former Houston Texans kicker came into Pittsburgh this week on such a short notice and was 3/3 field goal attempts. Chris Boswell should be back soon, but Bullock isn't a bad filler. Punter Jordan Berry had four punts where he averaged 36.8 yards. He pinned the Giants inside their 20-yard line twice. Grade: A+
Coaching: Everyone can spit on Tomlin all they want for these two-point conversion attempts, but it's actually the right call statistically. However, I will agree with Steelers fans that the little screen passes on 3rd and long need to end. They needed to end eight weeks ago. (Attention: offensive coordinator Todd Haley.) Grade: B
What's Next?
The Steelers will travel north to face the Buffalo Bills on Sunday, Dec. 11. The game will kick off at 1 p.m. EST.