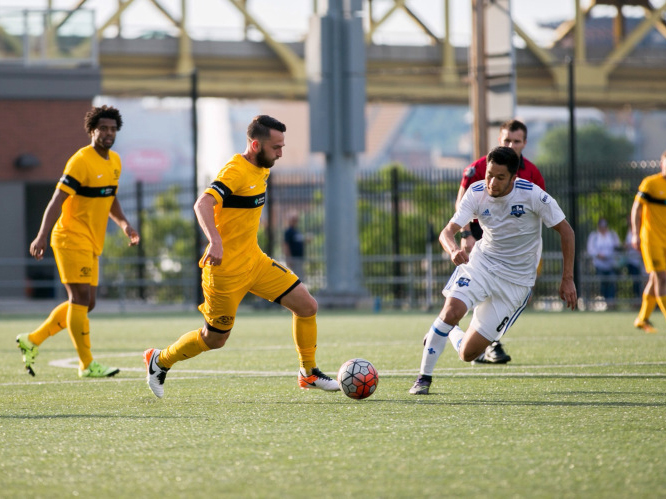 The Pittsburgh Riverhounds aren't just going into the 2017 season with brand new players. After recent signings this offseason, the Riverhounds exercised the 2017 season options for Ryan Adeleye, Danny Earls, Jack Thompson and Nick Thompson.
All four players played for Pittsburgh in 2016 and were signed by head coach Dave Brandt after he took over for former head coach Mark Steffens. Earls had played for the Riverhounds previously, but the others put on the jersey for the first time.
"This group of players is an important part of the team," Brandt said. "Jack is still one of the younger guys at 24, and I still think has best soccer ahead of him. Guys like Ryan and Danny have a depth of experience at multiple levels, while Nick does, too, in both playing and in the coaching realm. Each one of these players, from a competitive standpoint, from an experience standpoint, will help the club in growing and achieving what we're trying to do moving forward in 2017."
The elder Thompson, Nick, a forward, finished the 2016 season with two goals in 17 matches. He took 14 shots (six on goal) but had no assists.
Meanwhile, his younger brother, Jack, had one assists — but scored no goals — in 16 appearances. Jack, a midfielder, took eight shots (five on goal).
Adeleye, an American-Israeli defender, appeared in 10 matches for the Riverhounds, where he was shown two yellow cards. He scored no goals and had no assists, but his 6-foot-1 height halted many opposing offensive advances.
Earls, a midfielder, appeared in 13 matches. He provided three assists and played a large leadership role in the midfield, alongside captain Kevin Kerr. Earls picked up three yellow cards and a single red card against the Harrisburg City Islanders, for which the USL handed him an eight-game suspension.
The Riverhounds, who are currently holding open tryouts today and tomorrow, now have 13 players under contract for 2017. In addition to Adeleye, J. Thompson, N. Thompson and Earls, the Riverhounds have Corey Hertzog, Kerr, Kay Banjo, Shane Campbell, Keasel Broome, Ritchie Duffie, Devaughn Elliott, Chevaughn Walsh, and John Manga on their roster.