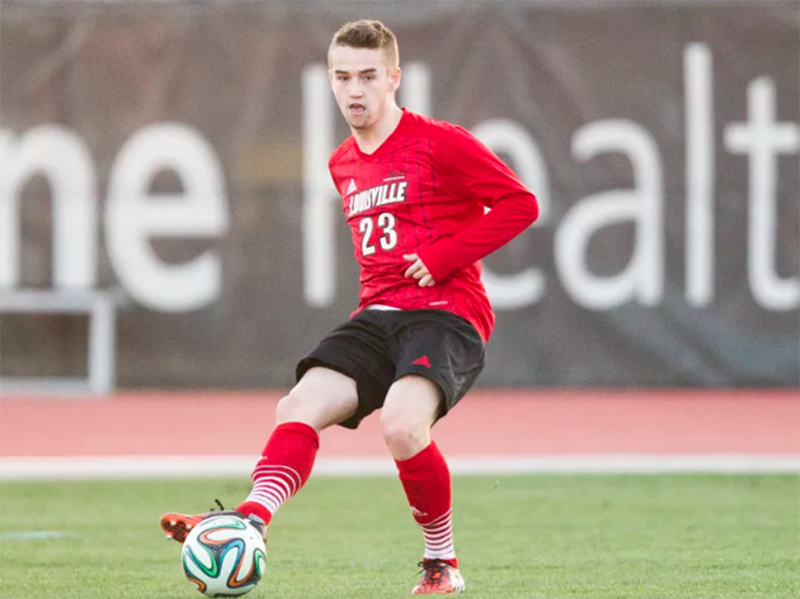 Defender Shane Campbell comes to the Riverhounds after playing last season for the Islanders. (Photo by: University of Louisville Sports Information)
According to Pittsburgh Riverhounds defender Shane Campbell, head coach Dave Brandt has always had faith in him.
Campbell has history with Brandt. Campbell has known Brandt and his family since Campbell was 10; he played for Brandt's former youth club FC Orange in Harrisburg. In fact, Campbell was convinced to change clubs and head to FC Orange by Brandt, due to his belief in Campbell's potential.
Brandt is also the reason why Campbell, a native of Lancaster, is a defender. He originally was a forward, but Brandt saw more potential in Campbell as a defensive midfielder or center back.
Over the years, Brandt never lost sight of Campbell, and the head coach signed Campbell to a Riverhounds contract on Nov. 23.
"Coach and I have a unique relationship that, in my opinion, stems further than just soccer," Campbell said. "Our relationship has grown tremendously in regards to trust on and off the field. I know that the relationship I share with coach is one that we both know exactly what we will get with each other on and off the soccer field. I know he has always had my best interests in mind, and, because of that, I do not question what he asks of me, I just do it."
He took all of Brandt's advice to college, where he played for Penn State University before transferring to the University of Louisville for his final two seasons. Campbell, who studied business administration with a concentration in sports management, didn't leave Penn State on bad terms but rather sought out Louisville for a "new challenge."
During his college career, he spent the summers with Reading United in the USL's Premier Development League. With Reading, he made 31 total appearances, scoring one goal.
"Playing with Reading United was probably the biggest factor as to why I was able to see and understand the level I needed to be playing at on a consistent basis to be able to succeed at the professional level," Campbell said. "Reading does a great job of attracting top players, and being able to play with guys like Keegan Rosenberry, Steve Neumann, Damion Lowe, Jimmy Ockford and so many others was key in allowing me to know the level I needed to get to."
Campbell learned a professional mentality, which helped him succeed in his eight appearances with the Harrisburg City Islanders — the Riverhounds' in-state rivals that Campbell played for in the 2016 season. It was his first professional season.
"Signing with Harrisburg provided me the opportunity to do two things that I needed in that period of my life and career," Campbell said. "It gave me the opportunity to come back close to home and play in front of my family and friends, and it also gave me the opportunity to get a lot of meaningful USL starts and playing time. As a 21-year-old rookie, that allowed me to get my feet wet at the pro level."
Now, Campbell has his eye on the prize: winning the USL. Campbell's learning plenty from other players, even if they aren't defenders. He said he has much to learn from guys like Corey Hertzog, Mike Green, Danny Earls and Kevin Kerr because Campbell plans to "be here in Pittsburgh for years to come and help this team grow in the community and on the field."
Community is something Campbell is learning to embrace — not just with the city of Pittsburgh but with his new teammates. He and Pittsburgh goalkeeper Keasel Broome played together for the Islanders last season (and even played together in high school for FC Delco in Philadelphia) but quickly had to learn the names of their new teammates. But Campbell says the team is bonding well together.
"It's been great so far," Campbell said. "Getting the early start has helped it a lot, and Coach has done a great job of bringing in 23 guys who all will buy into one common goal: winning the USL."
When he's not on the pitch or in the meeting room, Campbell and his fellow new-to-Pittsburgh teammates are enjoying their time checking out their new home.
"I love the Strip District," Campbell said. "I have gone there a few weekends so far, and I love walking around all of the outdoor shops and stores and meeting new people that own little family businesses in the area."
While Campbell is enjoying the city, he knows there's work to be done on the pitch. He and the Riverhounds are currently traveling around for preseason matches and will kick off their regular season on Saturday, March 25 at 5 p.m. EST against the New York Red Bulls II at Highmark Stadium.
Tickets for the match, as well as season tickets, are on sale through the Riverhounds' official website.