For the past two days I got the opportunity to relive the playing career of Pittsburgh legend Dick Hoak, from his time at Penn State to his career with the Pittsburgh Steelers.
Now it is time to look at Hoak and what he was probably most famous for-his coaching career.
Similar to his playing career, what made Hoak's run as a coach special wasn't necessarily as much the success the Steelers had during the time, but the fact that for over four decades Hoak got to do it all right in his backyard.
For Hoak after his playing career getting into coaching was a no-brainer.
It didn't take him long to land a job either as the year after he retired Hoak landed at Wheeling Catholic High School as a coach and gym teacher.
"I always wanted to coach," said Hoak. "I had a lot of respect for my high school coach and I always told myself that if I ever got the opportunity to go to college I was going to teach school and coach. That's what I always wanted to do. I took the job in Wheeling the year after I retired and it just so happens that we were 1-9. We weren't very good."
Ironically, that was the only time that Hoak worked out of the state of Pennsylvania as a year later he returned to the Steelers.
But what many don't know is Hoak nearly ended up at Pitt instead.
In 1972, he got a call from former Pitt coach Carl DePasqua to work as an assistant coach with the Panthers. Just a few days later, Steelers head coach Chuck Noll called.
Hoak had interviews set up with both Pitt and the Steelers on the same day and fortunate for Steelers fans they talked to him first.
"I got a call from Carl (DePasqua) and he asked me if I was interested in coaching in college," added Hoak. "I said sure. He told me he would have a position open in a couple weeks and he would give me a call. In the meantime, I get a call in the office and I was thinking it was Coach DePasqua and meanwhile it was Coach Noll. He asked if I wanted to get into coaching. So I set up the interviews on the same day. I went to the Steelers first. I called Carl and told him I was going to take the Steelers job and he said I would be crazy if I didn't."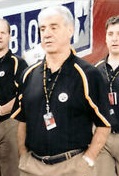 Lucky for Hoak he made the right decision.
The Panthers finished that season with a 1-10 record and DePasqua and his entire coaching staff were fired.
In an age these days where assistant coaches bounce from job to job in search of a better opportunity and more money, Hoak is the exception to that rule.
Hoak spent from 1972-2007 as the running backs coach for the Steelers and if you add in his playing career, spent a whopping 45 years with the same organization.
It's not like no one was noticing as plenty tried to lure Hoak away during his time in Pittsburgh, including one offer to be the head coach of the Pittsburgh Maulers of the old United States Football League in 1985.
"I had my chances to leave," said Hoak. "Paul Martha, who I played with, was helping run things with the Maulers and I was offered that job twice. Philadelphia wanted me to go there as an offensive coordinator and Tony Dungy tried to get me to go with him as an offensive coordinator, but I just couldn't leave. I was happy where I was. I have three kids and I didn't want to move them around. Some things are more important. A lot of guys would leave and go to different jobs for more money and I would see them again and they would say you did the right thing by staying in Pittsburgh all those years."
When you add it all up, Hoak, at the time of his retirement, had been a Steeler for 742 of the franchise's 1,057 games and had been involved in every title game and playoff victory during its 74 seasons.
As a coach, Hoak's Steelers rushed for 30,000 yards, the only team which accomplished that feat during his lengthy tenure. More importantly they also won five Super Bowls.
"When the Steelers played their 1,000th game they gave me my jersey in a frame'" added Hoak. "I was a part of a lot of those 1,000 games and pretty much all of the playoff games. That's one of my favorite things that I own. I kind of have a man cave in my basement and still have that hanging up."
Hoak is the only Steelers coach that got the opportunity to coach under both Noll and Bill Cowher as Cowher kept Hoak on his staff after Noll retired in 1991.
While the coaches were different, they both were similar in the fact that they won championships.
But that was about all the two had in common.
"They were different types," Hoak said. "Bill was more of a motivator and tried to motivate the players while Chuck felt more like you are a professional and you should already be motivated. Bill was probably more of a player's coach than Chuck. They weren't similar at all. The only similarity between the two is that they won. There's different ways to do things and each guy had their way and it worked for each of them."
As the running backs coach for a team that loved to pound the football during his era, Hoak got to see some great backs don the black-and-gold.
One of those just happened to be Franco Harris, who coincidentally was a rookie during Hoak's first season as a Steelers coach.
Needless to say it didn't take long for Harris to impress his new coach.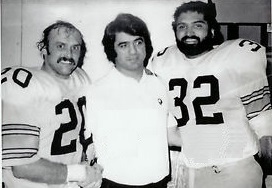 "I don't know how much I taught him," said Hoak. "Franco was playing in the college All-Star Game that year and got to camp late. So the first time I saw Franco we were practicing and he didn't look good. I was thinking what is this guy doing? He would like to run to the left and then go back to his right. That didn't work in practice because guys weren't going all out. But we were playing an exhibition game in Atlanta and he did that and ran 70 yards for a touchdown. I was just watching these DB's try and chase him and I said wow. I knew right then he was going to be special."
While Harris was a Hall of Famer, Hoak coached some other talented running backs during his time.
Guys like Jerome Bettis, Willie Parker, Barry Foster, Rocky Bleier, Merril Hoge and a few others had their greatest success as a professional under Hoak's watch.
Who was the best back Hoak coached during his 35 years on the sidelines?
"You're not going to get me in trouble there," joked Hoak. "Let's just say I have had to opportunity to coach some great backs, beginning with Franco. He was amazing. A guy that size with that vision and that speed. Then there's Jerome. Jerome had great feet. A guy like Barry Foster for one year was as good as anybody. He just couldn't sustain it. Merril was very good as well. I was very fortunate to coach some good backs."
One thing that Hoak certainly can hang his hat on and be very proud of is after five years of waiting to get in, Bettis will be enshrined in Canton come August amongst the games greats as Bettis is a part of the 2015 Hall of Fame class.
"Every time I tried to call him his voicemail was full" said Hoak. "I finally got ahold of him a couple of days after the announcement to congratulate him. Truthfully he should have been in a long time ago. Everyone remembers the run against he had against the Bears where he ran over Brian Urlacher and carried about four of them into the end zone. I remember a run against Tampa Bay where he got into the secondary and just started knocking them down like they were bowling pins. His feet were amazing for his size. A lot of people don't give him credit for that. They picture him as just a power runner and he was but he also had great feet and could make people miss."
Similar to Bettis, all good things eventually come to an end and after Hoak got his fifth Super Bowl ring, he started thinking about calling it a career.
Hoak came back for one more year after he got that fifth ring, but like most greats he knew it was time.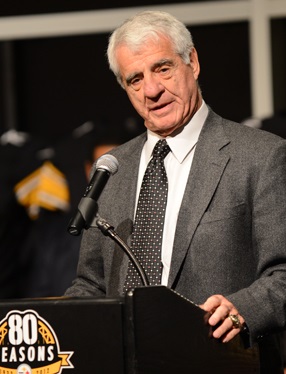 "I had just made up my mind going into that year that I was going to end it," Hoak added. "In fact, I was going to walk away the year before that but we just won the Super Bowl so I came back for one more thinking maybe we could win two in a row. I just said this is enough. I had enough. I did it for so long. I figured I would retire and see my wife once in a while."
These days Hoak is enjoying life and spends his days watching his grandkids play sports.
With seven grandchildren, six of them boys, there's plenty to keep Hoak busy.
Looking back though at a lengthy and historic career, Hoak has a lot to be proud of and a lot to reflect on.
The fact that he did it all at home for so long makes him a living legend in any Pittsburgh sports fans mind.
"It always was an honor to work for the Rooney's," said Hoak. "They always treated me with respect and it was always a pleasure to go to work every day for them."