The Pittsburgh Steelers are one of the most storied franchises in professional sports. They've won 6 Super Bowls, and have the best record and most playoff appearances of any franchise in the NFL since the merger. For many years, the foundation of the franchise had been built on a strong running back. We'll take a look at the Top 10 Pittsburgh Steelers running backs of all time.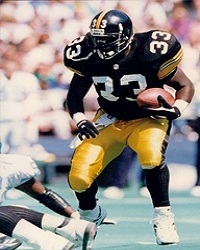 10. Byron "Bam" Morris (1995-1996) – His bruising running style was exactly what Pittsburgh Steeler fans expect out of their running back.  Bam Morris quickly became a Pittsburgh favorite after rushing for 836 yards and 7 touchdowns during  his rookie campaign.  His career would be short lived with the Steelers when he was dismissed from the team after pleading guilty to drug possession during a traffic stop.  In two years with the Steelers, Bam rushed for 1395 in his career and 16 touchdowns.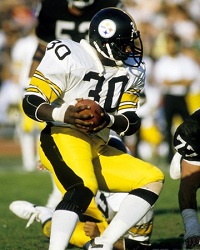 9. Frank Pollard (1980-1988)—Frank Pollard played his entire career in Pittsburgh, from 1980 to 1988.  Pollard ranks fifth in Steelers' history with 3,989 rushing yards.  In 1985, he had his best seasons as he rushed for a career best 985 yards with 3 touchdowns, adding another 250 yards as a receiver.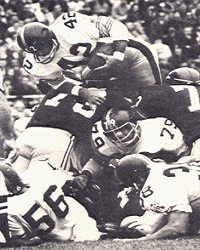 8. Dick Hoak (1961-1970) – Playing his entire 10-year career in Pittsburgh, Hoak retired in 1970 as Pittsburgh's No. 2 all-time leading rusher. He is longest-tenured player/coach in Steelers history, as he retired in 2007 after 45 years with the Steelers (35 as a coach, 10 as a player). In his career with the Steelers, Hoak rushed for 3,965 yards and 25 touchdowns.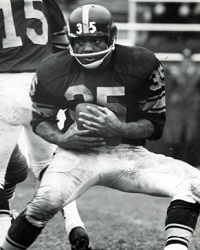 7. John Henry Johnson (1960-1966) – After being traded to the Steelers in 1960, Johnson became the first Pittsburgh Steelers running back to ever rush for 1,000 yards in a single season. When John Henry Johnson retired after the 1966 season, he was fourth all-time in NFL history with 6,803 rushing yards. In a Steelers uniform, Johnson rushed for 4,281 yards and 26 touchdowns.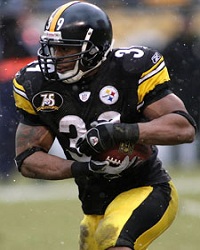 6. Willie Parker (2004-2009). While Steeler fans have always preferred bigger running backs, "Fast" Willie brought a different dimension to the Steelers run game after the retirement of Jerome Bettis. Parker always kept you on the edge of your seat, because you never knew when he would break that long run as he did for 75 yards in Super Bowl XL. Parker rushed for 5,378 yards and 24 touchdowns as a Pittsburgh Steeler.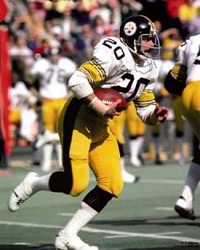 5. Rocky Bleier (1968-1980)  – This 4 time Super Bowl champion spent most of his career as the lead fullback for Franco Harris, but that didn't stop Bleier from retiring as the 4th leading rusher in Steelers history (at the time).  1976 was Bleier's finest year, rushing for 1,036 yards. That was the first year in NFL history that two players on the same team rushed for 1,000 yards as Bleier and Franco Harris topper the 1K mark together.  Bleier finished his career with 3,865 yards and 23 touchdowns.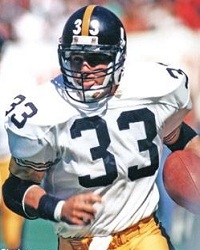 4. Merrill Hoge (1987-1993). Hoge was one of the few bright spots on the Pittsburgh Steelers during the end of the Chuck Noll era. He did whatever was necessary for Pittsburgh's offense to move the ball. He was a versatile threat for the Steelers running and receiving.  Hoge finished his career with 5,272 total yards and 34 touchdowns.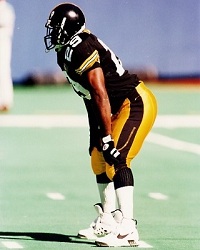 3. Barry Foster (1990-1994). In 1992, Foster set the franchise-single season record with 1,690 rushing yards and also had 12 100-yards games to match Eric Dickerson's NFL record. Who knows what other team and NFL rushing marks Foster would've set if it wasn't for injuries, as his career was cut short to only five NFL seasons. Foster finished his career with 3,943 yards and 2 touchdowns.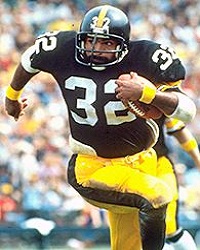 2. Franco Harris (1972-1983). When NFL fans think of the best Pittsburgh Steelers running backs of all time, Franco Harris' name pops up first. Franco's the all-time leading rusher for the franchise with 11,950 career yards and 91 TDs. His 6-foot-2, 230 pound frame made it virtually impossible for one defender to take him down.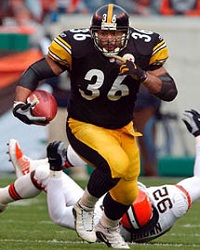 1. Jerome Bettis (1996-2005). Jerome "The Bus" Bettis tops our list as the Steelers best running back of all time. The quick-footed big guy ran over, through and around defenders for nine years with the Steelers. The Bus averaged a franchise-best 72.9 yards a game and racked up 10,571 yards and 78 touchdowns while playing in a Pittsburgh uniform.
If you liked this article, check out the Top 10 Steelers quarterbacks of all time.