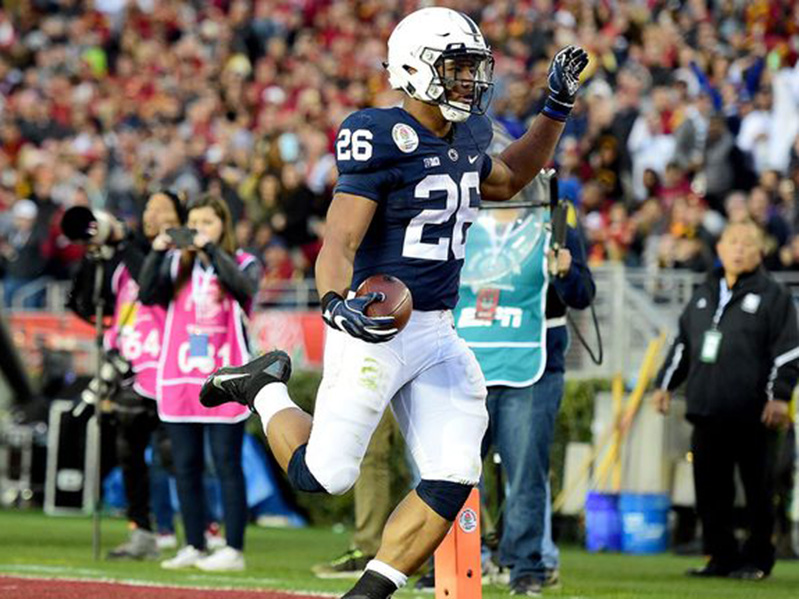 (Photo by: Harry How/Getty Images)
Now that we've all caught our breaths from the wild, western shootout otherwise known as the 2017 Rose Bowl, it's time to take a look at that game and the future of the Penn State Nittany Lions, who took part in that game alongside the USC Trojans.
The 103rd edition of the Rose Bowl didn't disappoint in the least. It had everything a fan could ask for in a game as it unfolded into an instant classic: points, drama, lead changes and last minute heroics. Both teams were up multiple scores, while the other team scraped back to either overtake the lead or tie the game.
Both Penn State and USC boasted a handful of players they pulled from the Fountain of Youth and boy, oh, boy did they put on a show on the big stage. Trace McSorley, the Nittany Lions' redshirt sophomore quarterback, bounced back after throwing interceptions on his first two throws of the game to throw for 254 yards and four touchdowns — while adding a rushing touchdown, as well. USC's redshirt freshman quarterback, Sam Darnold, showed the poise of an NFL veteran, weathering the Penn State storm and shredding the Nittany Lions' pass defense for 453 yards and five touchdowns.
Sophomore sensation Saquon Barkley — Penn State's star running back — put an exclamation point on his fantastic campaign with his 249-all-purpose yards performance and his three touchdowns. On the USC side, sophomore wide receiver Deontay Burnett had 164 receiving yards while hauling in three of Darnold's five touchdowns.
The future for both programs is incredibly bright — barring any unforeseen injuries to the aforementioned stand-out players. It's entirely possible that the nation could get a rematch in next year's College Football Playoff if both teams play up to their potential.
Penn State will have to move on without wide receiver Chris Godwin and defensive end Garrett Sickels, both of whom declared for the draft last week. While Godwin's productivity in the passing game will be hard to replace, Irvin Charles looks like he could be coming to the rescue.
At this point last year, the Nittany Lions had more questions in their program than answers with coaches heading south for jobs — Bob Shoop and Herb Hand (Tennessee and Auburn, respectively) — and new members of the staff coming in — Joe Moorhead, Tim Banks and Matt Limegrover — as well as players heading to the draft (i.e. Christian Hackenberg).
The new members of the staff — along with Brent Pry, who took over the reigns on the defensive side of the ball — answered any questions fans might have had. Moorhead and his offense put points on the board at a pace Penn State fans haven't seen in quite some time, while also getting the most out of McSorley and Barkley.
Limegrover patched up the offensive line, a unit that forced Hackenberg to be on his back more often than on his feet, making it a serviceable line with help coming in the form of players who redshirted this year.
Banks helped the secondary to one of its best years in recent memory, highlighted by the performance of Marcus Allen this season.
McSorley is very much the answer to who would take over for Hackenberg; McSorley, in his first year as signal caller, set the Penn State record books on fire with his performances en route to the Nittany Lions' 11-3 record.
This team — this program, rather — wasn't supposed to be back to this type of play this soon. When the NCAA handed the sanctions down in 2012, the Nittany Lions football team was left for dead, but this team overcame all that to be Big Ten Champions and put on one hell of a show in the Rose Bowl, declaring to the nation that Penn State football is back — and it's not going anywhere.
With McSorley and Barkley coming back, as well as this team getting healthy defensively, its very possible the Nittany Lions will find themselves back in a New Year's Six bowl in 2018. Losing only 12 seniors as well as Sickels and Godwin, the majority of Penn State's weapons are still intact. And the Nittany Lions continue to have success in recruiting and adding quality players to their program.
It's still way too early to predict what will happen in 2017.
However, the Nittany Lions should be a lock to start the season in the top-10 of the rankings, a place no one thought they could get to — let alone stay at.
2016 was the first year Penn State operated with a full complement of scholarship athletes, and it took the Nittany Lions to the Rose Bowl.
Just imagine what can happen in Year Two of being back to full scholarships…