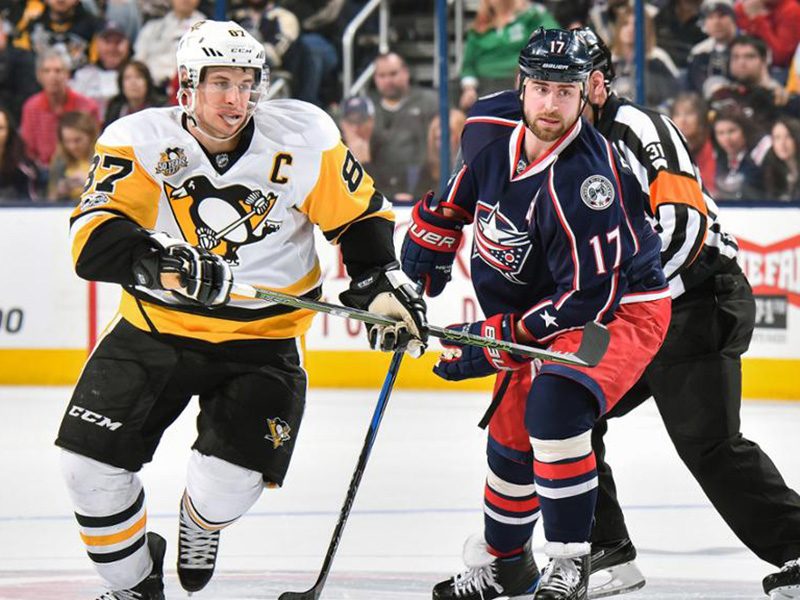 Throughout the regular season, the Pittsburgh Penguins (50-21-11; 111 points) and Columbus Blue Jackets (50-24-8; 108) were easily two of the best and most consistent teams in the NHL — and now the two meet Wednesday in the first round of the Stanley Cup playoffs. It's the second time in four seasons that the two have faced each other in the postseason (the Penguins beat the Blue Jackets four games to two in the first round of the 2014 playoffs.)
Pittsburgh fought through major injuries this season, but still pushed its way to the No. 2 seed in the East and finished with 111 points (second-most in franchise history) thanks to its insane depth (looking at you, Wilkes-Barre/Scranton). And now, just in time for playoff hockey, the Penguins are getting healthy.
Center Evgeni Malkin is set to play Wednesday after missing the final 13 games of the regular season, and defenseman Trevor Daley came back in time to play the last two games of the season after missing 20 games due to knee surgery. Even the speedy winger Carl Hagelin (broken foot) looks like he could return soon after missing the past 16 games.
Unfortunately for Pittsburgh, however, defenseman Kris Letang is out for the rest of season, and there still hasn't been an update on winger Chris Kunitz (lower body, believed to be a broken foot), but he's expected to miss the first round of the playoffs.
Columbus pushed its way to a 50-win season for the first time in franchise history but is coming into the playoffs riding an ice-cold streak, losing six of its last seven games. The Blue Jackets did win their final game of the season, 3-2 over the Toronto Maple Leafs, to force Toronto to play the Washington Capitals in the first round of the playoffs rather than face the Ottawa Senators.
The two teams played four times this season, splitting the contests with the home team coming out as the victor. Two of the games went to overtime, while the Blue Jackets won their other game 7-1 and the Penguins won their other game 4-1 in the teams' final matchup.
Both team's head coaches are familiar with each other; Mike Sullivan (Pittsburgh) spent seven season working under John Tortorella (Columbus) with the Tampa Bay Rangers, Vancouver Canucks and New York Rangers, as well as at the World Cup of Hockey.
Before the two played in March, Tortorella had this to say about Sullivan: "Sully to me? Sully is a, he's a better coach. He is. He is progressive. He's a really good communicator where he can light you up a little bit sometimes with his emotion but also, I think he's one of the best at drawing people into conversations, so it's a two-way conversations. … That's a tough job to coach that team because of the expectations and the personalities."
Players to watch
Sidney Crosby, Pittsburgh Penguins
This season, Crosby has played some of the best hockey of his career. The Rocket Richard Trophy winner (most goals in the season) is a favorite in the Hart Trophy race (league MVP), too. Despite missing the first six games of the season with a concussion, the 29-year-old "Kid" finished with 44 goals and 45 assists, to tie for second for the Art Ross Trophy (most points) with 89 — behind winner Connor McDavid (100 points) and alongside Patrick Kane (89 points).
Pittsburgh's first line is built around speed and skill, and Crosby delights in lighting up opposing defenses. In the 11 complete games Crosby has played with Jake Guentzel and Conor Sheary on his line, the trio has 44 points. Both Guentzel and Sheary dealt injuries toward the end of the regular season, Guentzel with a concussion and Sheary with a lower-body injury.
Oh, and don't forget Crosby is the reigning Conn-Smythe Trophy winner (for playoff MVP).
Evgeni Malkin, Pittsburgh Penguins
Welcome back, Geno!
Malkin hasn't stepped foot on the ice for a game since March 15, but he's lacing up his skates Wednesday after skating alongside Bryan Rust and Phil Kessel on Pittsburgh's second line at Tuesday's practice.
In 62 regular-season games, Malkin had 72 points (33 goals, 39 assists) and was in the top-15 in points and was 16th in goals. Getting him back will be a huge boon for one of the league's top offenses — particularly on a powerplay unit that struggled somewhat this season.
Of Malkin, Kessel said: "Geno is one of the best players in the world. Whenever he is in the lineup, we're a better team. He's special."
Malkin's return messes up Columbus' potential defensive match ups. With a player of Malkin's exceptional quality on the Penguins' second line, Tortorella will have his hands full trying to find someone to shut down Malkin.
Phil Kessel, Pittsburgh Penguins
Kessel was so, so good in last season's playoffs — part of the now-legendary "HBK" line — and Pittsburgh needs him to play like that again this year. He went through a bit of a funk to close out the 2016-17 season (at one point scoring just once in 20 games) but seems to thrive when it comes to win-or-go-home hockey.
It'll be interesting to see Kessel play alongside Malkin rather than centering the Penguins' third line, but it could provide just the spark Kessel needs to get going.
Brandon Dubinsky, Columbus Blue Jackets
Dubinsky and Crosby have quite the history — and it's nasty. The two fought in 2015, and, one month later, Dubinsky received a one-game suspension for cross-checking Crosby. The shutdown centerman has even called Crosby a "baby." As Rory Bolen of Sportsnet.ca pointed out, in 11 games, Crosby has scored no goals when going up against Dubinsky. It's safe to say Dubinsky has a way of getting under Crosby's skin.
And Crosby knows how crucial his matchup with Dubinsky will be. Crosby said, "I think he is a guy that takes pride in playing against other centers and shutting them down, so I think you need to be ready for that challenge. He creates offensively, too, so he is not out there trying to defend all night. He wants to create."
In 80 games, Dubinsky had 40 points (12 G, 29 A).
Zach Werenski, Columbus Blue Jackets
One of the breakout stars for Columbus this season was 19-year-old rookie defenseman Werenski, who had 47 points in 78 games, leading his team's blueliners and sixth on the team. He missed the last four games of the season with an upper-body injury but will likely come back Wednesday night feeling refreshed.
"Sometimes things happen for a reason," Tortorella said. "This is a real positive for us in that the games that he just missed, there wasn't a whole lot of importance as far as us fighting to get in and whatever, so it gave him a chance to rest. He's one of our top defenseman. The rest may help him."
Werenski will play alongside Seth Jones as the first defensive pair.
Cam Atkinson, Columbus Blue Jackets
Right winger Cam Atkinson led his club with 35 goals and 62 points, both of which were career-highs. Atkinson, who made the All-Star roster after a Malkin injury, slowed down in the second half of the season, which Tortorella said he thought was because the team had already clinched its playoff spot.
"These are the things you have to fight when you clinch so early. … You just lost a bit (of sharpness) and you can't get too far down that road."
Atkinson is the star of Columbus' power play, frequently drops behind the goal line and excels at one-timer opportunities.
Matt Murray vs. Sergei Bobrovsky
In last year's playoffs, then-rookie Matt Murray was a revelation and was easily one of the reasons Pittsburgh lifted the Cup at the end of the season. And this season, Murray has been very good, too. He finished the 2016-17 season with a 32-10-4 record in 47 starts, a 2.41 goal-against average and a .923 save percentage.
But where the Penguins seems to hold the edge in both offense and defense, the Blue Jackets hold the edge at netminder. Bobrovsky is extremely likely to get Vezina Trophy love — and maybe even some Hart Trophy love, too. Columbus' goaltender led the league in both save percentage (.931) and goals-against average (2.06).
Keys of the game
Penguins' speed vs. Blue Jackets' physicality
Even without Hagelin on the ice, speed is still Pittsburgh's calling card. So Columbus will try to counteract that with its gritty and physical play. Dubinsky told the Columbus Dispatch, "We're not trying to out-bruise them or run them out of the building… but physical play certainly is going to be a big part for us to be successful. I don't doubt that we'll be ready for that aspect."
Columbus forward Scott Hartnell added, "It wears on a team's defense core every time you go back for a puck you're going to get hit, you're going to get rubbed out. We want to make it a hard 60 minutes. Every time they go back for a puck, we're going to get a lick on them."
The Penguins are aware that the Blue Jackets will try to play a physical game and are ready for that, with Malkin saying, "We know after the whistle they won't stop. We need to be smart. If they touch our goalie, we need to answer. If they touch our defensemen, we need to answer. But don't take penalties. Be smart and play our game."
Can Pittsburgh's defense survive the loss of Kris Letang?
There's no sugarcoating how much the loss of Letang (surgery to repair a herniated disk) hurts the Penguins and their hopes of repeating as Stanley Cup champions. Now Pittsburgh will have to rely on the pairings of Ian Cole-Justin Schultz (first pairing), Brian Dumoulin-Ron Hainsey (second) and Olli Maata-Trevor Daley (third) to carry the team.
Hartnell said Columbus will try and beat down Pittsburgh's defense — legally, of course.
"You can't get your stick up, you can't get your elbows up — you don't want to put your team down a man," he said. "But we want to skate, use out legs, get in on pucks and turn things over. They've got some banged-up defensemen, and we need to put some heat on them."
After 907 games, Hainsey will finally make his playoff debut.
"I certainly would have loved to play 100 playoff games by now, won three Stanley Cups, but it just hasn't been the way it has worked out for me," Hainsey said. "This opportunity, the next couple of months, hopefully we can string together a good run and what would be another championship run for these guys."
Series prediction
With two teams this good and this fun to watch, it's a shame to lose one of them in the first round.
Despite the Blue Jackets having the edge at goaltender, the Penguins' offense — hello, Crosby and Malkin — will just be too much for Columbus to handle. And a mostly healthy Pittsburgh defense and a talented Matt Murray aren't going to make anything easy for the Blue Jackets.
Prediction: Penguins in six
How to watch
Tonight's game at PPG Paints Arena will be broadcast locally on ROOT Sports and nationally on USA starting at 7:30 p.m. ET. The rest of the playoff schedule can be found here.