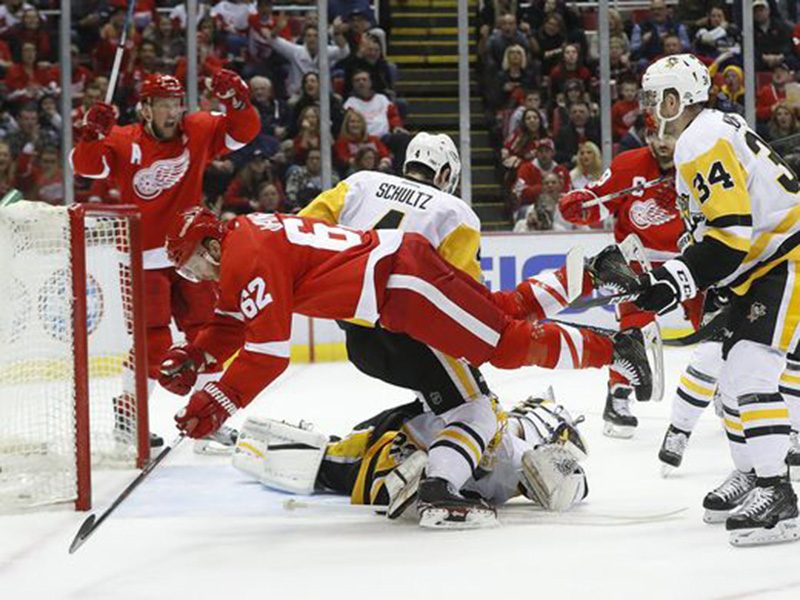 Red Wings winger Thomas Vanek (62) scores in the second period of Saturday's game. (Photo by: Paul Sancya/AP Photo)
Prior to Thursday, the Pittsburgh Penguins (26-11-5) hadn't lost two games in a row all season. And now the Penguins have added to that losing streak, falling 6-3 to the Detroit Red Wings (18-19-6) on Saturday night.
A Kris Letang goal in the opening minute of the game instantly put Pittsburgh in the lead. And the Penguins' lead would increase in the second period with a goal from Evgeni Malkin. But Detroit wouldn't go down without a fight. Two straight Red Wings goals by Gustav Nyquist and Thomas Vanek tied the game at 2-2 until Pittsburgh's Matt Cullen scored an unassisted goal just a few minutes before the period ended to put the Penguins back up, 3-2.
Once again, however, Detroits' offense kept its foot on the gas as Frans Nielsen would score a goal in the final minute of the second period. Although tied 3-3 going into the third period, Pittsburgh didn't look its best on the ice, but the game was certainly still within reach.
The Red Wings would go on to score three unanswered goals in the final period of play to snap their own three game losing streak — Pittsburgh scored to tie it up at 4-4, but the goal was called back due to goaltender interference.
Penguins netminder Marc-Andre Fleury didn't have great game — he made 28 saves on 34 shots — but he was still able to hold off Detroit until the final period.
Pittsburgh's offense was completely shut down in the final period of play, and it struggled to put up much of a fight. While there were opportunities that came across the Penguins' sticks, Red Wings goalie Jared Coreau was able to deny most of what Pittsburgh was able to dish out.
Saturday night's loss came from the Penguins playing poor defense and the team's inability to keep the puck out of their own net and zone.
Third-straight loss
The Penguins aren't used to dropping back-to-back games, let alone three or more in a row. While there isn't cause for concern — yet — the Metropolitan Division is an absolute tossup. Every game from here until the end of the season is critical.
However, Pittsburgh has the tendency to break itself out of bad streaks like this because of head coach Mike Sullivan's ability to make key adjustments and to focus on the next game on the schedule.
Sullivan was visibly upset following the loss in his post-game conference, saying, "I just don't think we played the game the right all night long. I think we are trying to outscore teams instead of outplay them. Its hard to win in this league when you give up six goals."
Soul searching
Saturday's loss could have easily gone the other way. And after calling his team's play "ordinary," Sullivan had made his frustration known.
Even though the Penguins are struggling some right now, Pittsburgh is still a scary team. But the players' lack of discipline away from the puck and the team's inability to capitalize on game-changing opportunities means that bad losses like this will happen.
Expect the Penguins to come out in their next game with a chip on their shoulder after taking such a beating. It'd be surprising to see Pittsburgh to come out flat considering that coaches — as well as players — know the team is better than the way it has played in its last three games.
Letang leaves game with injury
Letang, the Penguins' top defenseman, left Saturday's game with an apparent injury. He suffered the injury less than four minutes into the game after getting tangled up in the defensive zone with Detroit winger Thomas Vanek.
While Letang briefly returned after leaving the game, he left for good later in the period.
There was no post-game update on Letang's injury or his status for Pittsburgh's next game.
Looking Ahead
The Penguins will next match up against the Washington Capitals at PPG Paints Arena on Monday. Pittsburgh will look to redeem itself after its last three loss. Puck drop is set for 7:00 p.m. EST.