A roller coaster game Tuesday night ended in the Pittsburgh Pirates favor as it won a 7-6 game against the Cincinnati Reds.
"We lost three in a row on the road so we want to win at home," Andrew McCutchen said. "To lose how we did against the Nationals, we were pretty amped up for playing in front of a home crowd."
The Pirates will look to make it two wins in a row when they take on the Reds once again.
Gerrit Cole will start for the Pirates attempt to become the fifth Pittsburgh pitcher to win 12 games before the All-Star Break. Also on that list are Ken Brett, Dock Ellis, ElRoy Face and Rip Sewell.
Cole is 0-2 with a 4.70 ERA in four career starts against the Reds. He has won each of his last six decisions with his most recent coming in a road contest against the Chicago White Sox. Cole allowed two runs on three hits in seven innings.
His mound opponent is Mike Leake, a pitcher who is no stranger to the Pirates posting a 7-3 overall record with a 3.10 ERA in 22 career starts versus them. Leake is coming off a win against the Miami Marlins in which he pitched seven shutout innings and allowed two hits.
Volstad returns to big leagues
Chris Volstad was with the Pirates on Monday because of potential injury trouble and remained there Tuesday. This was because Volstad's contract was purchased, making his a part of the 25-man roster.
"It's been a long journey and it feels great to be part of this organization and this team that has done well," Volstad said. "Hopefully I can go out there, contribute and help the team win."
To make room for Volstad, the Pirates placed Corey Hart on the 15-day disabled list with left shoulder impingement retroactive to June 22. Shoulder impingement syndrome occurs when the shoulder's rotator cuff tendons alternate between being trapped and compressed during shoulder movements. Hart has been battling this issue for a while.
"After talking yesterday with him, we feel this is the proper time to get him some rest, get it right, get some at-bats and see where it goes from there," manager Clint Hurdle said.
According to WebMD, The normal recovery time for shoulder impingement could take weeks to months and shoulder surgery is a possibility.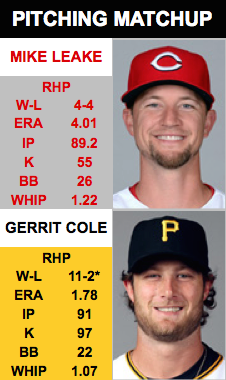 Hurdle cited Volstad's sinker and slider combination as a successful one. He further said that the top of Volstad's delivery is "reignited" and that he is pitching with intent, especially in the past month.
"I made some mechanical adjustments in Spring Training working with the staff and that maybe translated into a different mindset, a different mentality," said Volstad. "We just built off each other and mechanical adjustments here and there. I'm using my body and using my size."
Volstad went 5-2 with a 3.43 ERA in 14 appearances, 12 of which were starts with Triple-A Indianapolis. He was a first-round draft pick in 2005 by the then Florida Marlins. Volstad has pitched with the Marlins, Chicago Cubs and Colorado Rockies. He last pitched in the major leagues on June 15, 2013.
"It feels great to be a part of [the major leagues], and to be welcomed by the guys to join in the journey, help as much as I can and be a part of something great so it's really exciting," Volstad said.
A corresponding move does not need to be made with the 40-man roster because one spot was available.
Bottom of the ninth:
Volstad's call-up comes with a taxed bullpen in mind. Vance Worley threw 84 pitches during the weekend series with the Washington Nationals and is unavailable. Arquimedes Caminero likely will also get the night off after throwing two innings in Tuesday's game. Hurdle said that Rob Scahill should be okay and that Tony Watson and Mark Melancon will only be used in appropriate situations. Jared Hughes and Antonio Bastardo will both be available.
Brandon Phillips is out of tonight's Reds lineup because he jammed his left thumb in last night's game, this was the same thumb that last season required surgery… The Pirates have won seven consecutive games at PNC Park and 13 of their last 15… The Pirates are 8-3 in one-run games played at home this season.
Photo credit: Getty Images