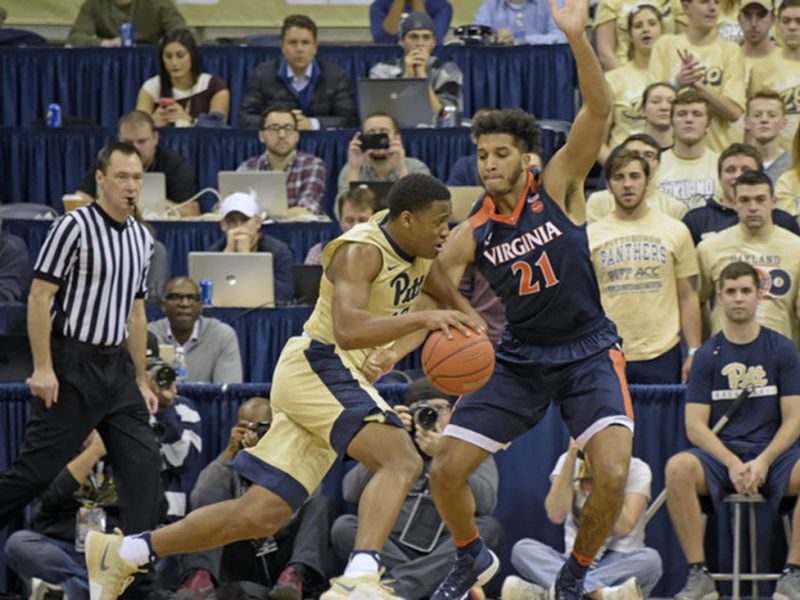 (Photo by: Fred Vuich/AP)
The Pittsburgh Panthers lost their final regular-season game to the University of Virginia on Saturday by a disheartening score of 67-42.
For Pitt head coach Kevin Stallings, it was the same old story.
"We failed to guard their penetration, and that gave them some of their threes as well," Stallings said after the game. "Offensively, we could never generate enough to keep it going, and, at our place, we hit shots and could sustain the times where we didn't. Today, we were not able to do that."
The Panthers were led in scoring by Michael Young, who didn't start the game. Neither did fellow senior and regular starter Jamel Artis. Stallings alluded to why the team's two best players were benched after the game.
"They were late, and we have penalties set in place for that," Stallings said. "If you are late once, this happens, and if you're late twice, this happens. Today, they were late 10 minutes, so they sat out 10 minutes. We are trying to establish a culture here of doing the right thing and having accountability and responsibility. We try to do the right thing for your teammates, and sometimes, even when it's not the opportune time, you have to uphold and enforce that."
Artis led the team in rebounds with six and Cameron Johnson and Young led the team in assists with two each.
The Cavaliers were led in scoring by London Perrantes, who scored 22 points. Virginia only had one other double-digit scorer: Ty Jerome, who had 13 points. Jack Salt led the team in rebounds with nine, while Perrantes and Jerome led the team in assists, providing three each.
After the game, Perrantes talked about walking off the Virginia court one last time with his head coach Tony Bennett.
"It was cool," Perrantes said. "Walking off the floor with Coach Bennett was huge. He gave me this opportunity. Without him, I would not be here. I would not have had the success that I have had, and the program would not have had the success that it has had without him. We have gone through ups and downs. We have fought and gone head-to-head and battled each other, but we have had some good times, too."
The Panthers aren't done playing basketball, however; they'll face Georgia Tech on Tuesday in the ACC Tournament. Pitt has played Georgia Tech twice this season, losing both times. Tuesday's game has a tip-off time of 7 p.m. EST.