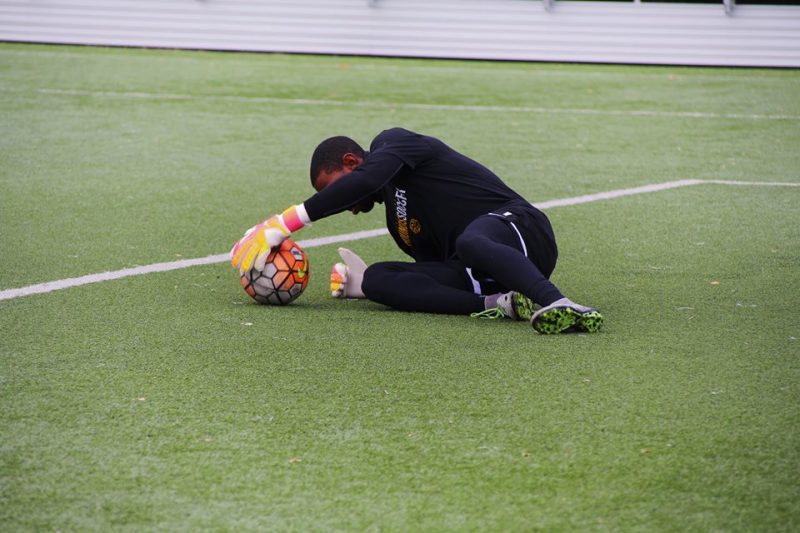 (Photo by: Rachael McKriger)
Keasel Broome had unfinished business with Pittsburgh.
That's why the goalkeeper signed with the Pittsburgh Riverhounds back in November.
"The Riverhounds was the first place I came on trial after college," Broome says. "When I was on trial, I was drafted by the San Jose Earthquakes, and I want to finish where I first started my journey."
But that trial wasn't the only time Broome was in Pittsburgh before he signed with the Riverhounds. Broome also played against the Riverhounds last season, spending the 2016 season with the Harrisburg City Islanders, the Riverhounds' in-state rival.
"The experience of playing for Harrisburg opened my eyes to what it means to be a professional in the USL," Broome says. "Every game is tough, competitive and a grind. It was great to see different stadiums and away environments of each team. And now coming into my second season in the USL, I have a solid background on what to expect."
He's used that background this season for the Riverhounds. In his two matches, Broome has made four saves.
He's still in a sort of goalkeeper competition with Trey Mitchell, who has started three matches and made eight saves. However, despite the competition, both players are close, always encouraging each other when the other is in net.
"Our relationship is pretty good," Broome says. "We both are perfectionist when it comes to training and like to perform our best every day. Off the field, we are good friends, and we enjoy talking about our playing experiences together."
Broome was born and raised in Claymont, Delaware, and he still loves that place.
"I love Delaware; it will always be my home," Broome says. "I went to the same school from kindergarten all the way through twelfth grade at Caravel Academy. I still have some very close relationships with teachers and friends from there. Delaware is always going to be close to my heart."
Another place close to his heart? Barbados.
Although he didn't grow up in Barbados, he's vacationed there a few times — visiting family down by the equator — and he's represented the team a total of four times at the senior national team level.
"Playing for the Barbados National Team is an absolute honor every time I put on the national jersey," Broome said. "I used to wonder what it was like, doing the international walkout and hearing the FIFA song over the speakers — and it was a dream come true for me. I'm looking to increase my caps over my career and help the national team in any way I possibly can."
After high school, Broome decided to stay on the East Coast, attending Providence College. There, he majored in sociology with a minor in business. On the pitch, he set a school record for minutes played in a single season — with a grand total of 2,131 minutes. He started all of his matches his senior season (he was a co-captain) and notched eight shutouts. He also started every match of his junior season.
"Providence College is my second home," Broome says with pride. "I absolutely love that place and the city of Providence. It's a great place to live, grow as a person, play a Division I sport and get a very good education."
During his college years, played for the semi-professional Reading United in 2012, the Ocean City Nor'easters in 2013 and the Real Boston Rams in 2014. All clubs are part of the USL's Premier Development League.
"Reading United was a great organization with a class of players who most of them are playing professional somewhere currently," Broome says. "It was also very cool to be under the Philadelphia Union system and the opportunity to train and play against them. Ocean City was another great experience, with a group of talented players where we made a run to the PDL final for that year. It was amazing to be living at the beach all summer and getting to really enjoy my summer but also get better each and every day."
When he played for the Real Boston Rams, Broome enjoyed being close to his college.
"The Real Boston Rams was great because I was close to Providence going into my last season as a Friar," he says. "I got to play competitive games for the Rams, train and lift at Providence and also got to train with the New England Revolution, fine tuning everything leading into Providence College's Final Four run in 2014."
In 2015, Broome's professional career took off. In the 2015 MLS SuperDraft, he was drafted by the San Jose Earthquakes in the third round. However, he didn't sign with the club. Instead, he spent his rookie season with the New York Cosmos.
"The Cosmos are such a historic club with such a winning tradition," Broome says. "It was amazing. I was fortunate enough to play with Spanish National Team and Champions League legends like Raúl and Marcos Senna. They are amazing players on the field and even better people off it. The team was amazing with a winning mentality, and it was a treat to live in New York, as well."
After one season, however, the goalkeeper made his way to the middle of Pennsylvania with Harrisburg where he split goalkeeper duties with Nick Noble. Broome made 13 appearances last season for the Islanders, recording a 5-4-4 record.
Broome is aware of the rivalry between the Riverhounds and the Islanders, and he admits that it added an interesting factor to his switch.
"I had friends that played on the Riverhounds last year and spoke very highly of the club, coach and the city, and when I was told that Harrisburg was not interested in bringing me back for this coming season, I decided to come here," Broome says. "There was interest shown by the Riverhounds, and I jumped on it as soon as possible — and I'm very happy with my move and being a Riverhound."
Riverhounds fans can thank head coach Dave Brandt for that; Broome was one of the first offseason moves made by Brandt in his roster revamp.
"I love the intensity he brings to training every day and (that he) wants Grade A work out of everyone on the roster," Broome says. "I like that and have bought into his philosophy and goals, and I think he creates a winning mentality in the locker room and around the club."
Broome is still learning about his new teammates but said the team chemistry has been positive. They wall want the same thing: to win.
"We hang out a lot together off the field, and, I think, enjoy each other's company," Broome says. "We all are in this together and with the core group coming back from last season with the influx of new, and young guys, it creates and good atmosphere on and off the field."
Broome is enjoying learning about his new city. He likes driving around, seeing the sights and sounds. He's looking forward to being at Pittsburgh Pirates, Penguins and Steelers games.
But when all is said and done, Broome is in Pittsburgh to help his team win a USL championship. Broome believes that goal is attainable, and he knows his teammates think so as well.
"My goal for the upcoming season is to accomplish what the team and Coach Brandt have set out for this year," Broome says. "I think all the goals are possible and something we are all working toward now. For myself, I think it has to be to help the team get the results in the best way possible and understand what needs to be done to make it happen."
Broome and the Riverhounds will return to Highmark Stadium on Saturday, April 29 to face the Harrisburg City Islanders. The match is scheduled to kick off at 7 p.m., and tickets are still available.