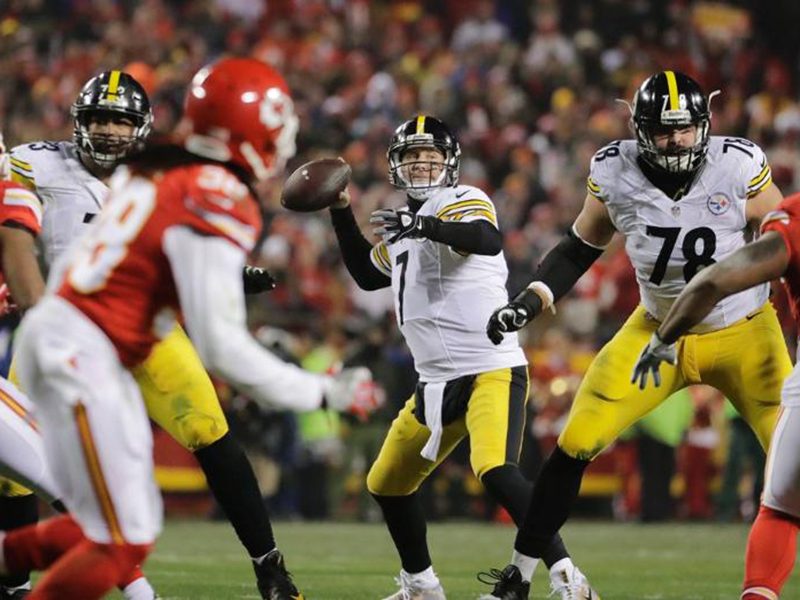 Ben Roethlisberger and his offense had trouble finding the endzone Sunday. (Photo by: Pittsburgh Steelers)
In the most untraditional fashion, the Pittsburgh Steelers are heading to the 2017 AFC Championship Game against the New England Patriots.
That might not sound non-traditional.
The Steelers are six-time Super Bowl champions, so they've obviously seen their share of AFC Championship games. However, what was non-tradiational was the way Pittsburgh earned its win in the AFC Divisional Round against the Kansas City Chiefs.
Give Chris Boswell the hero's cape. He scored every point for the Steelers, notching six field goals. In addition, Boswell also handled kicking off to Chiefs return man Tyreek Hill, who couldn't make much of his kickoff returns.
Now, the Steelers are one game away from heading to another Super Bowl and from possibly winning their seventh Lombardi Trophy. However, there's one more test in their way: the Patriots. New England isn't going to be a breeze to go past, but if the Steelers want to make the Patriots' job easier, they have to do more on offense than just six Boswell field goals (no offense, Wizard of Boz).
Here are the grades for the Steelers performance against the Chiefs at Arrowhead Stadium.
Quarterback:
Ben Roethlisberger had no problem marching his team down the field and into the red zone. But when it came to finding the endzone, Pittsburgh's offense stalled. Roethlisberger does get some sympathy from me for one reason: Arrowhead Stadium is loud, and I was just watching from my couch and could understand any problems with the level of noise. However, Roethlisberger finishing the day with no touchdowns and just 224 yards on 20/31 passes — including an interception by Eric Berry — isn't good enough for playoff football.
Grade: B-
Running Back:
He didn't find the end zone, but Le'Veon Bell did find the record book once again. Just a week after breaking Pittsburgh's franchise record for most rushing yards in a postseason game, Bell crushed his own record with 170 yards on 30 carries. Bell was a key force on third down conversions, thus giving Boswell's field goals a chance.
Grade: B+
Wide Receivers:
Leave it to Antonio Brown to have a huge game in the air — but no touchdowns. Brown led the Steelers' receivers with six receptions for 108 yards. His big play was a 52-yard grab from Roethlisberger.
The next wide receiver on the stat sheet was Eli Rogers, who had five catches for 27 yards.
Grade: B
Tight Ends:
This was probably one of the best games Jesse James had in a Steelers uniform. While he didn't have a touchdown to show for it, his blocking was a key factor in Bell's 170 rushing yards. James also followed Brown on the receiving list, catching five passes for 83 yards. (James' big play was a 26-yard grab.)
Grade: B+
Offensive Line:
When Bell does well, that means the offensive line has done well. 2016 is the best season in a while that this offensive line has had. However, the line did slip up once, letting Kansas City's Jarvis Jenkins and Dee Ford team up for a sack on Roethlisberger. However, Roethlisberger wasn't banged around too much, and he'll be a go for the game against the Patriots.
Grade: A
Defensive Line:
The defensive line didn't have any sacks, but, when it came to the Chiefs, that was the last thing on the line's mind. Stopping Tyreek Hill was the agenda, and that's exactly what the defensive line did. The line held Hill to only 18 yards on three carries, and it held Spencer Ware to 35 yards on eight carries.
Grade: B+
Linebackers:
Getting off a plane and heading to the gym at 4 a.m. gets James Harrison brownie points, but his sack on Chiefs quarterback Alex Smith was a highlight. Harrison keeps adding to his franchise record number of sacks, and he isn't slowing down. Tom Brady, you're next.
As for Harrison's fellow linebackers, Ryan Shazier recorded five tackles, while also picking off Smith. Bud Dupree also had a strong game, recording four tackles and getting plenty of pressure on Smith.
Grade: A
Secondary:
Ross Cockrell tied Harrison for team-leading tackles (five solo tackles and one assisted tackle). Luckily for Pittsburgh, Cockrell didn't injure his back or smack his head on the ground when Kansas City tight end Travis Kelce lost his temper and shoved Cockrell.
Rookies Artie Burns (corner back) and Sean Davis (safety) were quiet against the Chiefs, but they applied plenty of red zone coverage when needed.
Grade: A-
Special Teams:
Christopher Lynn Boswell made field goals from 22, 38, 36, 43, 45 and 43 yards to seal the deal for the Steelers and to break an NFL record for most field goals in a postseason game.
Jordan Berry only punted once, a meek 35-yarder, but it didn't matter. Boswell's performance was enough.
Also, the special teams defense deserves credit for stopping Hill, too.
Grade: A++
Coaching:
On third and short in the first half of the game, offensive coordinator Todd Haley called a play where Roethlisberger would throw the ball. With Bell breaking his own record and having a stellar day, the call left many pondering where Haley's head was.
However, the biggest concern regarding the coaching staff isn't necessarily from the game but from its aftermath. After the game, Brown streamed a Facebook Live video of head coach Mike Tomlin's post game speech, where he was telling the team to lay off social media heading into the game against New England. It'll be a testament to see how Tomlin handles this situation.
Grade: B
What's Next?
The Steelers will travel to Foxboro, Mass. to face the New England Patriots in the AFC Championship Game at Gillette Stadium. The game will air on CBS and will kickoff at 6:20 p.m. EST.