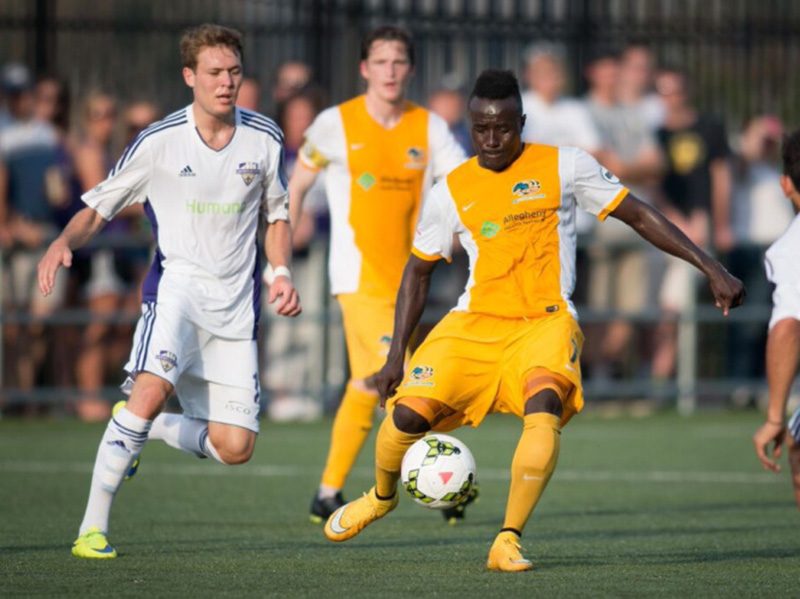 This will be the third season in a Riverhounds jersey for midfielder Stephen Okai. (Photo by: Pittsburgh Riverhounds)
The Pittsburgh Riverhounds have brought in more experience depth at midfield for the 2017 season, announcing the re-signing of midfielder Stephen Okai.
Okai signed with the club in 2015, and 2017 will be his third season in a Riverhound jersey. In his two seasons in Pittsburgh, Okai made 46 appearances, scoring one goal (against the Wilmington Hammerheads in July 2016) and providing four assists.
"Stephen is a very accomplished, very skillful, very strong player that we knew we wanted back from the start of the offseason," said head coach Dave Brandt. "Now that it is officially done, we're certainly happy and excited to have him back for 2017."
Okai started his professional soccer career back in 2010 when he signed with the Des Moines Meance, where he made 15 appearances (scoring two goals) in one season. He moved on to Reading United for two seasons, where he made 28 appearances from 2001-12, scoring five goals.
In 2013, Okai went down south to play for the Charlotte Eagles for one season. He made 24 appearances and scored four goals.
In 2014, he signed with the Orange County Blues (USL), where he made 26 appearances and scored twice.
He then made his way to Pittsburgh in 2015.
The 27-year-old from Ghana is now the 23rd player signed to the Riverhounds' roster for the 2017 season. He's the ninth player on that roster who wore a Pittsburgh jersey in 2016.
The Riverhounds have begun their preseason training and are awaiting their schedule release from the USL.