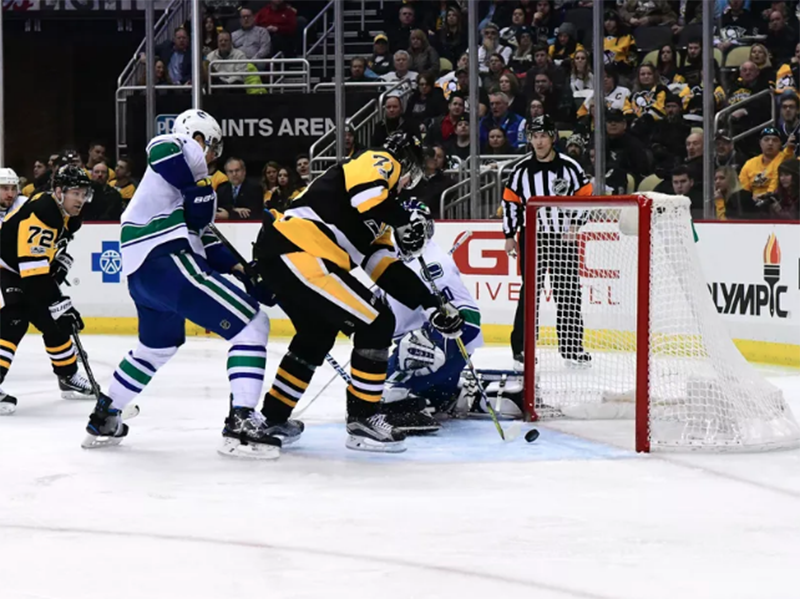 Pittsburgh Penguins center Evgeni Malkin (71) taps the puck in the back of the net for the first goal of Tuesday's game against the Vancouver Canucks.(Photo by: Matt Kincaid/Getty Images)
999.
Pittsburgh Penguins center Sidney Crosby came into Tuesday night's game against the Vancouver Canucks with 998 points. He left with 999, just shy of that coveted 1,000-point mark.
As a whole, it was a dominant performance from the Penguins (35-13-7), who easily handled the Canucks (25-26-6) to win 4-0. Goaltender Matt Murray recorded his fourth career shutout — his third this season — and played a major role in Tuesday night's win.
However, the game's big story was Evgeni Malkin's stellar return to the ice after missing seven games with an unspecified injury. And, on Valentine's Day, the fans showed him a lot of love. Malkin scored the game's first goal — his 23rd of the season — and added an assist on Phil Kessel's goal, the third goal of the game. Malkin now has 56 points this season, just five points behind Crosby, who is second on this season's points list (Connor McDavid leads the league with 63 points.)
An added bonus Tuesday was the continued emergence of 22-year-old rookie Jake Guentzel. Scoring his sixth goal on the season against Vancouver — set up by Crosby and Brian Dumoulin — Guentzel has been another chapter in the book on how the Penguins have played so well with seemingly unknown players.
Following Pittsburgh's big win, head coach Mike Sullivan had this to say: "These lines have created a lot of opportunities. The puck hasn't gone in a lot of times, but we've liked what has been generating offensively. Jake (Guentzel) is stiff on the wall, stiff on the puck and in the corners and helps the overall line."
If Pittsburgh's forwards are all healthy going into the final weeks of the season, Guentzel may have to take a back seat, but he's an incredible asset and a great option should he ever be sent to the bench. His natural and fluid instincts have really added depth to an already-potent Penguins offense.
No. 999
In the third period, Crosby came very close to scoring the 1000th point of his career. After an assist on a Guentzel goal, Ryan Miller got his big left pad on a backhand shot by Crosby. While Crosby wasn't able to get the clincher Tuesday night, he's that much closer to becoming the 86th player in NHL history to hit the 1000-point milestone.
And Crosby has a lot more hockey to play. With Malkin's return against Vancouver and the rest of the team hitting a good stride, Crosby still has a lot to prove.
As long as the coaching and talent around him stays intact, expect him to continue to put up big numbers.
Final Notes
Murray's performance Tuesday was exactly what the doctor ordered, saving all 29 shots he faced. Vancouver had plenty of good opportunities to score, but, if not for Murray's impeccable reactions, the game could have been much closer.
…
With netminder Marc-Andre Fleury getting benched again Tuesday night in favor of Murray, rumors of Fleury being traded before the deadline continue to swirl. His no-trade clause doesn't give Penguins general manager Jim Rutherford ideal control over the situation, but he has admitted to keeping his eyes and ears open for potential landing spots.
If Fleury goes somewhere else, Pittsburgh would dump almost $6 million in salary — depending on the return the Penguins get. They would, however, need to find a decent backup for Murray in net.
A few rumors had the Penguins looking at the Colorado Avalanche's Matt Duchene, but that's not looking likely. Colorado is looking to rebuild (so it's hardly an ideal spot for Fleury), and Duchene's contract wouldn't free up any cap space.
Only time will tell what happens to one of the best goalies in Penguins history.
…
Even though Pittsburgh got the big win in front of their home fans, the team's power play continues to struggle — the Penguins were zero for two on the power play against Vancouver. For Pittsburgh to make up ground against the Metropolitan Division-leading Washington Capitals (and some of the league's other more dominant teams), the Penguins absolutely have to take advantage of power play opportunities.
Looking Ahead
Next, the Penguins will play host to the Winnipeg Jets this Thursday at 7:00 p.m. EST where Crosby will, once again, be looking for that elusive 1000th point.