The Pittsburgh Pirates come into tonight's home game against the Arizona Diamondbacks on a four-game winning streak thanks in part to a sweep of the New York Mets, earning the team's first ever season series sweep against them.
In tonight's game, Gerrit Cole takes on Jeremy Hellickson.
Cole is 2-0 with a 1.98 ERA in two career starts against the Diamondbacks. Cole lost his last start against the St. Louis Cardinals allowing four runs [three earned] on seven hits in 5.1 innings. He has lost two of his last three starts with the other appearance being a no-decision. Cole is tied for the major league-lead for wins with Michael Wacha in the National League and both Dallas Keuchel and Felix Hernandez in the American League. Additionally, Cole ranks among the NL league leaders with a 2.84 night ERA and nine hit batsmen.
Helickson is 0-1 with a 7.71 ERA in one career start against the Pirates. He has allowed 65 earned runs this season which ranks among the NL leaders. In his last start, Hellickson pitched eight innings in a win against the Philadelphia Phillies. He allowed one run [not earned] and struck out six batters.
Seventh inning stretch: Much talk has surrounded the idea of Aramis Ramirez playing first base after he took some grounders there for the first time in his 17-year career.
Ramirez has become comfortable on the offensive side of the ball batting .375 in his past 10 games, however his fielding his been inconsistent with five errors since rejoining the Pirates.
Manager Clint Hurdle had this to offer when discussing Ramirez's potential at first base.
"He has really good feet and good hands," Hurdle said. "His range isn't what it was coming up. As far as moving around over there, he doesn't look out of place by any means. There's still conversations to be had for relays and things of that nature. Covering the bag and getting off the bag. There's nothing that has happened so far that makes me think that this can't happen."
Corey Hart was back in the Pirates clubhouse after taking some time away from his rehab.
Hart was initially placed on the disabled list June 24 retroactive to June 22 with left shoulder impingement. Hart's shoulder healed rather quickly, however it was his right knee that started creating problems for him.
"I was trying to overdo it, tried to push it and I got a bit ahead of myself," said Hart. "I made the knee a little worse than it was. I took some time off, worked at a good pace and try and get in shape so that whenever I do come back, I don't overdo it again."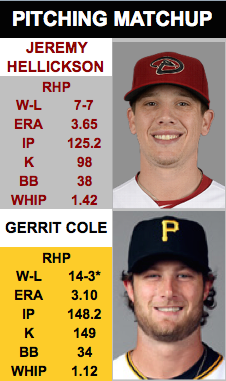 The expectation is for Hart to go back on rehab assignment Thursday with Triple-A affiliate Indianapolis, though no hard deadline was placed on when he is expected to return to the team.
"We'll let it play out, the one challenge we'll have is back-to-back days where he won't work so we have to give him some time," Hurdle said. "The goal is to see if he can do it."
Bottom of the ninth: Hurdle did comment on Josh Harrison and Jordy Mercer who both will not play in tonight's Indianapolis Indians. Instead they will do some work which includes hitting off a pitching machine that throws sliders and doing ground ball drills. Hurdle said that both were starting to feel their legs a little and that without complication, both could join the team before Sept. 1.
The next home run hit by a Pirates player with be the 1,000th for the club in 15 seasons of play at PNC Park… Pedro Alvarez's 102 home runs since the beginning of the 2012 season rank second among NL players behind Giancarlo Stanton [125]… The Pirates are 14-2 against teams from the NL West this season and own a 6-0 mark at PNC Park… Starling Marte has hit safely in 12 career games against the Diamondbacks.. Gregory Polanco currently has a 10-game hitting streak making him the sixth different Pirates to record a hitting streak of at least 10 games… Neil Walker is two hits shy of 800 in his career… The Diamondbacks reinstated Randall Delgado from the 15-day DL today. Pirate fans will remember Delgado hitting Andrew McCutchen with a pitch last August that caused the pitcher to be ejected… MLB released its 2015 postseason schedule and the NL Wild Card game is scheduled for Oct. 7. The NLDS will start Oct. 10, the NLCS Oct. 18 and the World Series Oct. 27.
Photo credit: Jared Wickerham/Getty Images