The Robert Morris Colonials hockey team has spent the last week collecting hardware. Senior captain Cody Wydo is one of ten finalists for the Hobey Baker Award, given to the best college hockey player in the nation. Head coach Derek Schooley is the Atlantic Hockey coach of the year. Wydo, Zac Lynch, Chase Golightly and Dalton Izyk have made all-conference teams.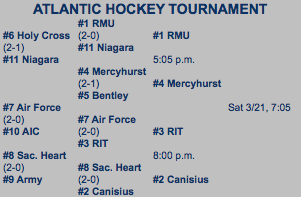 Tonight, they begin to chase in earnest the piece of hardware that matters: the Atlantic Hockey Conference tournament championship and the automatic bid to the NCAA Tournament that goes along with it.
While the Colonials are one step closer to their ultimate goal, they are also one step closer to their year coming to an abrupt end. There are no more three-game series. For the remainder of the season, they advance with a win, and go home with a loss.
Standing in the Colonials' way tonight will be intra-state rivals Mercyhurst. The Colonials (24-7-5) and Lakers (18-15-4) met twice earlier in the 2014-15 season, splitting a pair of games in Erie, Pennsylvania in mid-December.
In the first game, Robert Morris decimated the Lakers, jumping out to a 4-0 first period lead and coasting to a 7-4 victory. In the second matchup, the Colonials fired 41 shots, but couldn't solve Mercyhurst goaltender Jimmy Sarjeant, and lost 3-0.
"Their dynamics changed," Schooley said of Mercyhurst. "They brought in two players for this semester that weren't there the first time we were playing them. I expect the same type of series that we've had against Mercyhurst in the past. They're a good hockey team."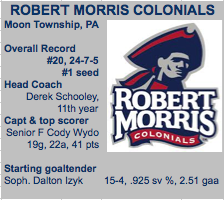 Sarjeant won't be an issue for the Colonials tonight, as he has been lost for the season with an injury. What the Robert Morris shooters will face is a relative unknown: freshman netminder Brandon Wildung.
Wildung came on in relief of Sarjeant in the Colonial's 7-4 win on December 13, stopping six of eight shots in 22:54. In his 22 total games this season, he has good statistics, with a 0.923 save percentage and a 2.48 goals-against average, but only a 10-9-3 record.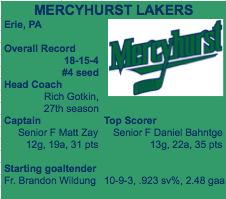 The problem for Mercyhurst has been allowing too many shots. Through 37 games, they've given up 1273 shots on goal, for an average of 34.41 shots allowed per game. That figure is 53rd out of the 59 teams in Division-I, and the worst of any school still alive in the postseason.
That deficiency for the Lakers – shots allowed – dovetails nicely with one of the Colonials' greatest strengths. Robert Morris is third in the nation in shots taken per game with 35.42.
In the Lakers' second-round series against the Bentley Falcons, they were outshot in all three games, but used some timely scoring to advance.
Mercyhurst won the first game 1-0 on an overtime goal by Ryan Misiak 4:46 into the extra frame. In game two, Bentley used a four-goal second period to rout the Lakers, but in game three, it was another timely goal, this time from Dutch forward Nardo Nagtzaam with just six seconds remaining in regulation, that sent the Falcons packing and advanced Mercyhurst to the semifinals.
For Robert Morris, failing to put an opponent away has almost cost them, so it's not something that they're going to take lightly.
"We've learned a lot from last year," Coach Schooley said. "We were up 4-2 with 3:00 to go over Niagara and had to win in overtime. I think we can draw from our experience of being in a lot of tight games, and draw from our experiences of last year, and know that they're never out of a game because of how good offensively they are."
Stopping that high-powered offense for RMU will be sophomore goaltender Dalton Izyk. Izyk, who split time with junior Terry Shafer in the regular season, is expected to start in net the rest of the way for the Colonials.
Izyk, who backstopped Robert Morris to their NCAA tournament game last season after Shafer was lost for the season with a hip injury, has been stellar this season, with a 0.925 save percentage, a 2.51 goals-against average and an incredible 15-4 record.
He's been helped out by the Colonials defense, which has specialized in blocking shots this season. Golightly and sophomore Rob Mann share the AHC lead with 70 blocks on the season. Freshman Alex Bontje and redshirt junior Tyson Wilson are also in the top-10 in the conference in the category.
Offensively, Wydo is the Colonials star and by far their best player, but this year, the offense has been spread around. Lynch, a Shaler native, has 17 goals on the season. They are joined on the top line by junior Greg Gibson, who had 15 goals of his own.
The second line, consisting of freshman Brady Ferguson (11g, 15a), junior David Friedmann (12g, 13a) and Daniel Leavens (7g, 20a) was absolutely on fire earlier in the season, but has cooled off as of late.
Picking up the slack has been a rearranged fourth line. With senior alternate captain David Rigatti sidelined with a hip injury, a pair of freshman – Timmy Moore and Spencer Dorowicz – each scored big goals in the Colonials' second-round sweep of Niagara.
"I was really happy for them," Rigatti said. "We worked hard all year together, and usually after practice, we're out (on the ice), staying an extra half hour to 45 minutes to work on things, and I could really tell it was paying off."
Rigatti hopes to be able to return to the lineup tonight, but is still considered day-to-day. The rest of the Colonials are mostly healthy. Besides Rigatti, they are missing only sophomore forward Ben Robillard, who is done for the year after undergoing hip surgery.
Should the Colonials advance to the conference final for the second time in as many years, they will face the winner of Canisius and RIT, which will take place immediately after the first semifinal.
Photo credit: Brian Mitchell