At some point in the next week, the Pens will have to make a decision on rookie winger Daniel Sprong.
As an 18-year old out of Canadian junior, the Penguins are able to keep rookie Daniel Sprong around for a nine-game tryout period without burning the first year of his entry level contract. He has already played in six, and if he remains in the lineup the final three will be played this week. The decision on Sprong will most likely have to be made before the team leaves for Western Canada early next week.
General manager Jim Rutherford thinks that Sprong is likely to stay in the NHL. "It looks that way," he told Jason Mackey of the Pittsburgh Tribune-Review on Tuesday.
But is it the right call? Has he been good enough to force them to keep him?
His offensive talent is undeniable. Watching him skate and the things he is capable of with a puck on his stick make is easy to see why he was once ranked as a first round prospect. He has been praised for his ability to put pucks on net, the puck possession aspect that is so highly prized in the modern NHL.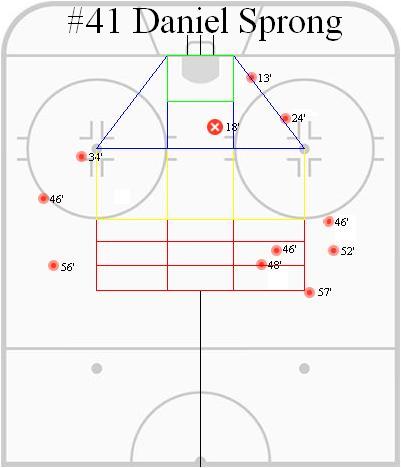 Sprong may have generated quite a number of shots in his limited ice time, but most of them were taken from bad angles and extreme distances in the low percentage areas of the ice (see his shot chart at right). The only real quality scoring chance he had was the goal he scored.
Two others were at least taken from within 30 feet albeit from less than desirable angles. His shots on goal come from an average of 40 feet away, and factoring in his missed shots only improves that to 39 feet.
Sprong has definitely improved since coming to Pittsburgh for the first time at prospect development camp back in July. He has been steadily getting better and looks more comfortable every game.
He still has a lot of areas that need work though, and has a lot of bad habits that are common amongst junior players. He still has issues in his own end, both mistakes he makes defensively and in his decision making without the puck. He also still has a tendency to try to do too much on his own, trying to get away with finesse moves that work in the juniors but not against NHL opponents.
He needs to get more comfortable trusting and utilizing his linemates. That is something that he can work on and resolve through game play, but he needs to get significant ice time to do so. Both of those are had to do with fourth-line minutes and teammates.
Complicating matters on that front is the return of several prominent Penguins forwards. Sprong benefited from both Eric Fehr and Pascal Dupuis beginning the season on injured reserve, and even more beneficial was the injury to Beau Bennett, which opened up an opportunity for Sprong to play a bigger role on the third line.
However, Dupuis has already returned to the lineup, Bennett will make his return tonight, and Fehr has resumed practicing with the team and  may be ready to go as soon as Saturday.
If the team remains healthy, that doesn't leave much room for Sprong to get meaningful playing time. They could keep him around in the rotation, but in the end this would mean one young player that needs to be getting game time in order to further their development would be forced to sit and watch from the press box, most likely swapping Sprong and Bennett in and out of the lineup. That is not ideal for either of them developmentally.
Sending him back to the QMJHL would allow him to improve and come back that much more ready to play a significant role with the team next season.
Photo credit: NHLI/Getty Images