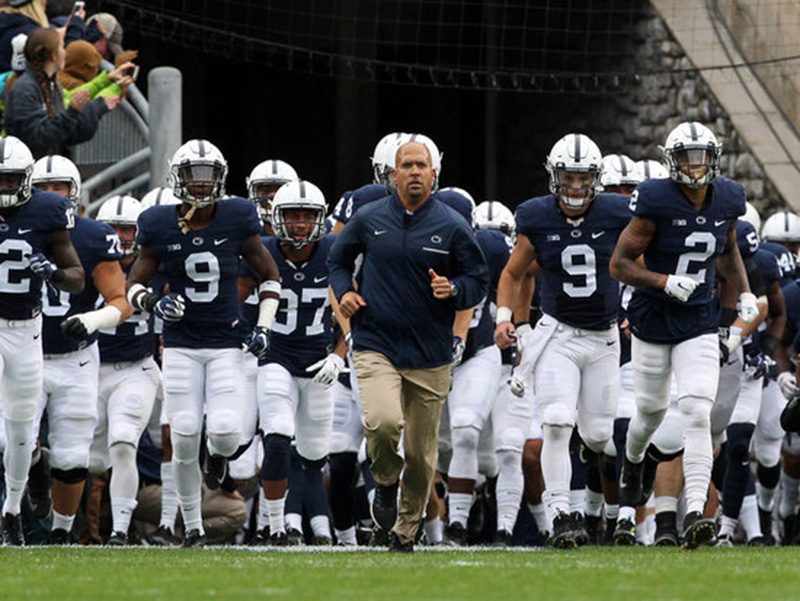 Head coach James Franklin and his team are looking to build on a 2016-17 season that ended with a Rose Bowl appearance. (Photo by: Matthew O'Haren/USA TODAY Sports)
As the clock neared 2:30 PM EST on Wednesday afternoon, head coach James Franklin and his Penn State Nittany Lions football program had all but sealed their recruiting class for 2017. With the addition of four-star defensive back Tariq Castro-Fields, Franklin and company put the finishing touches on a recruiting class that boasts three four-star recruits and one five-star recruit in the secondary alone.
During the sanction era, the three years prior to Franklin taking over as head coach of the Nittany Lions, Penn State's average ranking for recruiting classes was 40.8. Under three years of Franklin and his recruiting ability, the Nittany Lions have averaged a 16.5 ranking.
"Right now, things are going really well. I think a big statement that would be made is for us to sell out the spring game," Franklin said. "107,000 people would make a tremendous statement across this country about Penn State football and where we're headed."
The Nittany Lions had 21 players sign National Letters of Intent on Wednesday, four of those being by players who enrolled at the beginning of January.
Where Penn State's 2017 Class Ranks:
Rivals — No. 12
Scout — No. 14
247Sports — No. 15
ESPN — No. 17
Breakdown by Position
Quarterback — 1
Running Back — 1
Wide Receiver — 3
Offensive Line — 4
Defensive Back — 5
Linebacker — 3
Defensive Line — 4
In 2018, Penn State's defensive unit will be depleted by players who have graduated. So, in Franklin's third recruiting class, the focus was on defense — and did it ever pay off.
At many points last year, the linebacker unit was shredded by the injury bug. Losing only Brandon Bell, the Nittany Lions were able to add to the depth of one of their strongest units with the members of this recruiting class.
"We're heading the right direction," Franklin said. "I'm really, really excited. But we still got a lot of work to do. It's going to take everybody to get to where we want to go."
Scouting Report
Quarterback
Sean Clifford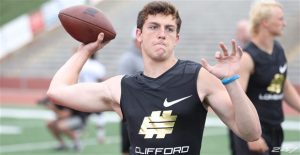 Clifford finally signed his NLI with Penn State on Wednesday morning after committing to Franklin and his team back in 2015. The quarterback had a stellar high school career, capturing a Division I Ohio State Championship this past fall.
Clifford was invited to both the Under Armour All-American Game and the U.S. Army All-American game as a senior but was unable to play due to injury. A two-time team captain (the first in St. Xavier High School program history), Clifford was 123-for-216 for 1,426 yards and nine touchdowns through the air and had 152 rushes for 571 yards and 12 scores as a senior.
"I read a bunch of interviews with Sean talking about he wasn't surprised (about the team's success) one bit," Franklin said. "He saw this coming the whole time. His family was really, really good. You talk about him having a storybook year, as well. Bunch of injuries on his high school team, they end up being 5-5. Took his team to four-straight championships. That guy is a winner. Tommy Stevens, Jake Zembiec. We're starting to get winners stockpiled at that position — every position."
Running Back
Journey Brown
Brown had a prolific career at Meadville High High School, which is located in the northwestern part of Pennsylvania. The quick-footed running back led the commonwealth with 51 total touchdowns and 320 total points. While Brown had a stellar senior year, it was he did as a junior that could be considered one of the greatest high school performances in history.
Brown rushed for 722 yards and had 10 total touchdowns in a 107-90 victory over DuBois High School in 2015. The performance set a single-game rushing record for Pennsylvania as well as a single-game scoring record. Brown also ran the fastest time in the commonwealth in the 60-meter dash during the indoor track season with a time of 6.87 seconds.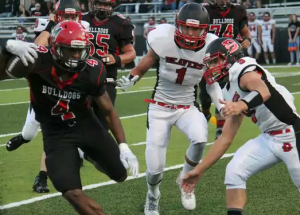 "Journey is a great story," Franklin said of his newest backfield weapon. "You don't really see it a whole lot now where, you know, guys usually have offers at the latest their junior year. He's a guy obviously that's done some really special things in his career. When he came to camp, kind of things changed for us. We saw him on tape. He did a great job at Meadville. … When I offered him and he committed, I said, 'We got one deal here: For this to work, you have to promise me you're going to rush for 700 yards and 10 touchdowns in one game at Penn State.' He guaranteed me that's going to happen."
Wide Receiver
Mac Hippenhammer
Hippenhammer was a do-it-all type player in high school, making an impact on special teams and as a receiver. The 5-foot-11 wideout hauled in 620 receiving yards, had 350 rushing yards, combined for 1,720 all-purpose yards and scored 18 touchdowns in his senior season.
Hippenhammer also returned a punt for a touchdown to go along with his three kickoff returns for touchdowns during the 2016 season.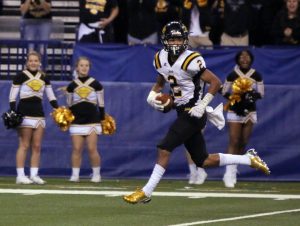 "One of the areas I still think we need to take a step in is in the return game. You know, kickoff return, punt return, guys that, when they touch the ball, everybody in the stadium is on the edge of their seat," Franklin said. "Hippenhammer had as good of a year as anybody in the country returning punts and kicks. Really, really successful. Tremendous feet. Really, really polished already as a wide receiver."
Franklin did offer one potential area of improvement: "He needs to get bigger and stronger," Franklin said.
K.J. Hamler
Hamler was one of four players who enrolled at Penn State at the beginning of the semester in January. The speedy wide receiver missed all of the 2016 season with an injury, but he looks on pace to be nearing 100 percent by the time spring practice rolls around.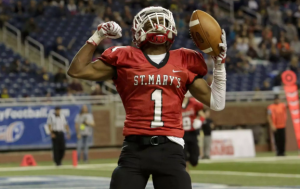 Hamler, who graduated from IMG Academy, was a 4-star recruit by ESPN and had offers from 10 of the 14 schools in the Big Ten before ultimately deciding on the Nittany Lions.
"KJ came to camp and ran really fast — really fast. He's one of those guys, as fast as he runs this way, he can stick his foot in the ground and go in a lot of different directions," Franklin said.
Cameron Sullivan-Brown
The ultra-competitive Sullivan-Brown was a four-year letter winner and served as team captain as a senior for Saint Vincent Pallotti High School in Bowie, Md. Sullivan-Brown amassed 2,846 receiving in his four-year high school career.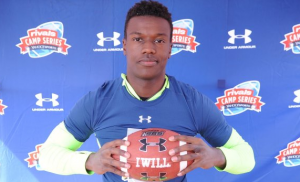 "Cam Sullivan-Brown is a kid that came to camp the year before," Franklin said. "He was really confident. I mean, he was really confident. He's one of the guys, you go to these camps and there is a line, but there's really not a line. It's just like a mass of bodies fighting for reps. He was taking almost every rep and winning and turning around and telling Coach (Josh) Gattis about it almost to an extreme."
Offensive Line
Mike Miranda
The offensive lineman out of Stow, Ohio was among the four players who enrolled in early January. He was named the 2016 offensive MVP in the Suburban League as an offensive lineman. The nasty offensive lineman will bring a desired toughness to an offensive line unit that has struggled in years past.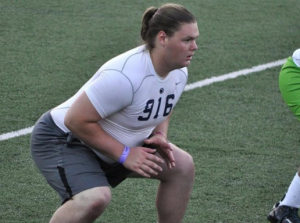 "Miranda is another one that really, really plays with a nastiness," Franklin said. "You watch his highlight tape, there was one game where this one kid, at one point I kind of felt bad for him. I mean, (Miranda was) just pancaking him over and over and over and over again. When we had a chance to get him early on in the process, and, after he committed to us, everyone came back in and offered him.
"I don't know if I've ever heard this before: He was his league's MVP. Not offensive lineman of the year … he was the offensive MVP and the league's overall MVP as an offensive lineman."
C.J. Thorpe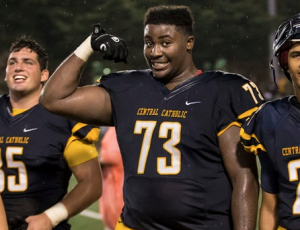 Following in his father's footsteps, C.J. Thorpe looks to make an impact on the Penn State football program like his father, Chris, had in the late 1980s. Thorpe comes to Happy Valley after a stellar career at Pittsburgh Central Catholic, where he became a four-star recruit and team captain his senior year after leading the Vikings to a state championship as a junior.
"Thorpe is a grown man; he's got something that I think most coaches are looking for," Franklin said. "It's hard to find. He's an offensive lineman with a nastiness to him. He plays with a really nasty demeanor. He wants to finish it. He wants to be physical. When you can find guys like that, they're really valuable."
Robbie Martin
Martin comes to Penn State after garnering USA Today All-State honors in New Jersey as an offensive guard. The top offensive guard in New Jersey for the 2017 class according to Scout.com, Martin looks to help a unit under coach Matt Limegrover that struggled at times.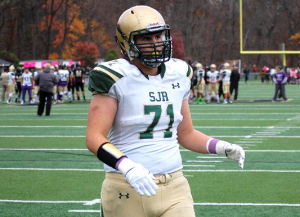 "Rob is blue-collar, hard-nosed," Franklin said. "He's a swing guy that can play multiple positions. I'm really excited about Robert because he doesn't have a hair on his face. His face, looks like he's about 14 years old. He's about 275 pounds right now. He has so much room for growth. When he decides to start growing some facial hair and fill out, I think we're going to have a chance to get a guy who has got a really, really big upside. I like the baby-faced guys that you know are still growing and still maturing. He really fits that model. His dad was a basketball player. Played at Lehigh. He's got a big, supportive family. We expect him to come and do really good things."
Des Holmes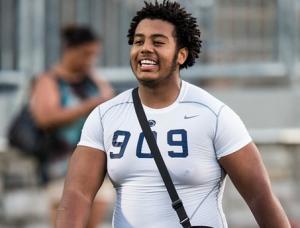 Holmes helped lead Cardinal O'Hara to a 10-1 record and a Catholic League Blue Division championship during his senior season. The 6-foot-5 Holmes was ranked as the No. 2 offensive tackle in Pennsylvania by Scout.com.
"Des Holmes is a guy that came to camp, massive human being. His dad and brother played basketball. His dad played in the PSAC, basketball player. Massive kid," Franklin said. "You're talking about a 6-foot-5, 320-pound kid with really light feet. Hadn't really showed it to that point on film yet. But I think after camp, we felt really comfortable offering him. His senior year, I thought was really good. We talked to him about finishing people, playing with a toughness. I thought he really showed that his senior year. We were fortunate to get him early in the process, because watching his senior year, I thought he had a great year."
Defensive Back
Tariq Castro-Fields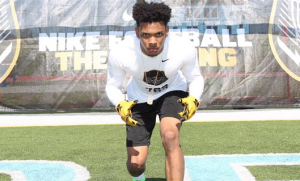 Castro-Fields chose Penn State during a signing-day ceremony at his high school Wednesday. The defensive back out of Upper Marlboro, Md., went with the Nittany Lions over the University of Alabama and the University of Maryland. Standing at six feet tall, the long defensive back was selected the top defensive back at Nike's "The Opening" camp in 2016.
Lamont Wade
Wade, a Clairton High School product, enrolled in January after committing to Franklin and the Nittany Lions in December. The 5-foot-9 defensive back was named the 2016 Gatorade Player of the Year in Pennsylvania and looks to contribute in all three facets of the game for the Nittany Lions.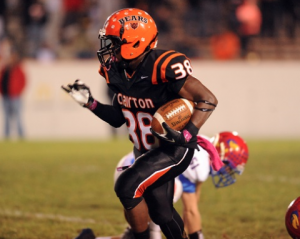 "Well I've been recruiting Lamont for four years and even before I came here," defensive coordinator Terry Smith said. "He's a tremendous talent, and it's a good thing he's here already. It gives him a jump start and a head start to learning the system, getting acclimated to all that's going on here academically and athletically. As we go through our winter conditioning, it allows him an opportunity to grow at a slower pace than when those guys come in the summer. We're just looking forward to him performing and getting after it and competing and bringing a challenging spirit and effort to the room."
Donovan Johnson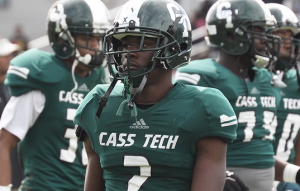 Johnson brings to Penn State a resume that boasts being selected for the U.S. Army All-American Game as well as being a USA Today All-American for the state of Michigan. The 5-foot-9 defensive back led his Cass Tech team to the MHSAA Division 1 championship as a senior.
"Donovan Johnson is a tremendous athlete. He's a mid to low 4-3 guy, explosive jumper, great feet, great hips. I'm really looking forward to working with him and his athleticism," Smith said.
Jonathan Sutherland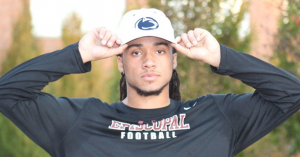 Sutherland comes to Penn State after being selected first team All-State the past two seasons at Episcopal High School in Virginia. The 5-foot-11 defensive back led Episcopal to an 8-1 mark and an outright Interstate Athletic Conference championship in 2016.
"I think Sutherland is a guy that brings some physicality," Smith said. "He's much like Marcus (Allen), he's not as big as Marcus but he can tackle and be physical like Marcus."
D.J. Brown
Brown comes to Penn State coming off a season in which he was named to the U.S. U-19 National Team that competed in Orlando, Fla. in the inaugural North American Championship. At Creekside High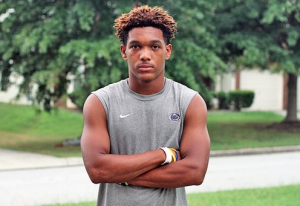 School, the defensive back accumulated 136 career tackles, 27 pass breakups, 17 interceptions and four forced fumbles.
"DJ Brown is another fast, athletic guy, gives us a little more lift," Smith said. "We're looking to upgrade our position with some lift, athleticism and just keep getting better, faster athletes that compete in the room and push the level of competition to make us better."
Linebacker

Brelin Faison-Walden
Faison-Walden, the fourth of the players who enrolled in early January, joins the Nittany Lions after accumulating 75 tackles, 5.0 sacks and one interception in his senior season. The linebacker was also a USA Today All-State selection in North Carolina.
"Faison-Walden brings athleticism, brings speed, similar in an aspect to Manny Bowen. We expect him to be a guy that can go sideline to sideline," Smith said.
Brailyn Franklin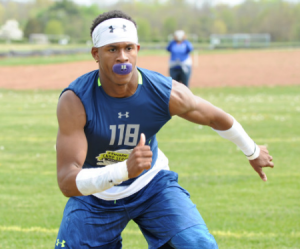 Franklin comes to Penn State following a hall-of-fame-career in Northern Virginia. An inductee of the Northern Virginia Hall of Fame, Franklin had a senior year for the ages accumulating 42 tackles, 29 tackles for loss, eight sacks, two blocked kicks and four forced fumbles.
"Brailyn Franklin can play either the outside or the SAM or the WILL," Franklin said.
Ellis Brooks
Brooks had a stellar senior season with Benedictine College Preparatory, amassing 54 tackles, 14 tackles for loss and 5.0 sacks. The linebacker started for "Team Highlight" in the Under Armour All-American game and recorded a game-high six tackles.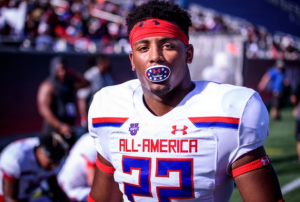 "Fortunately, with Ellis, we were able to get in there and get in his home. Really, really sharp kid, sharp family. What I would characterize as a Penn State kid and a Penn State family," Franklin said of what it took to land Brooks. "Obviously, it helps that this was a school he was always fond of. There's a really cool picture I think they put out where you see him at Michael Robinson's knee at Michael Robinson's graduation from here, him and his dad. There is Ellis down by his knee as a little kid looking up at this place."
Defensive Line
Yetur Gross-Matos
Gross-Matos was a force to be reckoned with in his senior year of high school, registering 130 tackles, including 21 tackles for loss. Among the 21 tackles for loss were 18.5 sacks as Gross-Matos played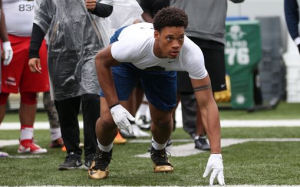 defensive end, nose tackle and defensive tackle throughout the season.
"I do want to thank Sean Clifford and Yetur Matos, a lot of those guys that jumped onboard with us really early in the process. They saw something in us very clear that maybe others didn't. It's really cool that we were able to reinforce that they made a great decision with how we played," Franklin said.
Fred Hansard
Hansard joined D.J. Brown as members of the U.S. U-19 National Team following their respective high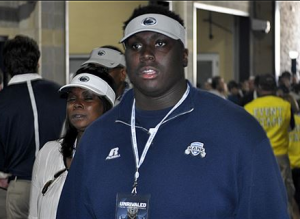 school seasons. The defensive lineman amassed 59 tackles, 8.5 sacks, 14 tackles for loss and two forced fumbles as a senior.
"Fred brings a rare combination of size, strength, speed and explosiveness," former coach Todd Smith said of Hansard. "Combine those things with how physical he plays the game and you have a kid that will be able to dominate the line of scrimmage at the next level."
Damion Barber
Barber comes to Penn State after a stellar career at Harrisburg High School in Pennsylvania. The future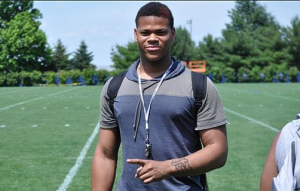 Nittany Lions defensive lineman was named to the All-State team by the Pennsylvania Football News.
"Damion Barber brings speed, power, aggression and a relentless pass rush on the quarterback," Calvin Everett, Harrisburg's head coach, said of his former captain. "He's also extremely versatile along the defensive line. He'll be able to play multiple positions. His work ethic is great. He has grown from a young man into a hard-working young man. His work ethic right now is definitely where it needs to be."
Corey Bolds
Bolds joins the Nittany Lions after leading his Paramus Catholic football team to the New Jersey state championship game where he had a game-high eight tackles. The defensive lineman finished a stellar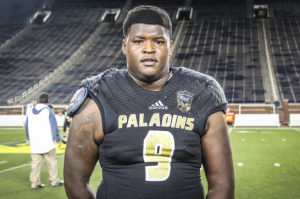 career at Paramus Catholic with 79 tackles as a senior.
"Corey Bolds, you talk about a huge pickup," Franklin said. "We have a need at defensive tackle. We lost some guys to the transfer process. Corey Bolds is a guy we recruited really early on. Once his mom and him got on campus, it changed completely. We got some commitments. Corey stayed patient. We just kept talking. I really got to know him really well from a great high school."
Outlook
On paper, this recruiting class looks to be the finest Franklin has assembled since coming to Happy Valley four years ago. The Nittany Lions' results on the field have recruits champing at the bit to come to Penn State and make an impact. With that said, the Nittany Lions have something this year they have yet to have since Franklin came to town: competition at every position.
"One of the things that's really going to help us elevate the whole program is we're going to have legitimate competition two-, three-deep at every position," Franklin said. "We didn't have that when I got the job."