The free agency period is almost here and the Pittsburgh Penguins have some tough decisions to make. The most high profile players that will be eligible for free agency on July 1 will be veteran defensemen Paul Martin and Christian Ehrhoff.
Paul Martin: Upon joining the Penguins as a free agent in 2010, Martin's slow adjustment to then-head coach Dan Bylmsa's system caused him to become a scapegoat and fans were trying to find ways to get run him out of town. However, he then had an amazing year during the lockout shortened 2012-13 season and all was forgiven. So great was the memory of that performance that the fan base continued to support him as he struggled and declined in the following years.
Offensively, this past season was the worst of Martin's entire career, scoring a mere 0.27 points per game while also generating a career low 0.82 shots per game. And while he was remarkably effective in his own end, with the best defensive performance he has had since he was in his prime with the New Jersey Devils, his overall goal differential was one of his worst performances.
If you focus just on 5-on-5 situations, then Martin was scoring 0.85 points per 60 minutes of ice time, which is right in line with what you would expect from his career averages. But at 2.1 shots per 60 minutes of ice time, he was generating chances at well below his expected level. In addition, his on-ice Fenwick-for possession was 53.4%, meaning that he was on the ice for more unblocked shot attempts for the Penguins than the opposition. While that figure is better than his previous two seasons, still falls below the level he had been when he signed his five-year contract with the Penguins.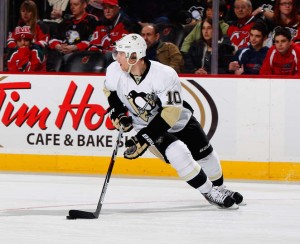 Christian Ehrhoff: When the Penguins signed high-profile free agent Ehrhoff this past summer, it was lauded as one of the biggest steals of the off-season. However, a slow start and frequent injuries meant that he never wound up being the player that he was expected to be.
Ehrhoff also had one of the worst offensive performances of his career at 0.29 points per game. He hadn't struggled that much since his early years with the San Jose Sharks. Defensively he performed well enough, surpassing his prior performance with the Buffalo Sabres and posting the best numbers since his prime years with the Vancouver Canucks. In addition, at 2.24 shots per game, he was generating chances at a rate nearly as well as he was back in his prime.
In 5-on-5 situations, his 0.80 pts/60 was actually right on pace with his career average, even back in his prime. And the 5.9 shots/60 was the most shots he had generated since that statistic was first recorded. His on-ice Fenwick-for possession was just 49.7%, but that was better than he was up in Buffalo, although not as high as his prime seasons.
Defensive options: There has been precious little news coming out of Martin's camp, he did not provide an interview on breakup day and his agent has not mentioned what his future plans may be. Considering his previous $5 million salary and the contracts that were given out for veteran defensemen last summer, the chances are high that Martin will be looking at a big payday in free agency and will be out of the Penguins price range.
On exit day, Ehrhoff expressed interest in returning to the team next year, but recent events are making that seem unlikely. According to this report by Realtor.com's Craig Donofrio, Ehrhoff recently put his Upper St. Clair home on the market.
His agent Rick Curran claims that he is probably done in Pittsburgh. "For the moment, I would suggest he'll be available come July 1," Curran said to NBC Sports' Mike Halford this week.
The Penguins are not really hurting for defensive options at the moment, so they may very well have been planning to let
Ehrhoff and Martin go anyway. They have 3 veteran defensemen under contract (Kris Letang, Ben Lovejoy and Rob Scuderi) plus another veteran, Ian Cole, who is a restricted free agent and likely to return.
Then they have talented youngsters Olli Maatta, Derrick Pouliot, and Bran Dumoulin, who are more than ready to play a big role with the NHL club next year.
They also have Scott Harrington waiting in the wings if needed, and they have a minor-league veteran that they could bring back, as well.
Taylor Chorney is set to be a UFA on July 1, and he has proven himself capable of being a solid addition to the WBS lineup and a passable fill-in for the NHL roster.
So while they may need to work on restocking the talent pool as more prospects move up to the NHL, the blue line is the team's biggest strength right now and they could manage to not only survive but also to thrive by letting both Martin and Ehrhoff walk this summer.