The Pittsburgh Penguins prospect development camp got underway on Tuesday, and for most of the players, it was their first venture onto the ice in preparation for the 2015-16 season. Two players, however, were shaking the rust off a little more than the rest.
Defenseman Dane Birks and goaltender Sean Maguire both made their returns to the ice after having to sit out the entirety of the 2014-15 season.
Birks, who will turn 20 in August, missed his freshman season at Michigan Tech due to an academic eligibility.
"I felt really good." Birks said of his first practice. "Without playing any games last year after development camp, I was looking forward to it."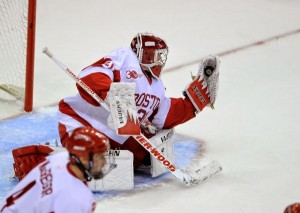 Maguire, a 22-year old goaltender from Boston University, was also happy to be back on the ice.
"It feels like I'm just back at home, doing what I love to do at a high caliber, testing myself and my abilities," he said. "It's right where I need to be right now to let myself know, and the staff that I'm good to go and I feel good"
Unlike Birks, Maguire missed all of the 2014-15 season while rehabbing an injury.
"Unfortunately, I had to take the year off," he said. "In the long run, I think it was the better decision for me, keeping a year of eligibility and making sure I'm 100% instead of 99% coming back. I think I had to just bite the bullet there and I'm happy to be here. I'm just grateful to be skating with these guys."
Both Birks' and Maguire's collegiate teams fared well in 2014-15. Michigan Tech turned a strong start into an NCAA tournament appearance and finished the season ranked No. 9 in the country. Boston University, led by Buffalo Sabres draftee Jack Eichel, made it all the way to the Frozen Four, losing to Providence in the final.
"It took a lot of dedication," Birks said about having to watch from the stands. "We were 10-0 and were No. 1 in the country for a bit. I learned a lot just from practicing even though I wasn't playing any games, just being around the other players and the coaches."
Maguire got some advice from his head coach, Dave Quinn, who told him that watching his teammates from the stands would be "like watching your girlfriend go on a date with another guy."
"It's not easy watching for any player," Maguire said. "I think that even though we had so much success, I was happy for the team, obviously it's great for the program, making the Frozen Four in Boston, but for myself, watching that happen, it's bittersweet to be honest."
Maguire and Birks will not only focus on impressing the Penguins organization while in town for this week's camp, but will have to find a way back into the regular rotation for their college clubs.
"I want to be that top guy that coaches can rely on," Birks said. "I want to be a leader and for people to look up to me. For myself, personally, I need to have a good year."
For Maguire, opportunity may be harder to come by. He'll have to battle Conor LaCouvee for playing time. LaCouvee had a .913 save percentage and a 2.18 goals-against average as a freshman in 2014-15.
"I think I'm going to cross that bridge when I come to it," Maguire said. "Obviously, it's been in the back of my mind, but I'm confident in my abilities. I've had multiple conversations with the coaching staff, and they're happy to have me back. They know that I can play at that level."
Photo Credit: Pittsburgh Penguins, Boston University