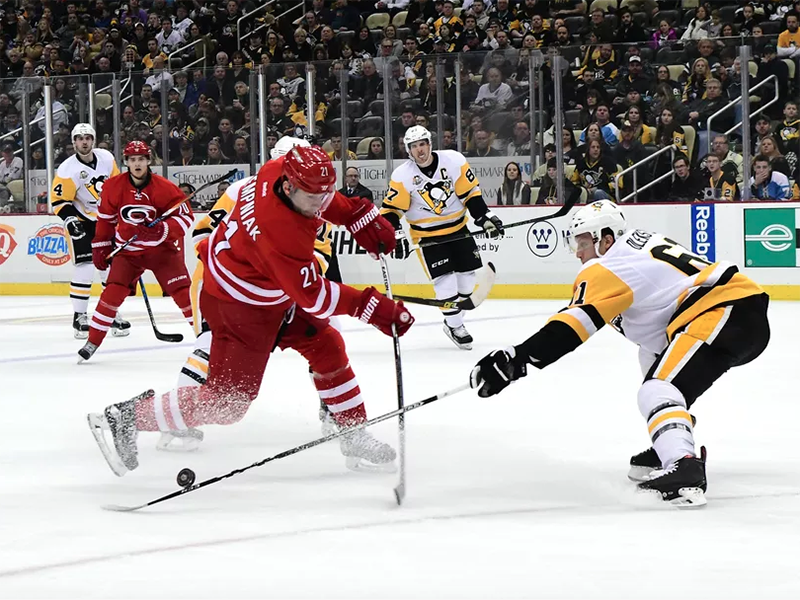 (Photo by: Matt Kincaid/Getty Images)
For the third straight game, the Pittsburgh Penguins (24-8-5) have picked up a win, this time against the Carolina Hurricanes (15-12-7). Wednesday night's game was led mostly by the Hurricanes until the final period of play, when both Chris Kunitz and Carl Hagelin scored to tie and eventually win the game, 3-2.
Elias Lindholm and Lee Stempniak each scored a goal for Carolina, but the team's lack of offense in the third period prevented the Canes from being able to hang on to their lead.
Unsurprisingly, Sidney Crosby scored the Penguins' first goal, his 26th of the season, and that goal would remain Pittsburgh's only goal until Kunitz scored his third goal of the season just a few minutes into the third.
Hagelin's game-winning goal with less than five minutes left helped Pittsburgh stay competitive in a very tough division.
Goaltender Matt Murray, who started the game and made 25 saves on 27 shots, was pulled out of the net in the third, and Marc-Andre Fleury was put in. According to head coach Mike Sullivan in the post-game press conference, Murray suffered a lower-body injury near the end of the second period.
In the third period, Fleury's performance sealed the game for Pittsburgh; he made 19 saves on 19 shots.
"It's a little different when you sit on the bench for a while and then you have to go in," Fleury said. "You definitely don't feel as sharp right away. I tried to move around and get the body moving."
Coming In Cold
Not that Murray did a terrible job, but without the Flower's ability to adapt and completely shut down the Hurricanes' offense, Pittsburgh may not have been able to come back in this game. Especially because Carolina carried a lot of momentum during large chunks of the game.
The Hurricanes did a good job of finding holes when they were on the offensive side of the puck. But Pittsburgh has been able to come back in games all season, and this game was no different.
"Whether we're down a goal or two, or if we're up, we continue to play the game hard," Sullivan said. "It was one of those nights where it was a bit of a struggle. We didn't seem to have a whole lot of juice as a team, and so it's trying to find ways to win. It's scratching, clawing, competing on pucks."
Murray Injury
As mentioned above, Murray sustained a lower-body injury in this game, but there has been no clarification on what exactly the issue is and for how long this could hinder the Penguins' young star. Right now, he's listed as week-to-week and is expected to miss a little time.
As many remember, Murray missed the first month or so of the season after sustaining a hand injury over the summer playing in the World Cup of Hockey.
Luckily, Pittsburgh has a very good goaltender in Fleury.
Looking Ahead
The Penguins will next play host to the Montreal Canadiens on Saturday at PPG Paints Arena at 7:00 p.m. EST.