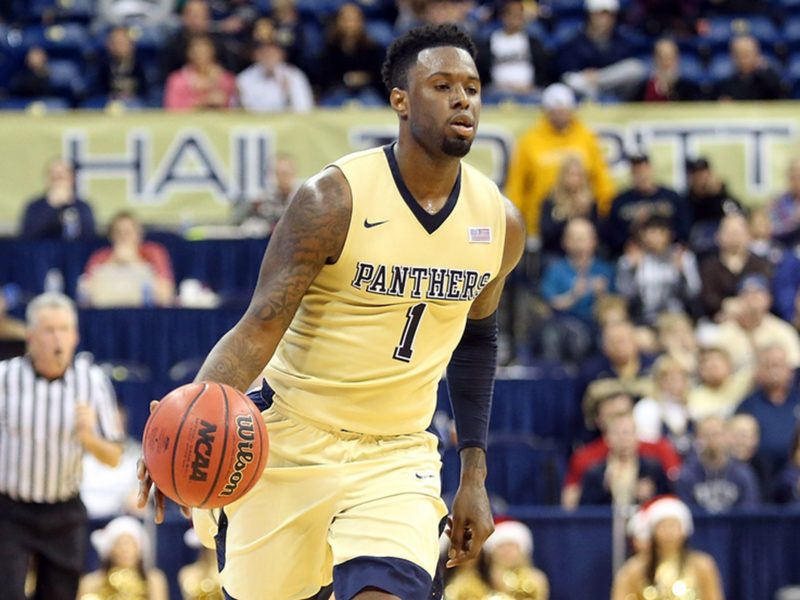 Senior guard Jamel Artis will be hard for the Panthers to replace. (Photo by Charles LeClaire/USA TODAY Sports)
Seniors Michael Young and Jamel Artis are easily the best players on the University of Pittsburgh men's basketball team.
It's hard to dispute. If there's been one consistency for the Panthers in their dismal 2016-17 basketball season, it's that Young and Artis always tend to lead the team in some sort of category. It could be points, rebounds, assists — or even steals.
Young, a forward, has scored a team-leading 617 points thus far in the season (an average of almost 20 points per game), and Artis, a guard, is second on that list with 553 points (an average of 18.4 points per game). The two aren't far apart in minutes played, with Young playing 1,028 minutes and Artis 1,022.
The Panthers — and their fans — should relish those statistics and their presence, because after the ACC Tournament ends, the two seniors will essentially be done with the Panthers program.
After Young and Artis in team-leading statistics? Sophomore Cameron Johnson is third in seasonal scoring with 367 points (an 11.8 per game average). But fourth and fifth on the list are seniors Cameron Johnson and Chris Jones.
This means the Panthers are going to have to recruit really, really hard to find Young and Artis' replacements. Young, specifically, is hard to replace, due to his 6-foot-9 stature. If Pitt head coach Kevin Stallings wants to last as Pitt's head coach, he'll need to find someone who can measure up to Young — both in his frame and in his play. Young grabbed a staggering 211 rebounds this past season, while also providing 85 assists.
Artis is a quick guard, and that quickness will be missed on the court at the Petersen Events Center. Artis, who is 6'7" and 210 lbs., also helped with the team's rebounding, grabbing 144 rebounds; he also provided 101 assists. Even more, Artis totaled 13 steals.
And while Stallings and the Pitt program will need to do a great job recruiting new talent, that's not to say that the Panthers can't look for their replacements internally. If all players who aren't graduating stay in Pittsburgh, the Panthers can look toward Johnson, the sophomore guard, and junior forward Ryan Luther.
Luther could be Young's potential replacement. The junior matches Young physically; Luther, also a forward, stands tall at 6'9" and 235 lbs. In the 2016-17 season, Luther, who is from Gibsonia, Penn., scored 120 points in his 384 minutes of action on the court. He has grabbed 78 rebounds and provided five assists.
Johnson, the sophomore from Moon Township, would hypothetically be Artis' replacement. Johnson is one inch taller than Artis and also plays in the guard position. In the 2016-17 season, Johnson scored 367 points, while also grabbing 142 rebounds, in 1,039 game minutes. That's more than both Artis and Young.
But even if Luther and Johnson can match Young and Artis in stature, they're going to have to do a lot to match them in play. While neither Young or Artis are particularly strong defenders, they bring so much to the offensive game that it mostly makes up for it — although apparently not enough to be top NBA draft picks. (Draft Express has Young as 53rd in its ranking of ACC players and 24th in NCAA seniors, while it has Artis as 37th among ACC players and 14th among seniors.
Regardless of what happens with Young and Johnson, the Panthers still need to have a strong 2017-2018 recruitment class. A graduate transfer, perhaps, could make a world of the difference.
However, there is talent on the roster.
Whether or not Stallings is Pitt's problem has yet to be determined, but it's clear something isn't right with the Pittsburgh Panthers. Losing Young and Artis doesn't help, but it also doesn't quite count Pitt out for the 2017-18 season, either.