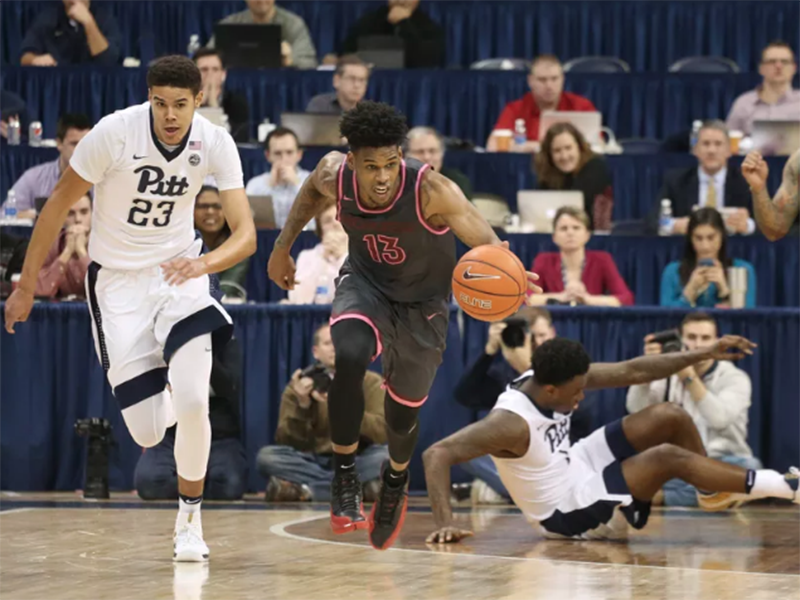 Up 40-29 at halftime, the Panthers fell apart in the second half, losing 66-63 to Virginia Tech. (Photo by: Charles LeClaire/USA TODAY Sports)
One 3-pointer was the difference for the Pitt Panthers on Tuesday night.
With 1:08 remaining, the Virginia Tech Hokies' Seth Allen made the 3-pointer to give his team the lead for good, while the Panthers missed three 3-point attempts on their final possession.
The final score: 66-63.
Pitt got off to a strong start, leading 40-29 at half, before being thoroughly outplayed in the second half.
After the loss, head coach Kevin Stallings was bitter.
"I am very disappointed in that second half performance," Stallings said. "It has happened all season long. Our lack of on-court direction showed, I thought, as the game went down the stretch tonight. They played better in the second half than we did, and we had too many turnovers. I cannot really explain how you go from one half to another like that, and it has happened on several occasions this year. It just doesn't make any sense."
He continued: "The same thing that was our defensive struggles in the second half. Lack of energy. Lack of what it takes. Lack of urgency. Lack of what it takes to win against a good ACC team."
And: "Literally, I have to call a play on every possession or we have no flow. If I don't direct every possession, we have no flow."
The Panthers were led in scoring by redshirt sophomore guard Cameron Johnson, who put up 17 points. Johnson was joined as double-digit scorers on the stat sheet by senior guard Jamel Artis (16 points) and senior forward Michael Young (14).
Johnson also led the team in rebounds, grabbing 11, while both Young and Sheldon Jeter followed closely behind with 10 rebounds each. Johnson continued his reign at the top of the stat sheet with a team-high seven assists.
After the game, Johnson talked about the Panthers' inability to stop Virginia Tech's scoring and the Hokies' comeback.
"That just can't happen," Johnson said. "We have to keep fighting. We need to come together better. We didn't do that well in the second half. We have to get stops when we need them and even if we aren't playing well on offense, we need to get back and get stops. We allowed too many points in the second half. We need to fight more."
After the game, Virginia Tech head coach Buzz Williams talked about his team's performance in its comeback win.
"It's choppy, and that's how we have to play," Williams said. "Honestly, that's the way it's been since we've been here. You could study it, but I think that we've played in more two possession or less games than anybody else in the league since we've been here, and that's a short shelf life as a coach."
What's Next?
The Panthers (14-12) will host the Florida State Seminoles (21-5) at the Petersen Events Center on Saturday. Tip-off is scheduled for 4 p.m. EST, and the game will be broadcast on ESPN2.