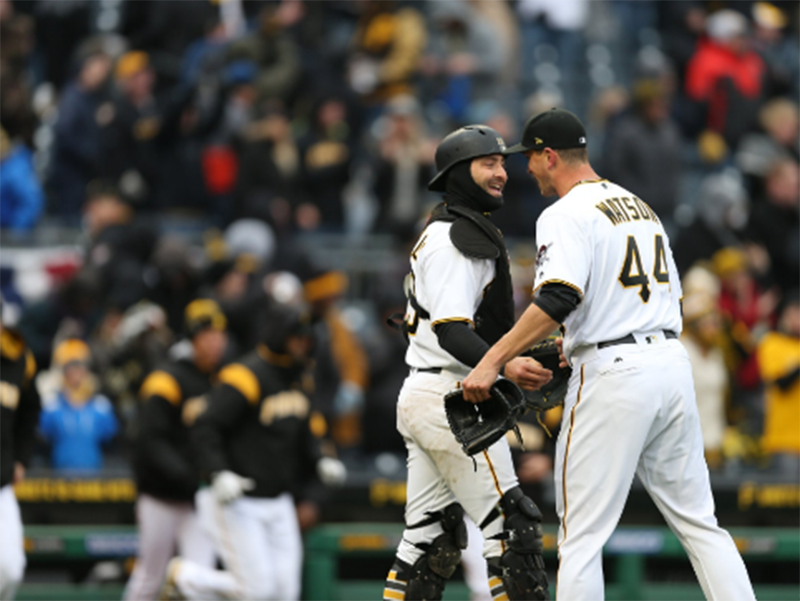 (Photo via: Pirates/Twitter)
Raise it!
For the first time this season, the Pittsburgh Pirates have something in the win column after Friday's 5-4 victory over the Atlanta Braves at PNC Park in the home opener. Pittsburgh (1-2) lost its first two games of the season to the Boston Red Sox, and a scheduled third game was rained out.
Ivan Nova got the start for the Pirates and allowed just one run on six hits in six innings. It was his first Opening Day start of any sort, and he struck out four and gave up no walks. Mike Foltynewicz took the mound for the Braves after the scheduled starter, knuckleball pitcher R.A. Dickey, was moved to Saturday.
A game after Pittsburgh failed to get a runner in scoring position in the team's 3-0 12th inning loss to Boston, the Pirates got started scoring early and often Friday. In the third inning, Andrew McCutchen put Pittsburgh on the board when he singled to shallow left center to send Starling Marte (hit by pitch) home. Then, in the fourth, Marte singled to plate Jordy Mercer.
In the fifth inning, David Freese and Francisco Cervelli hit back-to-back solo shots to make it a 4-1 ballgame. Cervelli now has as many home runs this season (one) as he did last season. In the seventh inning, Marte singled again, scoring Cervelli, for what was ultimately the game's winning run. In four at-bats, Marte, who batted leadoff, was 2-for-4 with two RBIs.
Despite the early lead, Atlanta kept it interesting when the Braves scored two runs off reliever Wade LeBlanc in the eighth inning. Dansby Swanson singled before being out on a Freddy Freman-hit fielder's choice, and Chase d'Arnaud followed that up with a single of his own. Then Nick Markakis doubled. LeBlanc was pulled in favor of Daniel Hudson, who gave up a single to Brandon Phillps.
But then second baseman Josh Harrison made a spectacular layout and shortstop Jordy Mercer brilliantly turned the double play to end the inning.
Baseball is back in Pittsburgh.
Braves get burned by the SuperNova
Last season, Ivan Nova was a revelation for Pittsburgh — and a frustration for the New York Yankees, who traded the right-handed pitcher in August. In 21 games last season with the Yankees, Nova was a medicore 7-6 with a 4.90 ERA. But in 11 games in Pittsburgh, Nova was sensational. He looked right at home in the National League, posting a 5-2 record and a 3.06 ERA and having as many complete games (three) as walks.
Friday, Nova looked like the guy who took the mound at the end of last season — and that's a really good thing for Pittsburgh (in part because the team signed him to a three-year, $26 million contract in December). He pounded the zone consistently and had good velocity.
"Ivan made pitches," Pirates manager Clint Hurdle said postgame. "He knew right where he wanted to go… Got the ball where he wanted.
"He had to pitch today. Rolled his sleeves up and went to work."
Nova had a bit of a scare in the fourth inning when he loaded the bases — he gave up singles to both Freeman and Matt Kemp and then hit Markakis — but got Phillips to ground into a double play to end the inning.
Cutch is clutch
In the first two games of the season, Andrew McCutchen was without a batting average, going 0-for-9 in Boston. But in his first game back in the friendly confines of PNC Park, he went 3-for-4 with an RBI and a walk. He's now batting .231 this season.
McCutchen took a more aggressive approach in the box — and it paid off.
"Andrew is a good hitter," Hurdle said.
It was also a pretty good day for McCutchen in his first game in PNC Park's right field. He made a stellar sliding catch to limit the damage in the fifth inning and maintain the Pirates' lead. However, he misplayed a ball in the eighth inning when the ball sailed just over the top of his glove for the double that made it a 5-3 game.
Wait, did that just happen?
The play of the game came in the bottom of the eighth inning when Harrison made a dazzling layout and got the ball to Mercer, whose reverse spin turned the double play.
The play got Pittsburgh out of a tricky situation and helped the Pirates hold on to the win.
@MLB – just another day at the office #Turning2, no big deal. #Harrison to #Mercer, 4-6-3 DP#MLB ATLvsPIT #Braves #Pirates #Baseball pic.twitter.com/ir446Ryysq

— Dust Valley Sports (@DustValleySprts) April 7, 2017
Up Next
Game Two of the series between the Pirates and Braves will take place tomorrow at PNC Park at 7:05 p.m. ET. Chad Kuhl will take the mound for Pittsburgh, and R.A. Dickey will do the same for Atlanta.
After a snowy Friday, Saturday's weather is supposed to be sunny.