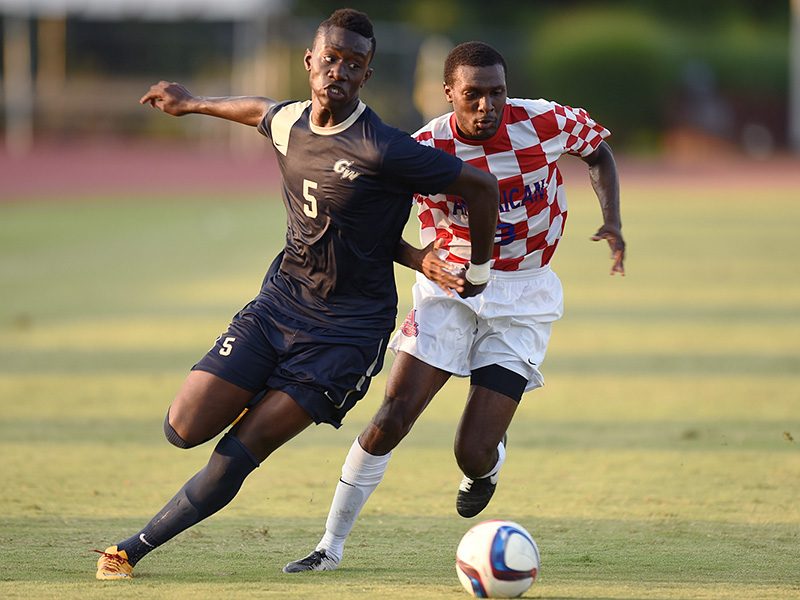 Center back Tobi Adewole is fresh off a college career at George Washington University. (Photo by: GW Athletics)
On the same day that the USL announced its re-alignment due to the combination of the USL and the NASL, the Pittsburgh Riverhounds made an announcement of their own: the signing of 21-year-old defender Tobi Adewole.
Adewole just completed his collegiate soccer career with George Washington University in Washington, D.C.
At George Washington University, Adewole made 64 appearances — starting 61 matches — where he notched five goals and five assists in three seasons. This year, the Colonials compiled an 8-5-5 record.
In 2015 and 2016, Adewole received All-Conference honors and in 2015 was named to the National Soccer Coaches Association of America's All-Midwest Region. His freshman year, 2013, saw him named to the Atlantic 10 All-Rookie team.
His freshman year, Adewole led his fellow freshmen in minutes played (1,144). In addition, he was named the Male Rookie of the Year for George Washington University.
"Tobi is a player I knew from the college game at George Washington," said head coach Dave Brandt. "He's a big, rangy center back with long legs and a great tackler with good speed that reads the game well. I believe he's one of the better center backs in the country at the college level — period. And I think he's been overlooked by a lot of people."
The Riverhounds now have 21 players named to their roster, and the club has announced that tickets for the 2017 season have gone on sale.
Now that the USL and NASL are merged, the league announced that the regular season action will begin March 24-26. The USL has not released schedules for its teams yet.
In addition, with the re-alignment, the Riverhounds' Eastern Conference has added three new teams. The Tampa Bay Rowdies and Ottawa Fury, who were formerly NASL teams, are now in the Eastern Conference, as well as Saint Louis FC. Leaving the Eastern Conference is the Wilmington Hammerheads and Montreal Impact II.