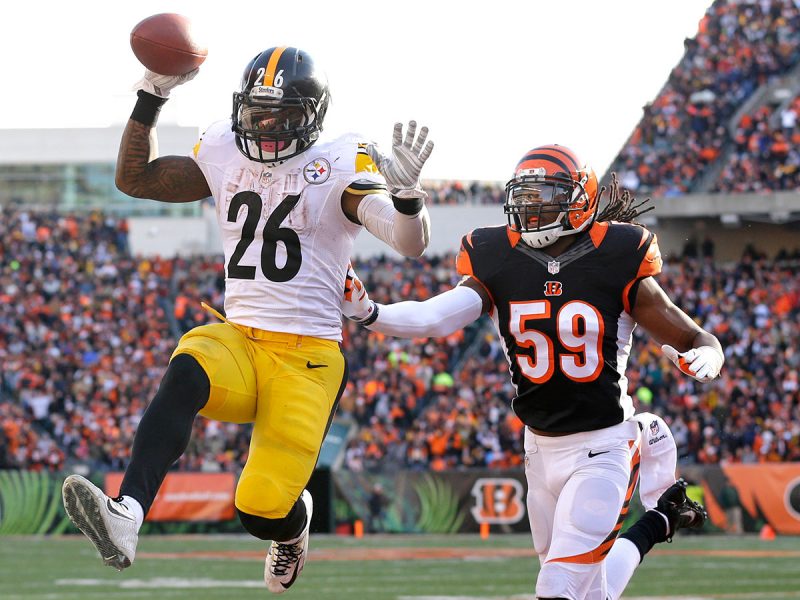 (Photo by Michael Conroy/AP Photo)
Remember the saying, "If it ain't broke, don't fix it"? That should be the motto for the Pittsburgh Steelers for the rest of the regular season — and potentially heading into the playoffs. The run game has been working — and they need to continue to use it (and heavily.)
This season, the Steelers have managed to overcome a depleted, and injured, offensive system. A majority of their receiving players are out (Markus Wheaton, Darrius Heyward-Bey) or have missed time (Ladariud Green).
But Pittsburgh has remained in playoff contention and on top of the AFC North, largely thanks to the play of one man: running back Le'Veon Bell.
To put it in simple terms, Bell has been on fire. He's been sensational on the ground and has been huge in the team's receiving game. The Steelers were without Bell for the first three games of the season because of a marijuana-related suspension, but he came back and has played with a chip on his shoulder. Now, Bell is having arguably his best season in his young NFL career.
On the ground this season, Bell has rushed for 1,053 yards on 218 carries. He's on pace — with three games left — to have the same numbers that he put up in 2014 (again, remember that Bell missed three games this year and played all 16 in 2014.) In 2014, Bell rushed for 1,361 yards on 290 carries.
On the ground over the last four weeks, Bell has rushed for over 100 yards in each game. His most impressive statistical game came last weekend against the Buffalo Bills when he rushed for 236 yards on 38 carries. (He had more total yards than the entire Bills offense did.) In the game, Bell broke the Steelers' franchise record for the most rushing yards in a regular-season game.
From Weeks 4-10, Bell had just one touchdown. In the last four games, Bell has five. And, early in the season, his only 100-plus yard rushing game came in his season debut against the Kansas City Chiefs in Week 4. (Bell rushed for 144 yards.)
December seems to be a good month for the running back.
In December 2014, Bell — against the Cincinnati Bengals (twice), Atlanta Falcons and Chiefs — rushed for 315 yards on 74 carries. In addition, he scored five rushing touchdowns.
In December 2013, Bell — against the Miami Dolphins, Green Bay Packers, Cleveland Browns and Bengals — rushed for three touchdowns and totaled 332 yards on 85 carries.
December 2016 appears to be another strong month for Bell.
But as good as Bell has been on the ground, perhaps his most important contribution has been as a viable receiving option for Pittsburgh quarterback Ben Roethlisberger. This season, as a receiver, Bell has caught 67 passes for 563 yards and has one touchdown.
Breaking it down, Bell is listed second in the team's receiving stats. (Above him is Antonio Brown, who has 1,130 yards off 93 receptions and 11 touchdowns.) However, Bell is ahead of wideouts Eli Rogers, Sammie Coates and tight ends Ladarius Green and Jesse James — just to name a few players.
2016 is clearly one of Bell's best years in the NFL — and one of the best for a running back in recent memory. (There are legitimate MVP talks swirling around Bell.)
However, the glory can't just go to Bell. He's working behind an offensive line that has been stellar and has done a phenomenal job of opening up countless paths for him to run.
If the Steelers want to keep their position on top of the AFC North (they currently lead with an 8-5 record; the Baltimore Ravens are at 7-6), they need to keep giving the ball to Bell. Pittsburgh's next three games are against divisional opponents, and all three teams have fairly decent secondaries, so running the ball might just be the Steelers' recipe for success.
The Steelers will take on the Cincinnati Bengals on Sunday at 1 p.m. EST in Cincinnati. The two teams have a recent history of slinging and slugging each other, so Pittsburgh needs to be careful with Bell. The Steelers will still need to rely on their run game — aka, rely on Bell — but they'll need to do it responsibly to avoid any injury.
An injury to Bell could prove costly to Pittsburgh's playoff hopes.