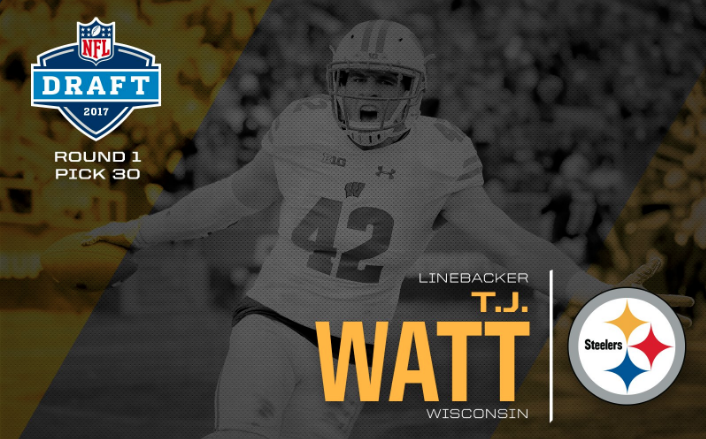 (Image via: @steelers/Twitter)
The Pittsburgh Steelers just did Watt?
Thursday night, with the 30th overall pick in the first round of the 2017 NFL Draft, the Steelers selected linebacker T.J. Watt, a redshirt junior out of the University of Wisconsin.
The pick fits perfectly.
Pittsburgh desperately needed a pass-rushing OLB who can work with James Harrison — who still might play until he's in his 60s — and who can play alongside Bud Dupree.
The Steelers got just that with Watt.
The card that made it official. #SteelersDraft pic.twitter.com/Zfd6t9kRiL

— Pittsburgh Steelers (@steelers) April 28, 2017
He's got high-level traits, fantastic measurables — he's 6-foot-4, weighs 252 pounds and has an arm length of 33 1/8 inches — and almost freak athleticism. Watt fits well in Pittsburgh's 3-4 scheme, is tenacious and has loads of potential. His change-of-direction times are strong, he seemingly has an all-day motor, he has great instincts, and he can convert speed to power. Watt is also good on initial contact, has strong straight-line speed, beats guys with both his upper and lower body and can line up all over the place (subpackages, guys changing, etc.).
But what really excited Steelers head coach Mike Tomlin and general manager Kevin Colbert was the linebacker's hand usage. He can control opposing players and tackle with his hands while he still finds the football.
Nothing like that first phone call. 😁 #SteelersDraft pic.twitter.com/qY1q9sdxUn

— Pittsburgh Steelers (@steelers) April 28, 2017
"It's always exciting to get that first pick, and T.J. Watt is someone we've had our eyes on, really, since early fall," Colbert said.
It was about early fall when Badgers head coach Paul Chryst texted Colbert to get an idea of Watt's potential draft value, something Colbert said isn't all that unusual when there are relationships. Colbert watched Watt play and, at the end of the season, told Chryst, "Coach, he's a first-rounder."
"This kid is a solid football player that is really only scratching the surface as a defensive player," Colbert said. "We don't even think he's a complete product at this point, but we're excited about where he can go."
Part of the reason that the Steelers feel this way is because Watt is actually a converted linebacker — he originally went to Wisconsin as a tight end. When Chryst and his staff took over in 2015, they approached Watt about making the switch to defense.
"When they asked me to play linebacker, I think it took me all of 12 hours (to decide to make the switch), if that," Watt said.
In 2016, he became a defensive starter, standing up as an outside linebacker in the Badgers' 3-4 scheme. That season, Watt recorded 63 tackles, 11.5 sacks and an interception, and he had a team-best 15.5 tackles for loss — all en route to earning first-team All-Big Ten and second-team AP All-American honors.
Hey @steelers fans,

You're getting one heck of a football player and an even better person in @_TJWatt.https://t.co/YQWwi0KZXr

— Wisconsin Football (@BadgerFootball) April 28, 2017
Colbert said the Steelers don't know what Watt will look like as a "complete" product but that that's the "exciting part of it." He said the team expects a natural growth and sees no reason why Watt can't contribute and be a "significant" player.
Tomlin, too, was excited about Watt's upside, adding that, "watching him play, there's no question about his versatility." Pittsburgh's head coach said he was first exposed to Watt when his Badgers beat LSU 16-14 in early September. In that game, Tomlin watched Watt play a "rover" front where he's floating over or around the ball, similar to how the Steelers ask their guys to play.
Both Tomlin and Colbert made it clear that Watt wasn't drafted to be Harrison's replacement, but the rookie will likely start out backing up the ageless wonder — and what a great guy to potentially play behind and learn from.
Still, despite all his positives, there are still a few concerns surrounding Watt.
Watt really has just that lone year under his belt, but Pittsburgh actually sees that as a huge plus. Tomlin doesn't think Watt is raw but that he just doesn't have a lot of experience — even though that inexperience isn't especially evident.
Another area for concern is regarding injuries. Before the 2014 season, Watt injured his right knee and had to have surgery that required him to miss the whole year. Then, during spring practices in 2015, he tore up his left knee and had to have another surgery, which caused him to play as a reserve linebacker and struggle to really make an impact for Wisconsin.
There are other question marks — he's not a pure pass rusher, he lacks burst speed, he plays with a narrow base — but the Steelers think that's stuff Watt can pretty easily improve upon.
What doesn't need improving upon is his phenomenal work ethic, which likely comes as the result of having two older brothers currently playing in the NFL.
You didn't think I'd forget to talk about that familiar last name, now did you?
Watt is the younger brother of Houston Texans DE J.J. Watt (a three-time Defensive Player of the Year) and Los Angeles Chargers FB Derek Watt, but both Tomlin and Colbert said T.J. Watt didn't mention his brothers unless someone else brought them up.
"This is about T.J.," Colbert said. "It's not about J.J., it's not about Derek … this is about T.J. and what he can do. … I wouldn't be shocked if he tries to outdo everything his family has done."
Watt said: "Everybody knows me as J.J. Watt's younger brother, but people don't know the little things that I do, the work ethic, the countless hours of film, getting the right amount of sleep, treating myself like a professional athlete while I was still in college."
Watt and the Steelers will actually face J.J. Watt and the Texans come Christmas Day.
YEAHHHHHHH @_TJWatt!!!!!!!!

— JJ Watt (@JJWatt) April 28, 2017
Christmas Day is gonna be fun @_TJWatt!

— JJ Watt (@JJWatt) April 28, 2017
"It'll be weird to be on the same field as J.J. in shoulder pads," T.J. said. "I played with him in the backyard a bunch. I've seen him play a bunch. We've never been on the same field in full uniforms competitively before. That'll be a really cool and weird day for me."
But T.J. Watt is ready to make his own mark.
"I learned so much from J.J. and have been able to translate that to myself," Watt said. "I don't think people know who I am at this point because I have been in such a big shadow.
"That's why I can't wait to come to Pittsburgh and be my own person."