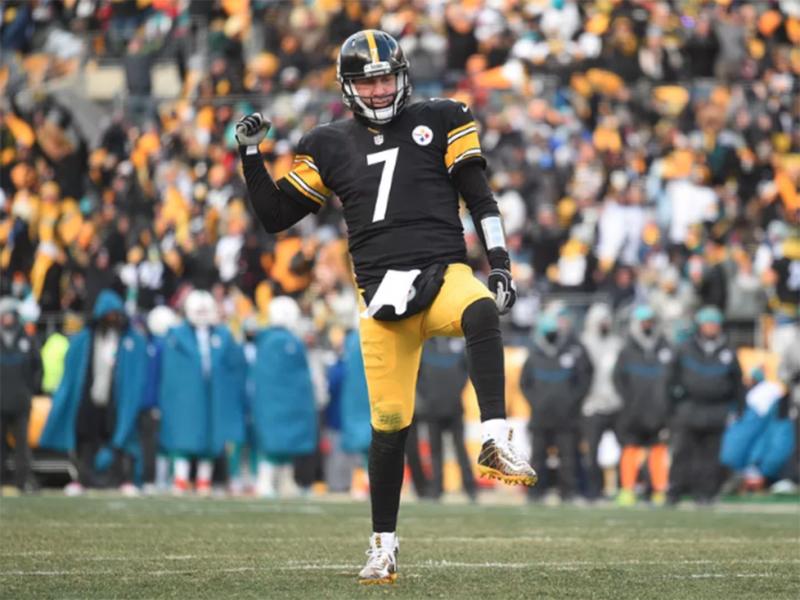 (Photo by: James Lang/USA TODAY Sport)
Uh oh.
On the last play before the kneel-down, Pittsburgh Steelers quarterback Ben Roethlisberger injured his right ankle and was in a walking cast at the postgame press conference. Still, Roethlisberger was adamant that he will play next Sunday versus the Kansas City Chiefs.
"You're always worried about being hurt," Roethlisberger said post-game. "I'll be out there next week."
Roethlisberger's ankle appeared to buckle on a tackle by defensive end Cameron Wake. Up until that point, it had been a pretty perfect game for Pittsburgh. The Steelers had no trouble rolling over the Dolphins for the 30-12 win in the first round of the playoffs.
By video, @_BigBen7 right foot/ankle rolled up during late interception. Not significant, will be fine for #PITvsKC. pic.twitter.com/jDA2CU4puD

— David J. Chao, MD (@ProFootballDoc) January 8, 2017
The decision to have Roethlisberger in at that point of the game was something of a head-scratcher. The Steelers were going to win, and Le'Veon Bell had already been pulled. Antonio Brown left the game early, too, but returned on the kneel-down.
Still, the news isn't all that bad, and Roethlisberger has a history of playing through injury — no matter what.
Post-game boot often precautionary.
By video, not a high ankle for @_BigBen7.
Doubt a significant injury.
Will play next week vs @Chiefs https://t.co/OqbzgZ9pXh

— David J. Chao, MD (@ProFootballDoc) January 8, 2017
If, for some reason, Roethlisberger is unable to play, backup Landry Jones will start in Roethlisberger's place. Jones, in his most recent game (against the Cleveland Browns in Week 17), was 24 of 37 for 277 yards; he also had three touchdowns and one interception.
The Steelers will take on Kansas City next Sunday at Arrowhead Stadium.