There's a new wave of quarterbacks taking over. Athletes like Cam Newton, Robert Griffin III, and Colin Kaepernick are ushering in the age of the read-option quarterback. While these young guys are making the read-option famous, there was someone who did it long before the days where taking the snap, faking it to the running back, and sneakily sliding around the corner was accepted and praised in the NFL. That man's name was Kordell Stewart.
Stewart was a speedster coming out of college. He ran a 4.30 40-yard dash upon entering the NFL. At Colorado, he threw for 6,481 yards and 33 touchdowns. He also ran for 1,289 yards and 15 touchdowns in his four-year career. "Slash", as he became known, was drafted in the 2nd round of the 1995 NFL Draft. The Steelers already had a starting quarterback in Neil O'Donnell so they shifted Stewart to wide receiver for his first two seasons
In 1997, Stewart finally got his chance.
In his first year as the starting quarterback for the Steelers, Stewart threw for 3,020 yards and 21 touchdowns while running for 476 yards and 11 touchdowns. He finished 6th in the NFL in passing touchdowns that season and was 1st in game winning drives with 5. He was also ranked 6th overall in fantasy football.
Then it all went downhill from the there for the Steelers. In 1998, the Steelers went 7-9 and missed the playoffs for the first time since 1991. Stewart only threw 11 touchdowns and a career-high 18 interceptions. During his first three years in Pittsburgh, Steelers fans grew to love #10 and fans everywhere donned his jersey, but on that fourth year, the fans started to turn on Stewart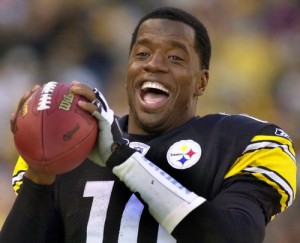 The Steelers couldn't keep offensive coordinators in Pittsburgh and this plagued Stewart greatly. His style of play was unique and none of the offensive coordinators ever fully embraced it. In 2000 season Stewart temporary lost his starting job, gaining it back after an 0-3 start from Kent Graham.
In 2001, he had the best season of his career. He threw for 3,109 yards and 14 touchdowns while running for 537 yards and five touchdowns. He was named the AFC Player of the Year and was selected to the only Pro Bowl of his career. Stewart finally led the Steelers back to the playoffs, putting him in the fan's good graces once again.
After struggling again the next season with an 0-2 start, Stewart was yanked once again. He started off and on for the entire 2002 season, the season that would be his last in a black and gold uniform.
Was Stewart just a quarterback before his time? I'd like to think so. Just look at today's quarterbacks.
Robert Griffin III threw for 3,200 yards and 20 touchdowns and ran for 815 yards and 7 touchdowns. Cam Newton has thrown for 7,920 yards and 40 touchdowns and has ran for 1,447 yards and 22 touchdowns in his first two seasons. This past season, Colin Kaepernick threw for 1,814 yards and 10 touchdowns and ran for 415 yards and 5 touchdowns.
When Stewart was a running quarterback, his style was seen as a "gimmick". For quite some time, the running quarterbacks of the college ranks were asked to tryout as receivers at their pro days and private workouts for teams. Teams didn't want a guy who wanted to take off if things broke down. They didn't want to take the risk of their quarterback getting smashed in the open field. But my how the times have changed.
If Stewart's style of play was accepted by the Steelers offensive coordinators in the late '90's, Pittsburgh may not have seen a playoff drought. Instead, they could've seen a quarterback flourish and lead their team to greatness, but Steeler Nation will never know. Stewart showed that he had great potential and athleticism, and the Steelers showed they had interest in that by drafting him in the 2nd round, but they never used him to his full potential.
Stewart's style of play has set the stage for young rushing quarterbacks who have a gunslinger mentality. He opened the doors for open-minded offensive coordinators who have room to put a little faith in a guy who can do more than just throw the ball down the field. Kordell Stewart was a quarterback before his time.