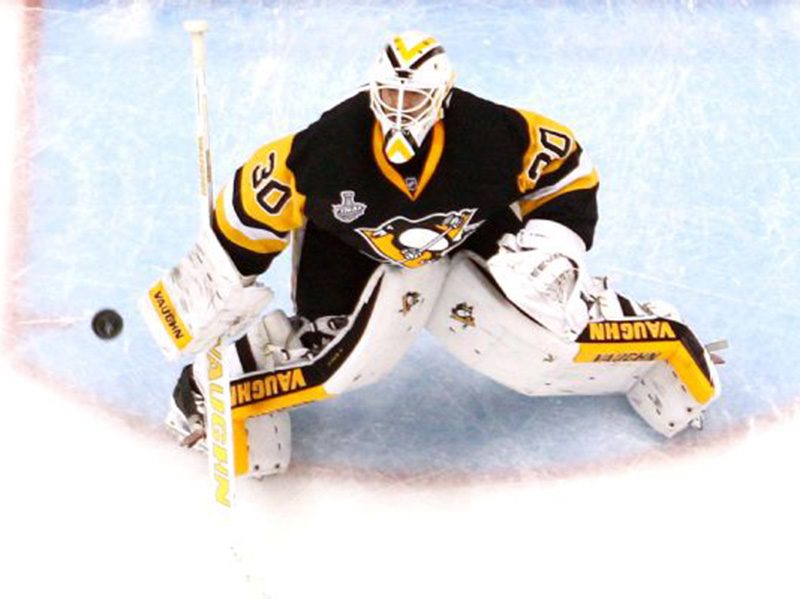 Matt Murray previously missed time this season with a broken thumb. (Photo by Justin K. Aller/Getty Images)
Pittsburgh Penguins goaltender Matt Murray is "week to week" with a lower-body injury, head coach Mike Sullivan said Thursday.
Murray suffered the injury in Wednesday night's win over the Carolina Hurricanes, although it's unclear exactly what play Murray was injured on. He left after the second period and was replaced by Marc-Andre Fleury.
Murray started the 2016-17 season on the injured reserve because of a broken thumb he suffered in the World Cup of Hockey. But when he returned to the ice, the 22-year-old was back to his Stanley-Cup-champion form. This season, Murray has posted a 13-3-1 record and a .928 save percentage and has allowed an average of a little more than two goals a game.
Luckily, the injury comes at a time when Pittsburgh has a bit of a break in its schedule. The Penguins only have one game in the next 11 days (Saturday night against the Montreal Canadiens); Pittsburgh's CBA-mandated "bye week" is Jan. 1-7. And the Penguins only have one back-to-back situation in January (Jan. 11 against the Washington Capitals and Jan. 12 against the Ottawa Senators — both are away games).
And also good news is that the Penguins have a very, very good netminder in Fleury, who is 11-5-4 this season with a .908 save percentage and a 3.13 goals allowed average.
Pittsburgh has called up 21-year-old Tristan Jarry from the Wilkes-Barre/Scranton Penguins to back up Fleury. In 19 games this season, Jarry has a .921 save percentage and a 13-5-1 record.