In the last decade, the Pittsburgh Penguins have seen some of the most intriguing and high-profile prospects in the entire National Hockey League come through their system. Even as the team's big-time draft picks of the early 2000's turned into NHL stars, the team was still touted for their defensive depth.
Those days, however, have passed. Now, after a series of trades and a few players that have moved on to full time NHL positions, the cupboard is once again looking rather bare. Corey Pronman of ESPN recently ranked their prospect pool the worst in the league.
This is an attempt to rank the Penguins best remaining prospects. To form some boundaries, this list is only looking at just those players who still qualify as NHL rookies and who can freely be reassigned without having to be placed on waivers. [Editor's note: We also did not include Russian winger Sergei Plotnikov, as he is unlikely to play anywhere in North America besides Pittsburgh this season.]
Players that have recently moved beyond the qualifications include Derrick Pouliot, who played enough NHL game last season that he is no longer a rookie. Brian Dumoulin is also no longer a rookie and will need to be placed on waivers if the Penguins intend to send him back to the AHL this year. Scott Harrington and Kasperi Kapanen were traded to Toronto, leaving some big shoes to fill amongst the Penguins previous top prospects.
The players are ranked 1-through-10, but are also organized into tiers, which should illustrate places where the difference between one ranking is very large, and the places where it is very small.
The best of the rest: There are a number of players who happen to be on practically even footing in the battle for the #10 spot. They all have some potential, but they also have blemishes that may be holding them back.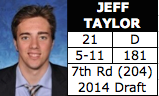 Jeff Taylor will be a junior at Union College this season. He is now the Penguins' top blue line prospect; a smooth-skating offensive defenseman that finished as one of the nation's best last season. He could wind up in the NHL as a third pairing defenseman one day, but his NHL potential is limited as he is a bit undersized and may not be able to find the same scoring touch playing professionally.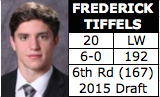 Frederik Tiffels will be a sophomore at Western Michigan University this season. He fell to the Penguins in the sixth round of the 2015 draft, but some scouts expected him to be picked a few rounds earlier. His 21 points in 2014-15 were impressive, but he was a little older for a freshman. He has a strong work ethic and plays a solid two-way game, so he should be capable of playing a depth role.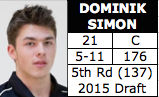 Dominik Simon spent the past two seasons playing in the top league in the Czech Republic. He also played for the Czech team in the 2015 World Championships. He signed an NHL contract this summer and is expected to play in the AHL, although he could work his way up into a depth role in the NHL. Simon will have to adjust to the smaller ice surface and more physical nature of the North American game.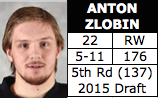 #10 Anton Zlobin spent the past two seasons in the AHL. He has the potential to be a top scoring winger some day, but multiple injuries have hurt his development. He missed off-season activities and the beginning of his rookie season in 2013-14 recovering from injury and was slow to adjust to the pro game, but by the playoffs he was one WBS's best players. However, he got off to a slow start again last season and then went out with a season ending injury. He'll have to stay healthy to prove he has what it takes this season.
Low risk, low reward These players may not have as much potential upside as some of their peers, but they stand a good chance of earning roles as everyday players in the NHL some day.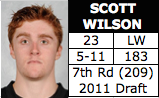 #8 (tie) Scott Wilson played his rookie season in the AHL last year and got limited exposure in Pittsburgh. He was one of Wilkes-Barre/Scranton's top scorers and one of the best rookies in the AHL. He is expected to be battling for a spot in the NHL as a depth scorer this season. He suffered a wrist injury at the end of last season and did nor participate in this summer's prospect camp as a result.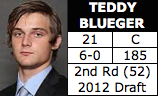 #8 (tie) Teddy Blueger will be a senior at Minnesota State University this season. He put up a consistent performance the past two years and should be capable of providing extra depth down the middle for the Penguins some day. He hasn't scored enough in his college career to suggest that he could be a top-6 player, and the Pens are set at center regardless.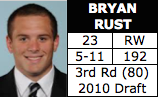 #7 Bryan Rust is a speedy winger who split his rookie season between the AHL and NHL last year. He may not have high-end offensive potential but he plays a responsible defensive game that plays well as NHL depth and he will have the opportunity to earn an NHL roster spot this year.
Look for part two of this series, which will have the team's top-5 prospects of 2015.
Photo Credit: Greg Shamus/NHLI/Getty Images