It's only a five-hour trip down Interstate 76, but two teams –and their fanbases- couldn't be farther apart that the Pittsburgh Penguins and the Philadelphia Flyers.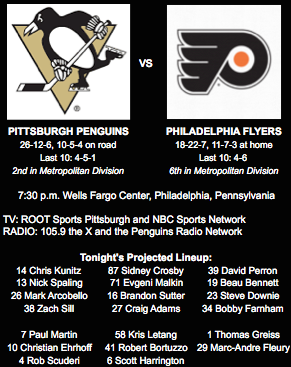 First-year Penguins head coach Mike Johnston has stressed puck possession and discipline with his squad. Although the Penguins are in the midst of a disappointing stretch (2-3-1 in their last six games), the results have been more positive than negative for the Penguins this season. They sit comfortable within playoff position in the Metropolitan Division, and have battled through a rough stretch of injuries and illnesses.
The Flyers, meanwhile, have taken a tumble under second-year bench boss Craig Berube. They currently sit in sixth place in the eight-team Metropolitan Division and are 11 points out of playoff contention. They haven't done much possession-wise, either, with a 48.8 Corsi-for percentage.
TONIGHT'S OPPONENT: The Flyers might be even more banged up than the Penguins right now. Especially hurting is the black-and-orange's blue line.
With Kimmo Timonen out since the offseason with blood clots and no timetable for his return, the Flyers defense was sure to be a sore spot for the team all season. Their lack of depth has been exacerbated with Braydon Coburn and Nicklas Grossmann on injured reserve and top prospect Shayne Gostisbehere undergoing knee surgery. Then on Monday against the Islanders, two more defenseman went down: Nick Schultz and Carlo Colaiacovo.
The Flyers defense will look something like this tonight: Michael Del Zotto, Mark Streit, Andrew MacDonald, Luke Schenn and two players called up from AHL Lehigh Valley last night: Brandon Manning and Oliver Lauridsen.
Despite the Flyers' struggles, one area they have to their advantage is recent history. The Flyers have won five straight matchups against the Pens, and despite Philadelphia's pugilistic nature, the Penguins have just one power play goal against them in that span.
This is the second game between the teams this season. The Flyers spoiled the debut of the Penguins throwback jerseys with this 5-3 victory at Consol Energy Center.
[youtube width="560″ height="315″ link="http://youtu.be/7hATHh2fWyc"]
Another pleasant surprise for the Flyers this season has been the play of forward Jakub Voracek, who leads all NHL players with 55 points.
"He's always been productive, and obviously, he has great chemistry with (Claude) Giroux," said Penguins captain Sidney Crosby, who sits just four points back of Voracek. "They're able to make a lot of plays and I think besides that, he's definitely gotten better every year."
MAYHEM RETURNS: The Penguins recalled left-winger Bobby Farnham from their minor-league affiliate in Wilkes-Barre this morning. Farnham, nicknamed "Mayhem" by the Penguins television announcers after the Allstate commercials, has 117 penalty minutes in 27 AHL games this season to go along with 19 in his ten games with Pittsburgh and seems ready-made for the Battle of Pennsylvania.
"It's definitely a game you think about playing in," said Farnham. "It's awesome to have the opportunity to be able to play in this game.
"You watch so many Penguins/Flyers games and how heated the rivalry is over the last, I mean forever, but especially the past few years, a spark plus is the thing I want to be and try to provide that energy," Farnham said of his role in tonight's game.
Farnham will have plenty of company with which to enact his mayhem, as it looks like he will be paired with fellow ruffian Zach Sill on the Penguins fourth line.
ORANGE CRUSH: Tonight, the Penguins will not only have to deal with the 20 Flyers on the ice, but tens of thousands of vocal Flyers fans in the stands.
"We go into a lot of buildings around the league, and it's fun to play in buildings where there's emotion and intensity in the crowd," said Johnston. "It really adds to the game. I just think it's great. Our guys get up for it, and they're excited. I'm sure the Flyers and their hometown fans are going to get excited, so it leads to a great hockey game with emotion in the stands. We're looking forward to it."
GREISS IN GOAL: With the Penguins playing on back-to-back nights tonight and Wednesday, backup netminder Thomas Greiss will earn the start against Philadelphia. He came on in relief of Marc-Andre Fleury in the second period of Sunday's 5-2 loss to the New York Rangers, stopping 13 of the 14 shots he faced.
It will be Greiss' first start since he beat the Tampa Bay Lightning on January 2. Previous to that, he went two weeks between starts because of the Penguins light schedule at the time and a bout with the mumps.
"You just got to stay sharp in practice," he said of his mindset between starts. "Whenever you have to jump in, it can always happen quick, and you get thrown in there."
Greiss has played in nine games overall this season, and has a .919 save percentage and a 2.53 goals-against average. He is 2-0 with a .973 save percentage and a 1.00 goals-against average in two career games against the Flyers. It'll be his first time facing the Flyers as a member of the Penguins.
"For sure, it's going to be exciting," he said. "You know the crowd is going to be into it, and both teams are going to be really into it. It's going to be a tough game out there."
EMERY ON BOARD: With starting goaltender Steve Mason out with a sprained right knee, backup Ray Emery will start for the Flyers. Emery came on in relief of Rob Zepp in the Flyers 6-4 loss to the New York Islanders on Monday.
Emery is 7-9-1 on the season with and .886 save percentage and a 3.37 goals-against average. In 13 career games against the Penguins, he's 7-4-2 with a .910 save percentage and a 2.88 goals-against average. He also started the previous game between the two teams this season.
THE 4077: The Penguins season-long injury and illness bug seems to have bitten defenseman Simon Despres. Despres, who has been banged up lately, missed this morning's skate with an illness and is unlikely to play tonight.
On the bright side, wingers Blake Comeau and Patric Hornqvist are projected to be skating again when the team returns from the all-star break next week.
"Both of them are getting x-rays this week, so we'll know from those x-rays exactly what the time is for them, but the anticipation was as far as our trainers go, with them skating, was in the next four or five days for both of them to start skating," said Johnston.
MINOR MATTERS: Wilkes-Barre/Scranton (20-17-4, 2nd AHL East) will be without veteran enforcer Pierre-Luc Letourneau-Leblond for three games. The American Hockey League suspended him on Monday "as a consequence of a match penalty for boarding, assessed in a game at Providence on Jan. 18."
Leblond will be eligible to return Jan. 30 at Springfield. The AHL Penguins are also still without the services of forwards Bryan Rust and Adam Payerl, and will probably need to recall a forward from Wheeling for Wednesday's 7:05 p.m. home start against the St. John's IceCaps.
#CAWLIDGEHAWKEY: Robert Morris (11-7-3, 1st AHC) remains just outside the USCHO.com top-20 poll. Senior forwards Scott Jacklin was named NCAA hockey's second star of the week and he and Cody Wydo shared Atlantic Hockey player of the week honors.
Penn State (11-7-3, 1st Big Ten) also is listed among others receiving votes in the national poll. Sophomore forward David Goodwin collected the Big Ten's second star of the week for his effort in the Nittany Lions 1-0-1 weekend. Goodwin scored the game-tying goal on Friday and the game-winning goal and two assists on Saturday.
LOCAL JUNIORS RANKED: The NHL's Central Scouting Service released its 2015 mid-term rankings this morning. Nine local junior players were ranked. Skaters and goaltenders are ranked separately and rankings are amongst players in North America only.

Photo credit: Pittsburgh Penguins