The Pittsburgh Penguins prospects spent their second day of development camp working on skill.
The players were organized into a 3-on-3 tournament, with the prospects grouped into four teams and the games played across the width of the rink. The team with Tristan Jarry as their goaltender won the tournament, but the real winners were the Penguins' cadre of talented but undersized prospects.
"3-on-3 is always fun," center Jean-Sebastien Dea said after the day's practice session. "I'm a skilled guy, so it's fun to be out there and show what I can do."
Dea, a second-year pro, has yet to turn that skill into sustained success thus far in his pro career. In 2014-15, he led Wilkes-Barre/Scranton in power play goals (7), but had just three at even strength and spent 14 games in the ECHL after being unable to maintain a spot in the AHL starting lineup.
"It was my first year last year and I learned a lot from Hynes and Nas," he said, referring to the former Wilkes-Barre/Scranton coaching duo of John Hynes and Alain Nasreddine. "My confidence level is there. I know the level [of play]. I think I'll be ready to go."
One of the areas that Dea has focused on this offseason is his conditioning and fitness. The Penguins prospects have under gone dry-land training at development camp and received nutrition instruction from the Penguins staff, including former Penguins winger Gary Roberts.
"My trainer back home taught me about nutrition, but it's good be here and get a new update and learn new things," Dea said. "It's especially good to be here mid-summer."
Dea hopes that an improved off-season program will help a player of his stature – he's listed at 5-foot-11 and 175 pounds – survive the rigors of a long professional season.
"I'm trying to get bigger," Dea said. "I'm 15 pounds heavier than I was at the end of the year last year, so I'm working on that this summer and trying to be ready for camp."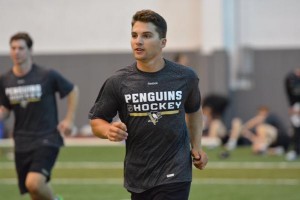 Another Penguins forward prospect that had success with the day's format was Conor Sheary. Sheary, who was on the winning team in the tournament, is a more polished player than Dea, and at 23, is on the cusp of finding his way to the NHL.
"Connor is an interesting prospect," said Penguins assistant general manager Tom Fitzgerald. "He's a kid that played under the radar at UMass-Amherst, but I think we've all identified him as a really good prospect. He's smart, he's skilled, he's tough – meaning that he's not afraid to go into the tough areas – he holds on to pucks and he makes people around him better. That was a huge reason why we felt it was necessary to get his name on a contract."
Sheary was signed to an NHL contract this offseason after playing on an AHL contract in Wilkes-Barre in 2014-15.
"Our expectations for him are to continue to get better and come in here and play with confidence," said Fitzgerald. "It is July, we don't want to evaluate in July, but it's hard not to notice him. He's just so slippery and creates and always has the puck."
With the Penguins short of experienced options on the fourth line, Sheary is a legitimate candidate to lock down one of the final roster spots at training camp.
"We expect him to come in and challenge for a spot," Fitzgerald said. "Everybody knows what the best case scenario is in training camp. The worst case scenario is to go down to Wilkes-Barre and continue to build and develop your game."
INJURY UPDATE: Josh Archibald, Tyler Biggs, Oskar Sundqvist and Scott Wilson, who are all injured and expected to miss the week's on-ice activities, should be ready to go for training camp in September.
"We knew these guys have had some nagging injuries," said Fitzgerald. "Our thought process is: it's the middle of July. Why push them on the ice when there's no need to push them on the ice."