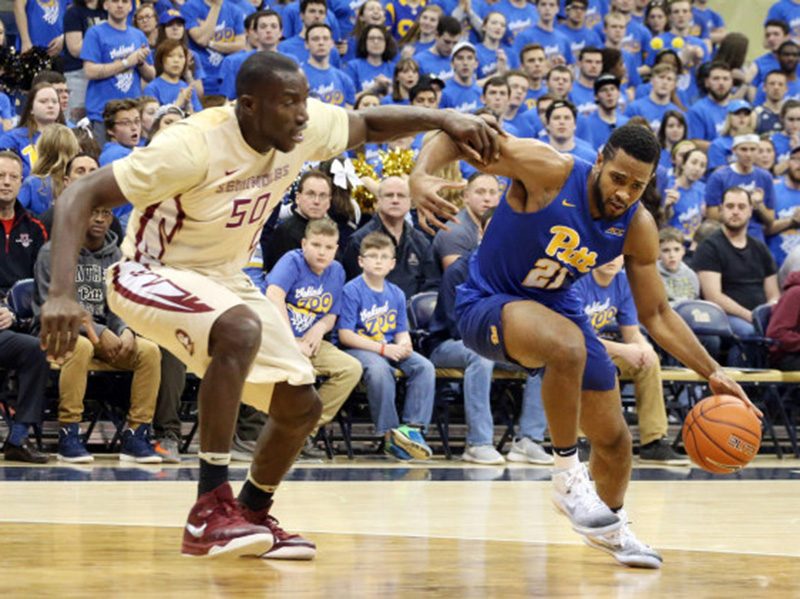 Pitt senior forward Sheldon Jeter (21) had a career-high 29 points in the upset of No. 17 FSU. (Photo by: Charles LeClaire/USA TODAY Sports)
After losing a close game to the Virginia Tech Hokies on Tuesday, the Pittsburgh Panthers (15-12, 4-10 ACC) bounced back to handily upset the No. 17 Florida State University Seminoles (21-6, 9-5) at home, 80-66.
The Panthers outscored the Seminoles 41-37 in the first half, but, in the second half, the Panthers increased the tempo to outscore Florida State 39-29.
Leading Pitt in points was senior Sheldon Jeter, who scored a career-high 29 points. He was joined in double-digit scoring by Jamel Artis (16), Michael Young (11) and Cameron Johnson (10). Meanwhile, Young led the team in assists (6), while Jeter led the team in rebounds (8).
After the game, Panthers head coach Kevin Stallings praised his team's effort against one of the top teams in the country.
"I'm really happy for our team," Stallings said. "I'm really proud of their effort. When we concentrate, focus and play with energy and urgency for 40 minutes, we're capable of being a pretty good basketball team, and I think you saw that today. That was as good a performance as we've had this year."
After the game, Jeter noted the team is just trying to rack up the wins to make the NCAA tournament next month.
"We're playing to get into the (NCAA) tournament," Jeter said. "We still believe in each other and the team. It doesn't matter if other people don't believe in us. We believe in ourselves, and we believe that we can still make it. We haven't given up hope or said we'll go play in the NIT (tournament). We still believe we can get into the (NCAA) tournament."
After the game, Seminoles head coach Leonard Hamilton kept mum on his team, but he piled on the praise for the Panthers.
"I thought that Pittsburgh had a tremendous game plan of neutralizing our big guys by spreading the floor," Hamilton said. "They did a very good job of handling the ball, being careful with their execution. They only turned over the ball one time in the first half. We've been accustomed to deflections and getting some points off of our defense. Today we weren't able to do that."
The Seminoles were led in scoring by Xavier Rathan-Mayes, who had 12 points. Florida State had only two other double-digit scorers, with Jonathan Isaac contributing 11 points and Terance Mann scoring 10. Mann led the team in rebounds with seven, while Rathan-Mayes led the team in assists, providing six.
What's next?
The Panthers will face Wake Forest University on Wednesday with tip-off at 7 p.m. EST at the Lawrence Joel Veterans Memorial Coliseum in Winston-Salem, North Carolina.