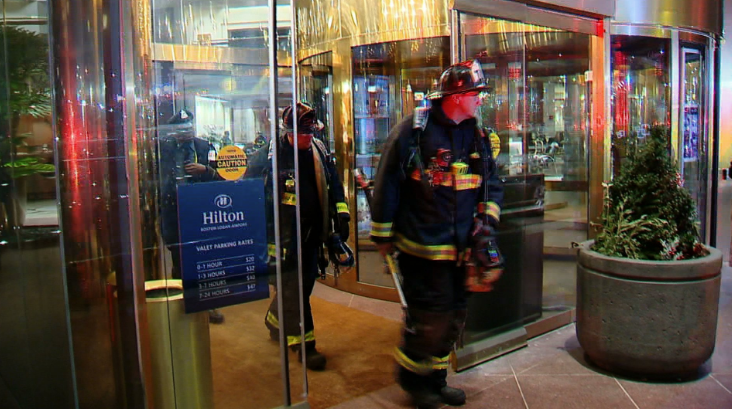 (Photo by: Ian Smith/KDKA)
The Pittsburgh Steelers got an extra-early wake-up call Sunday morning.
At the Hilton Hotel at Logan Airport in Boston, a man intentionally pulled the fire alarm around 3:00 a.m. The Steelers are in Boston getting ready to take the field in the AFC Championship Game against the New England Patriots later tonight.
#BREAKING: Fire alarm pulled at #Steelers hotel in Boston, guests being evacuated. Fire Dept investigating. #KDKA pic.twitter.com/CYt70UeQFG

— Ian Smith (@ismithKDKA) January 22, 2017
The police arrested 25-year-old Dennis Harrison and charged him with disorderly conduct, disturbing the peace and setting off a false fire alarm after he was found walking on the hotel property. Harrison is being held on bail.
According to Sports Illustrated's Albert Breer, Pittsburgh's security quickly got a handle on things so that few players or coaches had to leave their rooms. The Steelers' director of communications, Burt Lauten, told NFL Network's Aditi Kinkhabwala that the disturbance was handled quickly by officials and that quiet was restored in minutes.
Welcome to Boston. Who would've thought this would happen at the @Steelers hotel the night before the AFC Championship, at 3 am? pic.twitter.com/8qowNZGTfc

— Bob Labriola (@BobLabriola) January 22, 2017
Pulling fire alarms before big games is nothing new. In the 2015 regular season, a fire alarm was pulled at the Carolina Panthers' hotel in Seattle (Carolina went on to win, 27-23). The Patriots went through something similar in Arizona for Super Bowl XLIX when two fire alarms went off in their hotel (New England beat the Seahawks in the Super Bowl.)
Former Pittsburgh guard Alan Faneca didn't seem surprised that the fire alarm had gone off before today's , tweeting that it had happened every time the Steelers played in New England.
Never played a game in NE where that did not happen. Every single time https://t.co/hMFlTagcsc

— Alan Faneca (@afan66) January 22, 2017
The AFC Championship Game between the Steelers and Patriots is set to kick off at 6:40 p.m.